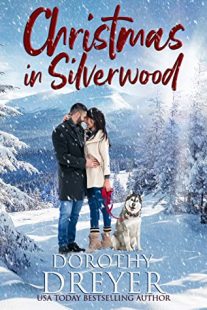 Christmas in Silverwood
by
Dorothy Dreyer
Purchase on:
Amazon
, 
iBooks
Add to:
Goodreads
Synopsis:

Holly St. Ives is in a rut. Once a celebrated artist making waves in New York City, she finds herself uninspired and unmotivated. Her recent break-up is the last push she needs to spend Christmas alone in the small mountain cabin her father left her in his will—a family getaway she hasn't visited in years.

After a near accident in Silverwood, she meets Nick, whom she learns is responsible for everything in the small town running like clockwork—including the upcoming Christmas festival and the town's entry in the state-wide tree decorating contest. Holly doesn't have time for Nick's beguiling charm or mouth-watering holiday cupcakes, but after meeting his father, she discovers there's more to the town's obsession with the contest than meets the eye.

Touched by the prospect that the whole town is willing to pitch in for a good cause, Holly feels her Christmas spirit making a comeback. As Nick and his team of Alaskan Malamutes work their way into her heart, Holly may just remember the meaning of the season after all.
Review:
Christmas in Silverwood was beyond adorable and had all the Christmas feels. This story played out like a movie and I could easily see myself watching this on the Hallmark channel some day! If you adore Christmas stories that are sweet and set in a small town, then you definitely need this book in your life!
"Sometimes we need to trust we're being led down the right path before we understand the destination."
But which path is the right one?
After Holly St. Ives broke up with her boyfriend, she traveled to her family's cabin to spend the holidays alone. She was ready to do some soul searching and figure out where she should go from here. On her way there, Holly had a near collision meet cute with Nick Mason. I loved their chemistry right away! And it was all thanks to Nick's dog Cupid, named after the reindeer.
He'd written her a note. She wondered if he did that for everyone who got a welcome box from him. Somehow, she doubted it. A note and cupcakes. Sweet greetings. He made them himself, just for her. Maybe Nick wasn't so bad after all.
I adored Holly! She was someone you would want to be friends with. She shared her thoughts and fears with us, and I loved watching the magic of the holidays come alive through her eyes. With adorable neighbors, a quaint town, stores I desperately wanted to visit, I found myself rooting for Holly every step of the way. I loved seeing every side of Holly, and watching her grow from that first page to the last!
His eyes roamed her face. "Well, maybe Santa will send some Christmas elves to help you out."
Before she could answer, he gave her a nod and walked toward the door.
"Come on, Cupid. Time to go." He pulled the door open and smiled at Holly.
Then there was Nick, sigh. Nick lived in the town of Silverwood and was beyond multitalented. From his baking skills, to helping out the community and volunteering, to even running his family's tree farm, I loved how determined and focused Nick was. But he also had this kind and marshmallowy side to him while also being intriguing, sexy and an unknown. Nick knew what he wanted in life and I thought he would be the perfect fit for Holly!
He'd leaned closer and whispered, "That feeling you must be experiencing right now? That look on your face? That's not someone who doesn't want to celebrate Christmas."
This story was soooo cute! With tons of Christmas cheer, miracles, friendship and love in the pages, this book was so easy to devour! The town and its townspeople were adorable and the story-line was a lot of fun. And as someone who usually looks for angst in their romance, I loved the low angst in this book! It fit oh so perfectly with the story-line. It felt like a Hallmark movie in book form and I was so happy while reading. It had some of the most fabulous, cheesiest moments ever that I loved, and one of those scenes even made me cry happy tears!
Nick leaned over the railing of the truck. "Holly, what are you doing?"
"Counting on a Christmas miracle." She stood and faced him, filled with a surge of optimism.
Christmas in Silverwood was a heartwarming, feel-good book that romance lovers will enjoy! I definitely need to go check out Dorothy Dreyer's backlist of books!
*I voluntarily read and reviewed an advanced copy of this book, provided by the publisher. All thoughts and opinions are my own.*
Goodreads / Amazon / Barnes & Noble / Kobo / Website
About Dorothy Dryer:
Dorothy Dreyer is an award-winning, USA Today bestselling author. Born in Angeles City, Philippines to a Filipino mother and American Father, Dorothy grew up a military brat, living in Guam, Massachusetts, South Dakota, New Jersey, and New York. She now lives in Frankfurt, Germany with her family and two Siberian huskies. Dorothy is bilingual, and speaks fluent English and German.
Giveaway:
Hosted by:

I'm so happy I get to be on the Christmas in Silverwood tour! This book was beyond adorable! So check out my review below and enter a wonderful giveaway. Enjoy ♥