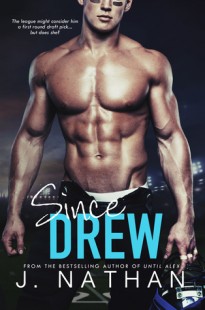 Since Drew
by
J. Nathan
Purchase on:
Amazon
, 
Book Depository
Add to:
Goodreads
Synopsis:

All Andi Parker has ever wanted, all she's ever dreamed of, is a spot on the Olympic track team. But when an accident leaves her hospitalized with serious injuries and shattered dreams, she's not only uncertain what her future holds but also completely alone.

Drew Slater is a wanted man. Professional football teams want him for his arm. Women want him for his irresistible good looks and charming personality. But the well-crafted disguise he wears, the one that helps him score on and off the field, hides secrets. Conceals lies. Threatens the happiness of everyone around him.

One chance encounter brings Andi and Drew together, changing their worlds in ways they never thought possible. Unfortunately, what they thought they knew about themselves—and each other—might just be the biggest lie of all.
Review:
When life decides to rip away everything you've ever wanted, what else is left?  Finding hope.  This book was an adorable story about wading through life's trials and tribulations.  While there were definite moments of hardship and struggling, I never once felt bogged down by it all.  Probably because Saving Hope had so many moments that were sweet, filled with humor, suspense and even a few plot twists.  While I figured out the plot twists, oh yeah there's more than one!, I wish I wouldn't have.  There's something so much more exciting about being slammed in the face with what happens.  But my struggle per say was not so much as figuring out how the story was going to proceed, but that I couldn't connect to the main character, Andi.  Even though I loved all that she stood for.
We were two people stuck in a hospital.  Two people unhappy with our circumstances.  Two people with more in common than most.
Andi Parker is almost within reach of her life goal.  Tomorrow she will run the 800-meter, and knows that she will win the coveted last spot on the US Olympic Team for track.  But life has other plans, and while she is out running the night before, she is hit by a car.  When she wakes up in the hospital, one leg is in a cast and the other is elevated.  In the midst of grasping that all of her dreams are destroyed, she realizes she has a roommate.  Drew Slater.  Football player extraordinaire who has a shot in the pros and access to as many females as he wants.  But while getting close to Drew, Andi learns that life isn't as clear as she thought.  At all.
Drew snickered as Doctor Evans stared into my eyes.
"So, you feel hung over?"
"More like I did too many shots, went home with a guy I didn't know, and let him do dirty things to me that I can't remember."
Drew choked out a laugh.
Andi was almost what I expected, but better.  I pictured someone trying out for an Olympic team as determined, strong and knew how to take care of herself.  She was all of that.  However, maybe she was that way because her parents were always gone, trying to save the whales.  Seriously lol.  But anyways, she was better than I pictured, because Andi was hilarious and sarcastic.  Which I loved!  So even though she was everything that I always want and look for in a heroine, I just couldn't connect with her.  I desperately wanted to feel her anger, frustration, sadness and happiness.  But it always seemed out of reach.
"Admit it, Andi.  I'm wearing on you.  I promise I won't tell anyone."
I shrugged.  "Fine.  Maybe a tiny bit."
He laughed.  "Usually doesn't take so long."
I didn't doubt that for a second.
Then there's Drew.  Hmmm….what a convoluted, sweet, sexy, irresistible boy.  I always knew that he would shake things around every time he appeared.  Not only because he had a knack for pulling Andi out of her funk, but for also making life light again.  I looked forward to when he was with her, and while I desperately want to say WAY more, I'll keep my mouth quiet because he's a fun person to unravel.
Darkness surrounded me as I sat down on the dented metal.  With my feet on the road, I twisted toward the ocean.  The coastal breeze whipped my hair around as the waves crashed on the shore, violent and destructive, much like my mind.
When Drew and Andi were together, I knew that I would find banter and an underlying sexiness that I hoped would lead to more.  And while this story was entertaining, I felt a little held back because of my lack of connection to Andi.  Her feeling were definitely relatable, I mean I haven't lost my lifelong dream but I am in the process of finding out if I won't ever be able to snowboard and wakeboard again.  So even though my summers and winters are looking pretty bleak right now, I couldn't muster any connection to her.  Which frustrated me to no end.  But besides that, I wish the plot twists would have hit me full force, instead of knowing what was going to unfold.  I love putting clues together, and I'm mad that I figured each one out.  Because they were GREAT, and I loved that they added an extra element to this story.  So in all honestly, I'd still say to give this story a try.  I don't say that for a lot of 3 star books, but you may not have the same issue as me, and completely love Drew and Andi's story!
P.S. **I found out that this question IS answered in the purchase version.  Since I have an ARC, it was not put in there yet**I was left with an unanswered question that I don't understand.  Maybe someone else will….View Spoiler »I don't get why Andi didn't reveal to Drew that she experienced the "dreams" also. Why wouldn't she confirm what he said, that she experienced it too? It didn't make any sense to me. « Hide Spoiler
***ARC was kindly provided by the author in exchange for an honest review***