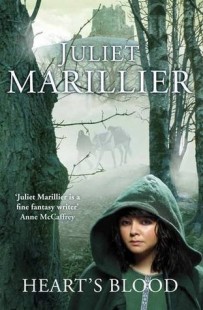 Heart's Blood
by
Juliet Marillier
Purchase on:
Amazon
, 
iBooks
Add to:
Goodreads
Synopsis:

Whistling Tor is a place of secrets and mystery. Surrounded by a wooded hill, and unknown presences, the crumbling fortress is owned by a chieftain whose name is spoken throughout the district in tones of revulsion and bitterness. A curse lies over Anluan's family and his people; those woods hold a perilous force whose every whisper threatens doom.

For young scribe Caitrin it is a safe haven. This place where nobody else is prepared to go seems exactly what she needs, for Caitrin is fleeing her own demons. As Caitrin comes to know Anluan and his home in more depth she realizes that it is only through her love and determination that the curse can be broken and Anluan and his people set free.
Trust me, I wanted to love this book so, so much. But if Heart's Blood casted a spell on me, captivating me, I encountered the same problems I had with Shadowfell, making it hard to entirely connect with the story, especially in the second half.
✔ Fascinating settings : Think about an ominous forest, a mysterious castle, whose inhabitants have been suffering from a curse for years. What not to love?
If I wasn't completely won by the writing (I'll come back to that), I can't deny that the descriptions were beautifully crafted and so vivid, it felt as if I was there.
✔ An intriguing plot : Beauty and the Beast is (shockingly, lol) one of my favorite fairytales of all times, yet its retellings rarely manage to capture the magical enthrallment I felt the first time I read Beaumont's tale, and I've grown to resent and avoid them, to be honest. The fact is, either they're too close to the original (but boring) or they're so twisted that I can't recognize anything. None of this here. If the story turns let me bewildered (in a good way), Juliet Marillier included several aspects as winks to the fairytale reader and I loved that.
From the underlying darkness threatening every turn, to the longing oozing from every page, I flew through the first half, enchanted.
✔ A well-developed and complex cast of characters :
► Caitrin is a wonderful and relatable heroine : after having been abused by her family after her father's death, she finds the courage to flee and is constantly testing her strength. She's by no means our kickass/soul eating warrior, yet she is strong, in her not so flashy way.
► Anluan is a crippled, cursed man whose anger issues would have infuriated me if his character wasn't so multi-layered, so complex. Please don't judge him too fast : he can be maddening, but he's not violent and so, so loyal. The despair of this awkward, self-loathing man who hides behind his grumpiness moved me. So burdened and tortured, unable to see that life can be more.
► As for the other inhabitants of Whistling Tor, what can I say except that I loved them all? From Magnus the kind soldier to Eirith the crazy monk, they all add something magical to the story and I couldn't help but draw parallels with the Beast hilarious and endearing companions.
✔ The romance is believable, light and straights-on wonderful. They made me squeal. I know! GAH. They gradually learn to trust each others', to overlook the appearances and their fears.
Unfortunately there was a counter spell. Sigh.
✘ Trust me, I don't mind a little predictability… Until I reach the point when it influences (in a bad way) what I think about a MC. Sadly, it was the case here. It took Caitrin so much time before solving the mystery (IN SPITE OF ALL THESE EVIDENCES EVERYWHERE), it drove me nuts. See, I understand that she's willing to trust, but come on. This is too-much. From the moment I figured it all (way too fast) I grew restless, then annoyed, even if I didn't want to be. I was constantly making excuses for her lack of judgment, until the moment I COULDN'T.
✘ While I realize that it's a prevalent trope in fairytales, in my opinion the hope talk grew old pretty fast. Hope will prevail. Because Hope is the key. Don't you believe that? Have you understood how important hope is? Do you? Do you? Are you sure? Because I'm going to repeat it over and over again. Oh. My. GOSH.
✘ As I said earlier, if I appreciated how beautiful the descriptions were, it remains that the writing was often too wordy for me. I'm by no means an action lover, but it was so frustrating sometimes that I had a hard time not to skim. Indeed some parts…. dragged….so much…that I couldn't help but be bored, unfortunately, and yes, I wanted the author to go to the freaking point.
► That's why it sort of lost its magic by the end. Way too long in my opinion, and yet I'll still keep a fond memory of Whistling Tor and its unusual inhabitants.