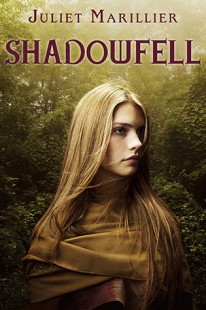 Shadowfell
(
Shadowfell #1
)
by
Juliet Marillier
Purchase on:
Amazon
, 
iBooks
, 
Book Depository
Add to:
Goodreads
Synopsis:

Sixteen-year-old Neryn is alone in the land of Alban, where the oppressive king has ordered anyone with magical strengths captured and brought before him. Eager to hide her own canny skill--a uniquely powerful ability to communicate with the fairy-like Good Folk--Neryn sets out for the legendary Shadowfell, a home and training ground for a secret rebel group determined to overthrow the evil King Keldec.

During her dangerous journey, she receives aid from the Good Folk, who tell her she must pass a series of tests in order to recognize her full potential. She also finds help from a handsome young man, Flint, who rescues her from certain death--but whose motives in doing so remain unclear. Neryn struggles to trust her only allies. They both hint that she alone may be the key to Alban's release from Keldec's rule. Homeless, unsure of who to trust, and trapped in an empire determined to crush her, Neryn must make it to Shadowfell not only to save herself, but to save Alban.
If I had to choose a word to describe it I'd say that this book is … quiet. Look, quiet is not necessarily a bad thing – it brings a different atmosphere along its path, almost soothing and completely enchanting.
① There is a lot of walking in this book, and when I say a lot, picture Frodo and Sam wandering in the Middle-Earth. That kind of walking.
② The plot is incredibly repetitive, the whole book revolving around the fact that a)Neryn has to go to Shadowfell, b)she doesn't trust (with reasons) Flint, c)she has a power that makes her able to see and talk with fairies and other magical creatures. I won't lie to you, this is highly frustrating at times.
③ I might have been under a spell because despite the walking, despite the repetitions, I was never bored, but enchanted and enthralled. Will it be the same thing for you? Fuck if I know. I can't say without doubt that you won't be dying from boredom, but I sure didn't, not for a second, and it was a page-turner for me (trust me, I'm astonished).
① Neryn is afraid but fierce, independent, and believable – she wants to be strong but doesn't succeed all the time and that's GREAT. She doesn't trust the first guy coming (I confess that I would have LOVED that she trusts Flint on sight, but hey, I'm weak, she was right, okay, I stop sulking – maybe). And if she sometimes takes risks, it's only because she wants to overcome the obstacles she meets during her quest.
"Weapons sharp. Backs straight. Hearts high"
If I had some concerns about her personality at the beginning, her courage and her perseverance definitely won me along the way.
② Flint is the best kind of characters : hard to trust, complex, morally ambiguous , conflicted. I can't express how much I'm eager to learn more about him.
"Become my friend and you embrace a nightmare. I don't wish that on anyone."
I might be crazy, because I felt attracted to this tortured guy from the start. *shrug*
③ The Little Folk speaks in a dialect that can be unsettling at first :
"Bide ye here awhile. Dinna be afeart o' the shadows; they canna harm ye. Sit quiet; ye look weary tae the bane. I willna be lang."
Strangely, it didn't bother me because a)it's rare and 2)it became easy to translate pretty fast. Don't ask me, I have no idea why, except maybe because it makes sense : contrary to many books that use a dialect, the author goes beyond throwing some words here and there, but uses a coherent language, and once the reader has digested the initial surprise, it becomes more and more easy to follow their conversations.
① The writing is really, really good, not heavy and flows smoothly. As far as I'm concerned, the way Juliet Marillier writes played a large role in determining my enjoyment.
② Nothing is ever as straightforward as it seems : indeed while at the beginning the boundaries between good and evil seem to be thick and steady, we quickly realize that nothing is as simple as it appears. Good reasons can lead to bad choices, and the contrary is also true. This world is brutal, unforgiving, and sometimes there's no such thing as a right choice. To be frank, I can't wait to learn more about this world.
③ Although I can't say when this event occurred, in the end I care about every one of these characters especially Flint. God I love him, and in my opinion that's perhaps the most important of all things, don't you think?
PS. I don't know why the blurb says that Flint is handsome because he's not, and that's one of the things I loved about him.
Related Posts