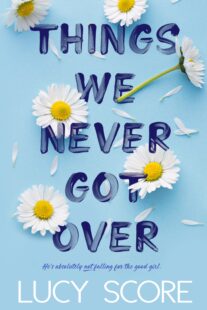 Things We Never Got Over
by
Lucy Score
Purchase on:
Amazon
Add to:
Goodreads
Synopsis:

Bearded, bad-boy barber Knox prefers to live his life the way he takes his coffee: Alone. Unless you count his basset hound, Waylon.

Knox doesn't tolerate drama, even when it comes in the form of a stranded runaway bride.

Naomi wasn't just running away from her wedding. She was riding to the rescue of her estranged twin to Knockemout, Virginia, a rough-around-the-edges town where disputes are settled the old-fashioned way…with fists and beer. Usually in that order.

Too bad for Naomi her evil twin hasn't changed at all. After helping herself to Naomi's car and cash, Tina leaves her with something unexpected. The niece Naomi didn't know she had. Now she's stuck in town with no car, no job, no plan, and no home with an 11-year-old going on thirty to take care of.

There's a reason Knox doesn't do complications or high-maintenance women, especially not the romantic ones. But since Naomi's life imploded right in front of him, the least he can do is help her out of her jam. And just as soon as she stops getting into new trouble he can leave her alone and get back to his peaceful, solitary life.

At least, that's the plan until the trouble turns to real danger.
Review:
Do you ever feel like you read a completely different book then everyone else? Or do you struggle comparing the tropes in one book to other books where they were done so beautifully that they were forever etched in your brain? Whelp that is me and Things We Never Got Over. I kept seeing this book all over bookstagram and I was so happy that our book club ended up picking this one to read. I jumped head first into the story and loved the beginning. But somewhere before the 100 page mark I could close the book and easily walk away. I wanted a book that was going to make me fall head over heels in love, but what I was left with was an emotional story that was just okay for me. So here are some of my favorite things and hiccups I had with this story….
"Why don't you ever fucking listen?" he grumbled, lips moving against my hair.
"Because sometimes people don't know how to ask for what they really need. You needed a hug."
"No. I didn't," he rasped. He was quiet for a long moment, and I listened to his heartbeat. "I needed you."
Some of my favorite things:
*I loved Naomi's thoughts and her sarcasm.
*I loved the horrible meet cute, it felt like hate at first sight!
*I adored the small town setting.
*The friendships where the type where they will forever have your back.
*My favorite character was Waylay, and I don't think a child in a book has ever been my top favorite character in a book *shrugs*.
*Nicknames – Not Tina and Daisy
*Found family
He was unfairly gorgeous. Too bad about the whole terrible personality thing.
My hiccups:
*It was soooo long, and I love my books long.
*Territorial. I have NEVER used this as a complaint towards a character. Knox and his caveman ways should have made me fall for him hard. But his 'get your ass in the truck' type of comments rubbed me the wrong way.
*It took forever to get to that first kiss.
*I loved the sex scenes, but some of the descriptions just pulled me straight out of the moment.  Like…her quivering pu**y.
*Peeing off a deck. As someone who spent her first 20 years camping in the middle of nowhere, this shouldn't bug me but I think I wasn't ever a fan of Knox or any of his ways *sad sigh*.
This story went from hilarious to emotional drama to a criminal plot and I don't know how I feel about that. It was a little bit of everything mixed together and I was left thinking of my favorite books with those aspects instead of reflecting on this story. With forced proximity, some enemies to lovers and the grumpy sunshine trope, this book should have been a slam dunk. But it wasn't. Maybe I was off? Or maybe this author just isn't for me. I'm going to try By a Thread the next time I feel like reading one of her books.  I'm keeping my fingers crossed that book works for me!