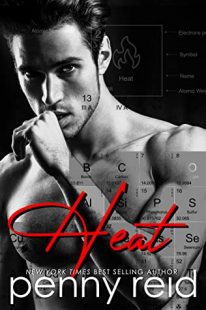 Heat
(
Hypothesis #2
)
by
Penny Reid
Purchase on:
Amazon
Add to:
Goodreads
Synopsis:

Four days left.
Private beach (…and boat).
Not so invisible girl.
And maybe less of a jerk-faced bully than originally thought.
What's the worst (or the best) that could happen?

Kaitlyn is finding life outside of the science cabinet of obscurity to be quite illuminating …and so are her pants. When things heat up between Kaitlyn Parker and Martin—previously known as the jerk-faced bully—Sandeke, she places her trust in the one person she never thought capable of earning it, let alone keeping it safe. Fortunately or unfortunately for Kaitlyn, where she gives her trust she can't help but also give her heart.

But how will the world beyond the sanctuary of their newfound connection react to their relationship? Soon senators, chinless billionaires, and elements beyond Martin and Kaitlyn's control want to weigh in on the young couple's future.

Navigating the chaotic inferno of new love might be more than Kaitlyn bargained for, and much, much more than her trust—or her heart—can handle.
Review of Heat:
Heat started right where Attraction left off, and it was my favorite book from Katy and Martin's story!   Maybe it was because we finally got to see the physical side of their relationship a lot more.  And that was HOT.  Or it could have been because we watched them learn more about one another.  Their past, who they truly were, where they wanted to go in life, their fears and their passions.  I loved all of their heartwarming and soul sharing moments.  I can't put my finger on exactly one reason why I loved these pages the most; I just know my heart was happiest while in this part of their story!
"I need to taste you, Kaitlyn. I want to fuck you with my tongue."
I shivered convulsively and had no idea how to respond to that, so I said, "I have no idea how to respond to that."
"Say yes. Say: Yes, Martin. I want you to fuck me…with your tongue."
"I don't think my mouth can say those words out loud. I'm not that outgoing."
In Heat we got to see all sides of Katy and Martin.  That included not only both of them growing but a lot of their flaws.  Katy could be so immature and regimented.  Whereas Martin could be so callous and his baggage, oh wow, that was a lot!  So while they weren't perfect, their flaws made them feel that more real.  They both had issues and insecurities to work through and I loved how they helped each other with certain issues.  I loved watching it make their friendship that much stronger.  I loved that it made their relationship feel that much deeper.  Even if they had only been on the island for one week.
I felt cherished.
I felt.
And it felt like perfection.
On top of Katy and Martin, we got to know their friends a lot more too.  Sam, Katy's bestie was one of my favorites!  But….I just have to say I strongly disagreed with her for a certain thing, she was wrong imo and I just wanted to shake her.  Hard.  LOL!  But all in all, this was a quick read and the world faded around me while I was lost in this world.  So if you adore sexy, angsty books, then this trilogy is for you!  And you'll want to have the next book Capture available asap, because this story ends on a cliffhanger, mid-scene too eeps!
Love was lasting. Love finds a way. Love endures.
But we'd had a week. One week. Only a week.
"A beautiful week," I said through my tears, not immediately realizing I'd spoken out loud.
Capture (Hypothesis #3)
by Penny Reid
Purchase on: Amazon
Add to: Goodreads


Synopsis:

One week.
Manhattan apartment.
Super-hot ex-boyfriend. …What's the worst that could happen?

It's been nine months since Kaitlyn Parker has seen or heard from Martin Sandeke—nine months and five stages of matter. She's lived through the worst of first-love heartbreak, and is most certainly stronger (and less likely to hide in science cabinets) than ever before.

But now Martin is back. And he wants to be friends. But he's sending mixed signals to the Bunsen burner in Kaitlyn's pants. Will Martin re-capture Kaitlyn's heart? Can Kaitlyn and Martin ever be just friends? Or, despite an abundance of chemistry, are some bonds just too unstable to endure?
Review of Capture:
*Spoilers Ahead* This is the final book for Katy and Martin!  And be prepared for some jumps in time.  First off, we jump six months ahead from Heat and so much has changed.  Their each living their own lives, but with what seemed like fate, they're getting a second chance at their friendship!  Martin…oh my heart he read one of her favorite books, Lord of the Rings, and he did so much more I can't even say.  So when it all comes out, sigh again, Martin was exactly who Katy needed!  He still made mistakes and he was still controlling as ever, but I really liked him.  And while Katy didn't think he was interested in her any longer, I just refused to believe that and held onto all of the hope!
"I want to discuss the terms of our friendship."
I stared at him, careful to keep my face devoid of expression, even though I wanted to yell, WHAT THE HELL ARE YOU TALKING ABOUT?
Instead I said, "What friendship?"
"The one you promised would always be mine if I ever wanted it, no matter what happened between us."
I loved that Katy slowly but surely changed since we met her in Attraction.  The fact that she was now wearing clothes that made her feel good instead of hiding in baggy ones, aw I loved it!  And her emotions didn't feel so black and white or clinical.  But oh goodness, she could still be so clueless.. like when Martin stole her line, she didn't even catch that *smacks face*.  You'll see what I mean lol.
If he wanted me still, then he would have done something, said something already. Therefore… not holding my breath.
Capture was a fabulous ending for Katy and Martin's story!  I loved watching how far both of them had come, I loved that they realized their flaws and I loved even more that they worked their hardest to make themselves better.  Plus we got a HEA, and those are always the best!  This was a great introduction to Penny Reid's stories and I'm definitely looking forward to reading more of her books in the future!
"I don't want a beautiful week with you. I want a beautiful lifetime."
PS The Christmas present?!  My heart was melting
PPS Abram was an interesting addition to this series!  While he's her band mate, he's definitely interested in her more than a friend.  Annnnnd that's all I'm saying.  Sorry LOL!  But really, I think you'll end up liking Abram too ♥.