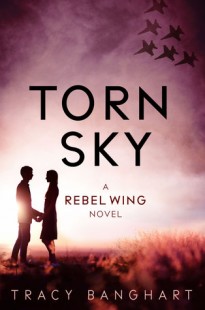 Torn Sky
(
Rebel Wing #3
)
by
Tracy Banghart
Purchase on:
Amazon
Add to:
Goodreads
Synopsis:

The end is near . . .

When Aris Haan brought down Safara's biggest war criminal, she'd thought it was a turning point in the war. Victory was on the horizon, as was a peaceful future with her Promised, Milek.

But a deadly new threat has emerged: a Safaran bomb that could wipe out all of Atalanta in one catastrophic blast. Aris is tasked with finding the weapon before it is completed, a mission made more difficult when she starts to suspect that there is a Safaran spy in her unit. Friendships are tested, loyalties are strained, and suddenly Aris no longer knows whom she can trust.

In the epic conclusion to the Rebel Wing series, Atalanta's fate rests on Aris's shoulders. Can she find the bomb before it destroys everything—and everyone—she loves?
Review:
*Slight spoilers for Rebel Wing #1
 & Storm Fall #2
*
Torn Sky was a stunning conclusion to The Rebel Wing trilogy.  I wasn't ready to say goodbye to the friends I met in this series, yet at the same time the ending was absolutely perfect.  Looking back over this journey, here are some of the reasons I ended up falling for this series and of course the final book:
✮ Fast-paced action
The battle scenes that Aris and her fellow military members found themselves in would often leave my palms sweaty and my heart racing.  And it felt as though I was with Aris in her military jet evading enemy fire or down on the ground fighting the Safara's soldiers.  It definitely made for an adventurous time!
✮Love
Whether it was Aris and Milek or Dysis and Calix, I always found myself smiling and sighing at their moments together.  Funny thing is, I usually only get attached to one couple in a book.  Yet I found myself caring for two different sets of people, because there was no way I could ignore how addicting Dysis and Calix's story was also.

He had seen her at her most vulnerable, unconscious and bleeding. But that was nothing to this, to letting him see into her soul.
"At least we'll have someone to hold onto at the end. We won't be alone." His arms slid around her, and her eyes closed, and the happiness, and the sorrow, and the fear collided as their lips joined once more.
✮Perilous Situations
While I thought the two previous books were filled with wonderful perilous moments, Torn Sky takes the cake.  I'm still reeling over a few different moments.  Moments were I didn't know whether I wanted to pause and curl into myself or continue absorbing every single heart wrenching moment.  I love finding myself in that conflict!
His hand reached up and clasped hers, holding it against the less-bruised cheek. "I love you, Aris."
"Don't say it like that," she said, swallowing back tears. "Like you're afraid you won't get another chance."
✮The twists
All I can say is wow.  One of them cut so deep, that I couldn't stop my eyes from filling up with tears.  I never saw it coming, or maybe I didn't want to see it coming.  But when a huge light was shined on it, oh man did it hurt.  This was done perfectly, and I wish I could say more.
✮World Building
My friends know that my patience level for intricate world building is minimal.  But this series had such a good mix between giving us enough details to easily visualize their world and civilization, while at the same time not being bogged down with countless descriptions.
✮Strong Women
Aris, Dysis, and Galena each earned my respect as the series progressed.  They each had a fire in them, and at times each was a force to be reckoned with.  I loved when they wouldn't back down, no matter how dire the situation was.  And I have to say again that I loved Aris and Dysis' friendship!

She waited for him to answer, willed him to understand. She would do anything to protect this dominion. Even if it meant becoming a monster. – Galena
✮How it all tied in together
This is probably one of my favorite aspects.  The way the characters found themselves connected, or how certain events tied into other events, made for such an exciting time watching how everything was all twisted together.
I could go on and on, but these were definitely my favorites.  Although it was hard to narrow down my list!  But looking back, I am still a little conflicted over the multiple perspectives.  I think it added a more rounded feel, but then again I was stuck feeling as though I wanted to be watching another person's perspective at the same time.  But regardless, this was such a fun trilogy.  And I will definitely be checking out Tracy Banghart's other books!
Reading Order & Links:
Amazon (click on covers) & Book Depository (click on book #)

Rebel Wing #1
Review:
Jen

Storm Fall #2
Review:
Jen

Torn Sky #3
Review:
Jen
Save