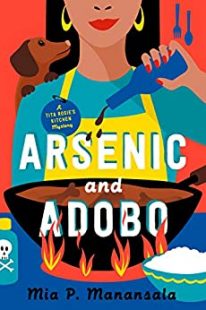 Arsenic and Adobo
(
Tita Rosie's Kitchen Mystery #1
)
by
Mia P. Manansala
Purchase on:
Amazon
, 
iBooks
, 
Book Depository
Add to:
Goodreads
Synopsis:

The first book in a new culinary cozy series full of sharp humor and delectable dishes—one that might just be killer....

When Lila Macapagal moves back home to recover from a horrible breakup, her life seems to be following all the typical rom-com tropes. She's tasked with saving her Tita Rosie's failing restaurant, and she has to deal with a group of matchmaking aunties who shower her with love and judgment. But when a notoriously nasty food critic (who happens to be her ex-boyfriend) drops dead moments after a confrontation with Lila, her life quickly swerves from a Nora Ephron romp to an Agatha Christie case.

With the cops treating her like she's the one and only suspect, and the shady landlord looking to finally kick the Macapagal family out and resell the storefront, Lila's left with no choice but to conduct her own investigation. Armed with the nosy auntie network, her barista best bud, and her trusted Dachshund, Longanisa, Lila takes on this tasty, twisted case and soon finds her own neck on the chopping block…
Review:
Arsenic and Adobo was a fun cozy mystery that I adored. With heartwarming characters and a mystery that kept me on my toes, this book was definitely entertaining. If you enjoy stories about family, friendship and putting clues together, then you will want to add this one to your tbr!
I grinned as he seemed to squirm with delight. "Good, huh?"
He let out a long, drawn-out sigh but didn't answer.
I put my hands on my hips. "Oh, come on. Would it kill you to say something nice for a change?"
He responded by convulsing violently, then face-planting right into the dish.
Lila Macapagal moved back home to help her family's restaurant, since they were struggling.  Right off the bat we got to meet her ex, Derek. He was a local food blogger and critic who never had anything positive to say, yet he still dined at their restaurant.  This day he brought his stepfather with him, who was also their landlord. But during Derek's meal, he died face first into his food.  With their landlord pointing the finger at them, Lila found herself being accused of poisoning her ex by the police!  What's a girl to do?
We'll be fine, I told myself. We didn't do anything, so they couldn't possibly find anything on us. Right? Right.
I sure hate it when I'm wrong.
Two of my favorite things about this story were the characters and the food!  One of my besties is Filipino, so while I've had a few of the meals mentioned (lumpia being my favorite that she cooks!), there were sooo many more that I desperately need to try!  The food sounded absolutely delicious, so be prepared for this book to make you hungry.  And much to my surprise and happiness, there were some of the recipes in the back of the book.  Loved it!
He squeezed my hand and leaned forward, eyes burning with conviction. "I swear to you, I will fix this. Just trust me, OK? Everything will be fine."
Not only did I enjoy our main character, Lila, but everyone she surrounded herself with too.  There was her eccentric Grandmother and her Tita Rosie who I just wanted to hug and hang out in the kitchen with!  I wanted to go have a cup of coffee with her bestie Adeena and steal away Adeea's very sexy brother, Amir.  I was kinda obsessed with him.  Amir's a lawyer who helped Lila and her family out time and again.  There were definitely sparks there, but there was another guy in the picture too.  So while there were little hints of romance here and there, it never overshadowed the story.  And I'm keeping my fingers crossed that we'll find out who Lila chooses in the next book.
I needed to figure out who killed Derek Winter.
As the story progressed, it seemed as though Lila was framed and setup time and again.   It didn't help that Lila kept stumbling upon dead bodies.  She held it together for the most part, which was impressive because I would have lost it lol.  I truly didn't know how it would all be fixed. So when Lila started investigating on her own, I was cheering for her every step of the way!  Arsenic and Adobo was an entertaining tale that was a delightful read!  I don't reach for cozy mysteries near enough, but I definitely need to in the future!
*I voluntarily read and reviewed an advanced copy of this book, provided by the publisher. All thoughts and opinions are my own.*