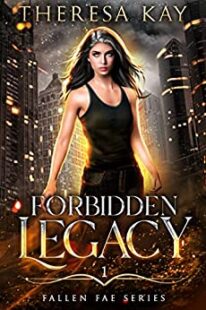 Forbidden Legacy
(
Fallen Fae #1
)
by
Theresa Kay
Purchase on:
Amazon
Add to:
Goodreads
Synopsis:

Stealing from the fae is easy, but working with one to retrieve the relic I was hired to swipe? Not so much.

The job was supposed to be simple: Sneak in, break the wards, grab the necklace, and get out. Being arrested for the murder of a high-profile Autumn Court fae was definitely not part of the plan.

After I'm cleared of the crime and sent home, the dead fae's arrogant grandson shows up at my door. He demands I help him retrieve the thing I never had a chance to take, though he neglects to tell me the item's true worth. In the battle for power between the fae Courts, the necklace is beyond priceless and there's more than one person willing to kill for it.

But my new associate is not the only person with secrets, and the teenage dragon shifter who lives with me in the human realm is only one of mine. After all, I haven't spent the past six years hiding in a seedy section of post-Merge Chicago for fun.

Forced out of obscurity and on the trail of a blood magic wielding murderer, I'll have to work quickly in order to prevent disaster. Because if we can't find the necklace before it's too late, then the fate of all the Courts may be at stake.

Forbidden Legacy is the first book of the Fallen Fae trilogy, an exciting new adult urban fantasy series with magic, mystery, and a slow-burn romance.
Review:
Forbidden Legacy was a fabulous start to this trilogy!  With dread pooling in my stomach, the first chapter sucked me right in!  Magic swirled within the story while deals were made, motives were unknown, and there were moments that I didn't know if they would make it out alive.  This story was impossible to put down and an instant fave!
My truths are one of the few things that belong to me and I refuse to give them up without a fight.
I absolutely loved Ari!  She was from the Winter Court and kept a low profile in the human world.  She did odd jobs, using her ability to take down wards, to survive.  So when Declan swept into her world, I couldn't stop smiling! Declan was from the Autumn Court and Ari had no problem putting him in his place!  I loved watching her play with words, and I loved how confident she was of herself.  Of her skills.  And I loved her even more because she helped take care of Finn, a teenage dragon shifter.  However, Ari held her cards close to her chest and protected those that she cared for fiercely.  She would literally go to the ends of the world for them.  But she didn't let others in easily, or at all.  I was nervous for Declan, if he would be able to knock down her walls.
If I had any sense at all, I'd walk away right now.
The problem is, I think it's too late for that.
I am obsessed with Declan.  He was a full blooded Fae who was arrogant and saw the world differently than Ari.  He definitely made some assumptions that were wrong, like about Ari.  But not only did Declan grow in leaps and bounds from the beginning of the first book to the end, so much of who he was beautiful.  He took responsibility.  He protected others.  He was smile inducing and I loved some of the tricks he pulled on Ari.  His words, his actions, his loyalty, and his ability to go all in made it so easy to fall for and love Declan. But I also loved that Declan pushed Ari.  And tried his best to knock down her walls.  I so desperately wish I could have known his thoughts!
I have to get away.
I can't stay here.
I can't breathe.
I'm going to die.
Forbidden Legacy had a slow burn romance that will definitely be worth the wait!  Not only were Ari and Declan from different courts, but they both had lots of secrets.  Being stuck in perilous situations forced them to trust and rely on each other's magic, and one other, to survive.  I loved how that led them to letting their guard down at moments or sharing something about themselves.  It was smile inducing and gave me so much hope! Through it all, I felt desire laced in some of their interactions.  Whether it was a look or a phrase, it left me so hopeful.  Because I kept wishing that they could be together.  They would be a formidable team.  So the moments they went that extra length to do something for the other, I don't even have words for how happy it made me.  I just wanted to push them together and never let them be apart lol!
I reach up and take one of his hands, linking my fingers with his and squeezing his hand. "I've got you."
Rounding out the story where side characters that came alive.  Finn was my absolute favorite among them, and I am beyond intrigued by Agatha!  There were also characters that I would love to see destroyed!  So many moments I had sweaty palms as truths surfaced and paths were set in motion.  And while I guessed one of the twists, there's still so much for us to learn and figure out.  Forbidden Legacy was an addictive story that will take you on a spellbinding adventure!  Brimming with banter, fabulous characters and a story-line that makes it so easy to devour, this book was such a huge win!  The ending of this story left us at the perfect stopping place.  We can breathe but we're also left beyond excited for that next book!  If you're a fan of slow burn romance, I can't recommend this book enough!
*I voluntarily read and reviewed an advanced copy of this book, provided by the author. All thoughts and opinions are my own.*