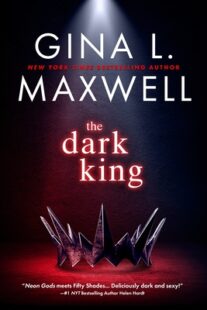 The Dark King
(
Deviant Kings #1
)
by
Gina L. Maxwell
Purchase on:
Amazon
, 
iBooks
, 
Book Depository
Add to:
Goodreads
Synopsis:

For Bryn Meara, a free trip to the exclusive and ultra-luxe Nightfall hotel and casino in Vegas should've been the perfect way to escape the debris of her crumbling career. But waking up from a martini-and-lust-fueled night to find herself married to Caiden Verran, the reclusive billionaire who owns the hotel and most of the city, isn't the jackpot one would think. It seems her dark and sexy new husband is actual royalty—the fae king of the Night Court—and there's an entire world beneath the veil of Vegas.

Whether light or shadow, the fae are a far cry from fairy tales, and now they've made Bryn a pawn in their dark games for power. And Caiden is the most dangerous of all—an intoxicating cocktail of sin and raw, insatiable hunger. She should run. But every night of passion pulls Bryn deeper into his strange and sinister world, until she's no longer certain she wants to leave…even if she could.
Review:
All is fair in marriage and war.
The Dark King was an extremely seductive tale about the Fae living in our world. With adult flawed characters, an enemies to lovers premise, a captive situation, and death constantly around the corner, this book was such a quick read! The Dark King was a memorable story that fantasy lovers will devour!
"I'd rather be sorry for taking a thousand risks than be safe for never taking any."
Bryn Meara ended up with a free trip to the city of sin, Las Vegas. I adored her happy go lucky personality and how she could find so much positive even when the world knocked her down. Upon meeting Caiden Verran, a billionaire who owned the hotel she was staying at, there were sparks. And after a wild night with Caiden, they ended up married. But what Bryn didn't realize was that he was Fae. And the king of the Night Court. Bryn found herself trapped and part of a deadly game. But are you truly trapped if a part of your heart wanted to stay?
I'm a selfish fucking bastard who wants to keep what he's not supposed to have.
Caiden Verran was a multi-faceted man. He showed us he had compassion for his employees and to keep them safe. That he loved his brothers. But he also showed us how he had no problem being dark, controlling and an asshole. Caiden's court was banished to the human world, and they made Vegas what it is today. And his court was also cursed. I loved watching how that played out as the story progressed. The Fae were so tricky, especially with their words! Caiden was sex appeal, danger and control all rolled into a beautifully powerful man. So when he showed us his heart or when he opened up to Bryn, it was impossible not to fall for him.
"So I was thinking, since I'm your prisoner—"
"Guest."
"Hostage—"
"Roommate."
She sighs.
Caiden and Bryn together were electric with their enemies to lovers romance. I loved how she had no problem standing her ground when it came to him. He definitely wasn't used to that lol. But at the same point, they were trapped together. So Bryn became a hostage. One who still had feelings and a wild attraction to her captor. Yet her captor felt so much towards her too, even if he didn't want to. Their moments together were beyond erotic. Sooooooo why didn't I gave this book a higher rating, since I loved so much of it?  It's because the BDSM was way too much for me.  I would have been fine with it once, but that was not how the story unfolded.  Butt plugs, being called a slut, spanking, nipple clamps etc just aren't my preferences when reading a book. Just like the moment below, I flinched when reading ugh.
As her next orgasm builds and twists inside her, tears overflow and cause her mascara to run. I use the fingers of my free hand and smear the black drops into messy streaks down her face, then I grip the front of her throat and apply pressure on either side. Lips and nipples both swollen and red, cheeks painted in black tears…
Mysteries, secrets, and fabulous twists filled this story. And there was a sacrifice that was beautiful! Plus the side characters, oh I have way too many lovely words for them to write it all here, but readers will be excited to learn that this world will continue with those other characters. I absolutely loved the story-line and the characters, I just personally couldn't handle the BDSM.  Not even a little bit. I read the synopsis on Goodreads, but lesson learned to also look at Amazon because on Amazon it states the book is similar to Fifty Shades. I wish I would have seen that.  But here's hoping my friends who love their fantasy with all the spice enjoy this book!
*I voluntarily read and reviewed an advanced copy of this book, provided by the publisher. All thoughts and opinions are my own.*
Related Posts