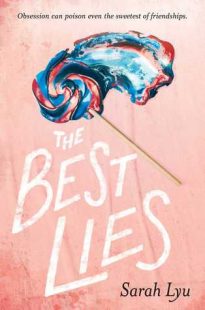 The Best Lies
by
Sarah Lyu
Purchase on:
Amazon
, 
iBooks
Add to:
Goodreads
Synopsis:

Remy Tsai used to know how her story would turn out. But now, she doesn't even know what tomorrow will look like.

She was happy once. Remy had her boyfriend Jack, and Elise, her best friend—her soulmate—who understood her better than anyone else in the world.

But now Jack is dead, shot through the chest—

And it was Elise who pulled the trigger.

Was it self-defense? Or something deeper, darker than anything Remy could have imagined? As the police investigate, Remy does the same, sifting through her own memories, looking for a scrap of truth that could save the friendship that means everything to her.

Told in alternating timelines, Thelma and Louise meets Gone Girl in this twisted psychological thriller about the dark side of obsessive friendship.
We were a forest fire, wild and full of rage. We were a galaxy unto ourselves, a million stars blazing and bright. Everything was possible then.
The Best Lies by Sarah Lyu is another YA thriller that is full of potential but fails to execute on its premise. What could have been a twisty and dark story about toxic female friendships and how that can boil over into terrible consequences is more bark than bite. I almost DNF'd at 50%, when the pace of the book was still moving at an almost glacial speed, but wanted to see it to the end. The end picked up a little bit, but it couldn't make up for the slow pace and repetitive scenes and conversations that plague this book.
I know she's here somewhere. I can feel that invisible push and pull whenever she's near, like she is a star and I am a captured object.
The Best Lies follows Remy Tsai's life over a couple of months. The book jumps back in forth between the night her boyfriend, Jack, is killed and the beginning of her friendship with Elise. Elise meets Remy outside of a school dance right after Remy is dumped by her now-college boyfriend. They quickly bond over their screwed up family lives: both girls are dealing with a lot of heavy and serious issues at home and learn to lean on each other to deal with it.
At the heart of every good lie is the truth, that's what Elise told me once. The best lies are at least half-true she said.
Elise is nothing like Remy. She is obsessed with justice for those who can't fight for themselves, she is extremely loyal to those she deems is worthy of her loyalty and she impulsive and rash. Once she becomes fixated on something, she can't let it go. Remy is more quiet and reserved, living in the shadow of her much more popular and accomplished older brother. She is kind of drifting through life, with a small social circle that she's not really attached to. Elise and Remy are opposites attracting and a strong bond is quickly formed.
"What we have is real," she repeated. "No one else has what we have. No one will ever love you like I do."
However, the bond between Remy and Elise begins to fray. Remy is not comfortable with some of Elise's decisions, especially related to her vigilantism. In a chance meeting after Elise abandons her at party, Elise meets Jack. Jack is her light in a dark world. He's funny and caring and sees her for who she really is. Before long, Remy is spending more time with Jack and less with Elise. This is the main catalyst for many of the problems and crescendos up until the night he is killed.
I told myself I was running toward him and not away from her, but maybe that was just a convenient lie.
As I said before, this story had a lot of potential. The mini recap I wrote above shows how dark and twisted this story is and I liked the ideas presented by Lyu. However, I felt it fell very flat in execution. First off, it's so repetitive. So many scenes and conversations are almost identical that I often wondered if my Kindle glitched and I was reading something I already had. Remy and Elise seem to have the same arguments over and over. They also are ALWAYS crying. I'm pretty sure one of them does not go more than five pages without being described as crying or sobbing or tearing up. I get there are a lot emotions happening, but it was too much. If there had been variety to the story, as well as better pacing with these scenes, I could have been more forgiving.
Overall, I'm in the middle about this book. I liked aspects of it. The subject of a toxic and dependent female relationship was new and different from a lot of other YA thrillers. I liked how Remy's family life issues were handled and resolved. I really liked Jack and Remy and Jack's relationship. Elise was an interesting character, who while flawed, kept my attention. However, I still can't get over the pacing, the repetitiveness and the minimal twists in a thriller. 3/5 stars.
We believed our wounds made us special. We believed what didn't kill you made you stronger. We believed our tragedies were romantic.
CW: Death/murder, physical abuse, verbal abuse, manipulation, cheating, lying