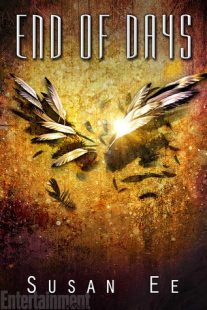 End of Days
(
Penryn & the End of Days #3
)
by
Susan Ee
Purchase on:
Amazon
Add to:
Goodreads
Synopsis:

End of Days is the explosive conclusion to Susan Ee's bestselling Penryn & the End of Days trilogy. After a daring escape from the angels, Penryn and Raffe are on the run. They're both desperate to find a doctor who can reverse the twisted changes inflicted by the angels on Raffe and Penryn's sister. As they set off in search of answers, a startling revelation about Raffe's past unleashes dark forces that threaten them all.

When the angels release an apocalyptic nightmare onto humans, both sides are set on a path toward war. As unlikely alliances form and strategies shift, who will emerge victorious? Forced to pick sides in the fight for control of the earthly realm, Raffe and Penryn must choose: Their own kind, or each other?
Review:
I laughed, cried, fell madly in love, become utterly terrified and was even beyond ecstatic.  I loved these characters.  I loved how the story evolved throughout the series.  BUT I hated how I was left with SO many unanswered questions.  On top of that, I hated how it ended abruptly in the middle of a scene.  Both of those aspects pained my heart.  So I found myself closing the book and just staring at the wall wandering through my thoughts.  Because one on hand, I loved everything else about this story, yet that epilogue left so much to be desired for.  Ultimately my love for Penryn, Raffe, and so many of the other characters allowed me to place this series on my favorites list, which I don't take lightly.   But I know that years down the road I will still wish that I was given more after that breathtaking journey.
So here's what I struggled with (a little reiterating here lol):
✮Happily For Now – While HFNs are okay, I will always prefer a HEA over them.  The end of the book stops right in the middle of a scene, so I was left wishing that there were still a few more chapters to read.
✮Too Many Unanswered Questions – This could have easily been a 5 Star book.  But that ending left so much to be desired for.  I was crushed that I had so many unanswered questions, even  questions that I've had since the first book.  I listed all my unanswered questions in the spoiler below.  I'm sure I'll eventually think of more, since these are the ones that easily rolled off of the top of my head.  Btw don't click this spoiler if you haven't read the final book, there are HUGE spoilers:
View Spoiler »
Penryn will age and Raffe won't. Will they stay together till the end of her life?

And if they do, won't those creatures come find Penryn and pull her into the ground too? Just like what happened to The Watcher's wives.

Why did the angels come in the first place?

How did Penryn have a dream about the scorpions before she even knew about them?

What happened to the scorpions? Will they stay? Will people be safe from them?

Layla and Uriel talked about how they came here 10 months prior, but the humans only knew of them being here for 2 months. What were they doing? How did they know the rest of the angels were going to come into the human's world?

How did Penryn's mom know about the rotten eggs?

How did Paige really break her legs, their mom like they suspected?

How was Paige able to communicate or have a connection with the locusts? What did the doctor do differently? Why did they call her The Chosen One?

We don't know if any of the talk about Penryn's mom communicating with the devil is true or her schizophrenia.

Also, how where they able to crawl in and out of memories? That wasn't ever explained and made no sense to me. Especially since they were able to go back and get the Watchers and pull them out of a memory.  How in the world would that even happen?

How where the angels even able to come into our world? Where did they come from? What was their world even like? Were they even angels?

Why in the world would Gabriel lie? Especially about the Nephelim. Was he the one that caused that other world (maybe Hell?) to come rip the women down into the sand. Who was even in charge of that punishment?

Why was their only one female Angel? What are they, the Smurfs?

And where did the 666 creatures go? Are they staying in the ocean or were they taken back with the Pit Lord? « Hide Spoiler
See, that's a TON of unanswered questions.  That's why I docked what should have easily been a 5 Star book.  Too much was left unanswered, or was left not mentioned.  Was it an easy way out?  I don't know.
But here's what I loved:
"Since when did you become so protective?"
"Since my enemies have determined that you're my Daughter of Man."
I swallow. My throat is dry.
✮Sexual tension – This whole trilogy was laced with sexual tension, but the of End of Days gave me exactly what I wanted!  My heart was racing and happy and you couldn't knock the smile off of my face.  THIS was exactly what I was hoping would happen, even if some of the scenes went a little too fast……..I went back and already re-read them a few times.  They were sooooo good!
The invasion. My mom. My sister. The massacres. They all come rushing back. He's right.
We're at war.
On the verge of an apocalypse filled with monsters and torture in a nightmare world.
And I'm standing here, a moonstruck teenager pining for an enemy soldier. What am I, crazy?
This time, I'm the first to turn away.
✮An outstanding heroine – I've said this before and I'll say it again, Penryn deserves to be standing next to Raffe.  She is rational, logical, brave and fierce.  She is a force to be reckoned with and takes bad-ass to a whole new level.  I loved being in her head, she is one of my favorite Heroines ever!
He looks down at me with sincere eyes. "If I were human, I would have been the first in line for you . . ." He looks away. "But I'm not. I'm an archangel, and my people are in trouble. I have no choice but to try to set things straight. I can't get distracted by a Daughter of Man."
He nods a little to himself. "I can't."
✮A breathtaking hero – Not only was Raffe exactly what Penryn was – rational, logical, brave and fierce – but his loyalty and protection towards Penryn was utter perfection.  He made my heart soar with how he saw her and tried to protect her.  He made my heart melt as he fought back to back with Penryn and trusted her with his life.
✮Amazing supporting side characters – Whether it was her sister, mom, the twins or some other Angels that I don't want to mention, I loved them all.  They were fleshed out and felt as real as Penryn and Raffe.  They made me laugh and cry and I became invested in each and every one of them!
"We can all go our separate ways and die alone." My voice becomes firm, and I try to inject steel into it. "Or we can stay together and make our final stand."
✮Heart stopping action – Battle scenes, horrific situations, insanely difficult decisions, this book was filled with moments that left me breathless and utterly captivated.
"Just this once," he says almost more to himself than to me. "Just one moment."
Then he leans down and kisses me.
✮An outcome that was perfection – I desperately want to talk about this BUT I can't without giving away an enormous spoiler.  So just know that I cried, laughed and my heart soared with something that happened.
Now do you see my struggle?  Because this series and book was almost perfect, except for all of the unanswered questions and HFN ending.  I still want everyone to discover this fabulous series, but I wanted to spell out clearly what I struggled with since you may or may not also struggle in those areas too.  But regardless of whether you agree or disagree with me, just know that I will always love Penryn, Raffe and their outstanding journey!
Reading Order & Links:


Amazon

(click on covers),

iBooks (click on titles) & Book Depository

(click on book #)


Angelfall #1
Reviews:
Jen
Chelsea
Laura
Anna

World After #2
Reviews:
Jen
Chelsea


End of Days #3
Reviews:
Jen
Chelsea
Related Posts