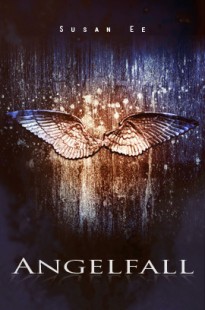 Angelfall
(
Penryn & the End of Days #1
)
by
Susan Ee
Purchase on:
Amazon
, 
iBooks
Add to:
Goodreads
Synopsis:

It's been six weeks since angels of the apocalypse descended to demolish the modern world. Street gangs rule the day while fear and superstition rule the night. When warrior angels fly away with a helpless little girl, her seventeen-year-old sister Penryn will do anything to get her back.

Anything, including making a deal with an enemy angel.

Raffe is a warrior who lies broken and wingless on the street. After eons of fighting his own battles, he finds himself being rescued from a desperate situation by a half-starved teenage girl.

Traveling through a dark and twisted Northern California, they have only each other to rely on for survival. Together, they journey toward the angels' stronghold in San Francisco where she'll risk everything to rescue her sister and he'll put himself at the mercy of his greatest enemies for the chance to be made whole again.
Why an experiment?
Basically, because I'm so stubborn I wanted to try new books with all the creatures that made me cringe in the past. I mean, my only experience with angels was my struggle to read this crappy abomination that is Hush, Hush (I think I deserve a huge chocolate box for that one, don't I?)
That's why I'm here. Thank you amazing Kat (click here to read her beautiful review) for reading it with me! I don't know what I'd have done without you to share our WTF?!!
↬ You don't want to live there. Good to know! Angels target big cities. Follow my example, my nearest neighbors are sheep. Woot-woot!
↬ Every food is your friend. Sometimes energy bar is the only thing you can grab. Other times that's cat's food. Don't be vegetarian. Don't be allergic. You don't know what you're going to eat.
↬ Instant-jerk reactions are welcome. If you see an handsome wounded angel, go help him. I know what you think, how in the world am I supposed to carry him and all that? But trust me : I just learnt they weight almost nothing. And, icing on the cake, if you manage to do that, you might win a sarcastic and swoon-worthy[but a bit stupid, as all his buddies – see below (hide spoiler)] partner in crime from whom you can collect useful evidences about your enemies, and whose package involves :
✔ Warm hugs when you have a nightmare
✔ Witty comments to decrease the tension
✔ Fighting backup. That's freaking useful when you walk in the world after (don't count on it too much though, the help isn't always coming)
↬ Improve your survival instincts. If someone tells you to run, you run. No hesitation. Being able to climb a tree is definitely a plus. And you have to run fast, because action never ends in an Apocalyptic world.
↬ A good preparation leads to success. You are way more likely to survive if you took self-defense classes in the past. I guess you have to start right now. One is never too careful.
↬ Don't be a stupid brat. If your mother starts to talk about daemons, listen carefully and don't do that children thing that is to say "Hmm hmm" without actually listening. Every information can be important.
↬ Remain focused on your goal. You're not here to save the world, so just keep this in mind. Ah, you do. Good girl.
↬ Anyway, the most important thing you have to know, you new inhabitant of the world after, is the fact that the Angels are fucking stupid. And that's that lack of pertinence or explanation for their presence on Earth that prevented me from truly loving this book. I mean, hey, I'm pretty cool with weird stuff but COME ON. In my opinion the world-building wasn't that original but rather a strange combination of creatures who don't fucking know why they're here. ← That killed me. At some point, the whole world seemed just random. So fucking confusing. Not to mention the dystopia vibes with the Resistance. Been there. Done that.
Verdict : Penryn is an awesome heroine who deserves to survive : she has everything mentioned earlier, and above all that, she cares about her family and never loses hope. I loved her.
Verdict (2) : There's no way I could survive. I can only hope apocalypse isn't coming.
To sum-up : That's safe to say that I couldn't relate to Penryn. FORTUNATELY. This might have save her life – and save the book for me.
And Raffe. I really liked that witty angel.
Reading Order & Links:


Amazon

(click on covers),

iBooks (click on titles) & Book Depository

(click on book #)


Angelfall #1
Reviews:
Jen
Chelsea
Laura
Anna

World After #2
Reviews:
Jen
Chelsea


End of Days #3
Reviews:
Jen
Chelsea
Save
Related Posts