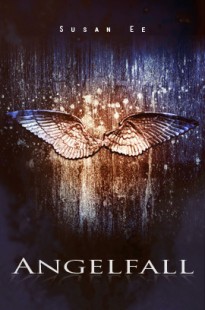 Angelfall
(
Penryn & the End of Days #1
)
by
Susan Ee
Purchase on:
Amazon
, 
iBooks
Add to:
Goodreads
Synopsis:

It's been six weeks since angels of the apocalypse descended to demolish the modern world. Street gangs rule the day while fear and superstition rule the night. When warrior angels fly away with a helpless little girl, her seventeen-year-old sister Penryn will do anything to get her back. Anything, including making a deal with Raffe, an injured enemy angel. Traveling through a dark and twisted Northern California, they journey toward the angels' stronghold in San Francisco, where Penryn will risk everything to rescue her sister and Raffe will put himself at the mercy of his greatest enemies for the chance to be made whole again.
Review:
I was addicted to Angelfall by the first page.  The story-line was vivid and always left me with that desperate feeling of having to know what was going to happen next!  The characters were full of life, even the secondary ones, and I became deeply immersed in what happened to them.  And the peril and slight moments of horror that were intricately laced throughout the story made my emotions flail into overdrive.  How could I not fall for this book?  Add in the fact that every single tiny detail in this story called for my absolute attention, especially that ending *clutches heart*, and I was a goner!
"Where are we?" Raffe asks from the shadows behind me.
"In Hell," I say.
I loved Penryn from the moment that I met her!  She is a teenage girl who lived with her mom and sister.  In hopes of finding somewhere safer to live, they left their home at twilight since the angels wreaked havoc at night, and the gangs ruled the days.  In those first few chapters, when they're trying to get to safety, my heart was in my throat.  And what unfolded was utter horror.  While Penryn was fierce and brave, she ended up being left with an Angel who was injured.  And he was her best bet for finding her little sister, who was taken by the other Angels.
When you're small enough to have to look up at everyone around you, there's no such thing as a dirty fight. That's a new motto for me. I think I'll keep it.
Penryn's decision making twisted my gut at times, yet her decisions were sound and made me cheer for her.  You'll get what I mean within those first few chapters lol.  I loved that I quickly connected to Penryn and felt every single thing she did.  Especially her fear, her bravery, and her struggle over choices she made.  She definitely soared right to the top of my list for favorite kick-butt heroines!  Which made her interactions with Raffe, the injured Angel, that much better.  He is a creature who could decimate her in a second, yet Penryn stood up to him.  What she did, to try to convince him to take her to find her sister, wow, her loyalty and bravery were amazingly impressive.
"Sometimes, as we're stumbling along in the dark, we hit something good."
Raffe, awwwwww *flails around*.  He would leave the craziest smiles on my face.  With his ridiculous sense of humor, his bantering and no-nonsense ways, I adored him.  But one of my favorite things about Raffe was the ability to find clues in his actions or words.  Because while he tried to come off as indifferent, I just didn't want to buy it.  Because some of the things he did and said, while I may be reading way into them, had me jumping for joy.  I have HUGE hopes for Raffe, and what is going to unfold!
I nearly stumble over a fallen branch. "You have got to be kidding me."
"I never kid about my warrior demigod status."
"Oh. My. God." I lower my voice, having forgotten to whisper. "You are nothing but a bird with an attitude.Okay, so you have a few muscles, I'll grant you that. But you know, a bird is nothing but a barely evolved lizard. That's what you are."
He chuckles. "Evolution." He leans over as if telling me a secret. "I'll have you know that I've been this perfect since the beginning of time." He is so close that his breath caresses my ear.
"Oh, please. Your giant head is getting too big for this forest. Pretty soon, you're going to get stuck trying to walk between two trees. And then, I'll have to rescue you." I give him a weary look. "Again."
If you haven't read this series yet, it's a must!  The story was ALL consuming!  The pace had me flipping through the pages trying to see what was going to happen next.  And I quickly connected to Penryn, fell madly in love for Raffe and loved the moments where her mom and other characters graced the pages.  I honestly loved every single thing in this book and I hope you will too!
Reading Order & Links:


Amazon

(click on covers),

iBooks (click on titles) & Book Depository

(click on book #)


Angelfall #1
Reviews:
Jen
Chelsea
Laura
Anna

World After #2
Reviews:
Jen
Chelsea


End of Days #3
Reviews:
Jen
Chelsea
Related Posts