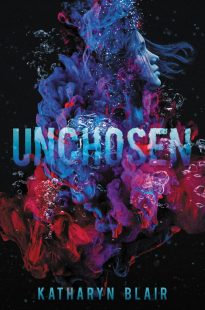 Unchosen
(
Katharyn Blair
)
by
Katharyn Blair
Purchase on:
Amazon
, 
iBooks
Add to:
Goodreads
Synopsis:

For Charlotte Holloway, the world ended twice.

The first was when her childhood crush, Dean, fell in love—with her older sister.

The second was when the Crimson, a curse spread through eye contact, turned the majority of humanity into flesh-eating monsters.

Neither end of the world changed Charlotte. She's still in the shadows of her siblings. Her popular older sister, Harlow, now commands forces of survivors. And her talented younger sister, Vanessa, is the Chosen One—who, legend has it, can end the curse.

When their settlement is raided by those seeking the Chosen One, Charlotte makes a reckless decision to save Vanessa: she takes her place as prisoner.

The word spreads across the seven seas—the Chosen One has been found.

But when Dean's life is threatened and a resistance looms on the horizon, the lie keeping Charlotte alive begins to unravel. She'll have to break free, forge new bonds, and choose her own destiny if she has any hope of saving her sisters, her love, and maybe even the world.

Because sometimes the end is just a new beginning.
Thank you Katherine Tegen Books/Harper Collins for an ARC of this book in exchange for an honest review.
We lived in a world that predicted our doom at least twice a week. We had shows about it; people stood on street corners, screeching about the end. We were so ready for the fall of mankind. But, when it actually came—we didn't see it coming.
Unchosen, by Katharyn Blair, was a super pleasant surprise, and I mean that in the best way possible. While the synopsis had made it sound like it was everything I wanted in a book, I was scared the execution wouldn't live up. But I am so happy to write that it absolutely did for me.
Unchosen is a standalone novel, focusing on Charlotte Holloway. Charlotte is the middle child, with her older sister Harlow being a badass leader of a group of survivors. Vanessa, the youngest child, is a talented gymnast and is also the Chosen One, who supposedly, according to legend, can end the curse that has spread through humanity.
I'm not usually the biggest zombie book fan, though I certainly don't shy away from them if it sounds interesting enough. I liked how different this book is. The zombies aren't totally mindless, and the way it's spread—through eye contact—was totally unique. So while it is a dystopian book in some senses, it's also partially a pirate book, as after being taken as prisoner, Charlotte begins an adventure on the open seas trying to keep her secret while figuring out how to save those she loves.
"And you can stop calling me princess, you know."
"You would prefer 'Chosen One'?" he asks. His eyes are sunset-tinted in the glow of the fire, and they bore into me. It's a joke, but it's also not.
There's a lot of wonderful characters in this book, but I definitely attached to those who Charlotte teams up with once she is captured and is trying to find her way back to her family. But I especially loved Seth, the defacto leader of this group of pirates. I loved how serious he was, but then a light or caring side would show up and sweep me off my feet.
"So, I'll just ask, then," he murmurs. I've never heard his voice this soft before. It's like fingertips threading through my hair. It's the heat of a fire on freezing skin. He leans in, and I shut my eyes as his breath slips over the dip in my shoulder.
"Please, Charlotte." His beg is no more than a whisper. "Never…never do that again."
This book was so many things: scary, funny, emotional and thrilling. It had so many wonderful characters, was well-paced and totally intriguing. I had a hard time putting it down and loved how everything came together at the end.
You will not choose my end, for this heart is mine.
TW: Death, Gore, death of a child (off page but mentioned), language
Related Posts