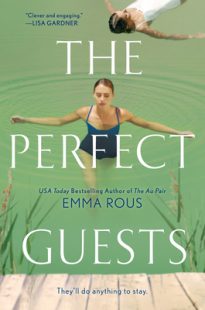 The Perfect Guests
by
Emma Rous
Purchase on:
Amazon
, 
iBooks
Add to:
Goodreads
Synopsis:

1988. Beth Soames is fourteen years old when her aunt takes her to stay at Raven Hall, a rambling manor in the isolated East Anglian fens. The Averells, the family who lives there, are warm and welcoming, and Beth becomes fast friends with their daughter, Nina. At times, Beth even feels like she's truly part of the family...until they ask her to help them with a harmless game--and nothing is ever the same.

2019. Sadie Langton is an actress struggling to make ends meet when she lands a well-paying gig to pretend to be a guest at a weekend party. She is sent a suitcase of clothing, a dossier outlining the role she is to play, and instructions. It's strange, but she needs the money, and when she sees the stunning manor she'll be staying at, she figures she's got nothing to lose.

In person, Raven Hall is even grander than she'd imagined--even with damage from a fire decades before--but the walls seem to have eyes. As day turns to night, Sadie starts to feel that there's something off about the glamorous guests who arrive, and as the party begins, it becomes chillingly apparent their unseen host is playing games with everyone...including her.
Thank you to Penguin Random House for an ARC of this book in exchange for an honest review.
No one had explained what was expected of me here; I didn't even know how long the arrangement might be for. All Caroline had said was "You can be a companion for their daughter for a while, until I'm ready for you to move in with me."
The Perfect Guests is the sophomore effort of Emma Rous. I really enjoyed her first novel, The Au Pair, and was excited to see she had a new book coming out. The synopsis got me right away, as I love nothing more than a secluded manor.
The book follows two perspectives: Beth Soames, a 14-year-old girl in 1988, who after the death of her parents is placed with the Averell family, who live in Raven Manor. The Averells have a daughter, Nina, who could use a sister-like figure and the girls develop an interesting bond.
"You are cordially invited to play a game at Raven Hall…"
The second perspective is Sadie Langston, a struggling actress who is invited to Raven Hall in present day to participate in a murder-mystery dinner over the course of a weekend. Of course, nothing is what it seems and strange things quickly start occurring.
I wasn't really part of their family; I'd only ever been a guest.
I know it happens a lot in thrillers these days, but I thought the jumping between timelines really benefited this story. Because when everything comes totally together at the end, it just all makes sense. I really enjoyed reading things from both Beth and Sadie's perspectives, as it felt like two totally different thrillers that then came together.
What if I wasn't picked for this job at random? What if someone invited me here because of the connection between this house and my mother?
Emma Rous has cemented herself as an author I will certainly continue to read with excitement in the future. Her books are quickly paced but keep me on the edge of the page, needing to know what's going to happen next. Overall, I was super happy with this book and felt everything came together as it needed to. 4/5 stars.
Related Posts