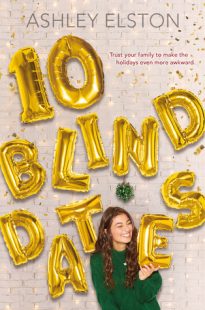 10 Blind Dates
by
Ashley Elston
Purchase on:
Amazon
, 
iBooks
Add to:
Goodreads
Synopsis:

Sophie wants one thing for Christmas-a little freedom from her overprotective parents. So when they decide to spend Christmas in South Louisiana with her very pregnant older sister, Sophie is looking forward to some much needed private (read: make-out) time with her long-term boyfriend, Griffin. Except it turns out that Griffin wants a little freedom from their relationship.

Heartbroken, Sophie flees to her grandparents' house, where the rest of her boisterous extended family is gathered for the holiday. That's when her nonna devises a (not so) brilliant plan: Over the next ten days, Sophie will be set up on ten different blind dates by different family members. Like her sweet cousin Sara, who sets her up with a hot guy at an exclusive underground party. Or her crazy aunt Patrice, who signs Sophie up for a lead role in a living nativity. With a boy who barely reaches her shoulder. And a screaming baby.

When Griffin turns up unexpectedly and begs for a second chance, Sophie feels more confused than ever. Because maybe, just maybe, she's started to have feelings for someone else . . . Someone who is definitely not available.

This is going to be the worst Christmas break ever . . . or is it?
Review:
10 Blind Dates was laughter inducing and the perfect lighthearted read!  With family, friendship and blind dates galore, this story was so much fun.  So if you love ya romance and books set around the holidays, you'll definitely want to add this one to your tbr.
"Is there no privacy in this family?"
Everyone at the table answers, "No."
Sophie was to spend the holidays at her grandparents' house, while her parents left to go take care of her pregnant sister.  Before leaving town, she found out her boyfriend wanted to take a break from her.  So when she arrived at her grandparents' house, it set off a chain of events.  What entailed was ten blind dates, by ten different family members, and I had no clue what to expect next.
He nods, then cocks his head to the side. "I think Nonna was right."
My face scrunches up. "Right about what?"
"This dating thing. You look good."
I can feel my cheeks warm. "Well, I must have really looked like crap earlier."
Wes laughs. "I didn't say that. I'm just glad you're smiling."
I loved Sophie's huge Italian family and how involved they were in each other's lives!  Sophie's mom was one of eight, so there was always a ton of them at her grandparents' house.  And while I'm not the greatest with names, shockingly I didn't have an issue with this large family.  I loved that they were with her every step of the way.  Even when she didn't want them to be lol.  Some of the dates they set her up on were smile inducing with snowball fights, hot cocoa and ugly sweater parties.  But others were horrifically awful!  So of course I laughed a lot, sorry Sophie!
"Just when I think we're good again, you shut me out," she says. "Just like before."
I whip around. "Excuse me? I shut you out? Are you kidding me?"
Charlie steps in between us. "Hold on, hold on," he says, his hands extended. "Let's not say anything we're going to regret."
Her cousins Olivia, Charlie and Charlie's best friend Wes, use to be her best friends.  But over time, Sophie drifted away from them.  They always had each other's backs and cared so deeply for one another. So while their friendship felt seamless, there was issues that needed to be work through. I loved watching their relationship slowly mend back together, it warmed my heart.  And I loved that they were always by her side, whether it be blind dates, to dealing with her ex, to even her own personal journey.  Sophie could always count on Olive, Charlie and Wes.
I just have three more dates to get through, I realize. Then Christmas break will be over and everything will be back to normal.
Just what I wanted when all this started.
So why am I dreading it all ending?
I don't want to give anything away, but my guess for who she was supposed to end up with was right.  I was over the moon happy it was who I liked.  Together they were beyond sweet and adorable, just like this story.  But while I loved Sophie and her dates, family, cousins and friends, I wasn't the hugest fan of the side story with Sophie's sister.  It's personal reasons and because of that, that part of the story rubbed me the wrong way.
We move with the music, and I don't dare look around the room to see which of my family members are watching us. I wish more than ever that we were somewhere else. Somewhere that we weren't the subject of no less than five different conversations right now.
But still, I enjoyed this book so much!  With Christmas sprinkled within the pages, the warmth you got from her family and hints of romance, 10 Blind Dates was such a feel good story!  Plus in those final pages we got to jump three months into the future and it was soooo adorable. I loved what the future seemed to have in store for them!  I'll definitely be looking out for any future release from this author!
Before I can say anything else, the doorbell rings and a quiet hush falls over the crowd.
"This is getting ridiculous, people," I say as I push through my family to get to the door. Several family members scramble to finish placing their bets.
PS I loved the betting!  That was soooo bad yet oh so funny!
Related Posts