I absolutely loved Her Wicked Marquess! My 5 Star Review is below along with an interview I got to have with Stacy Reid! Enjoy ♥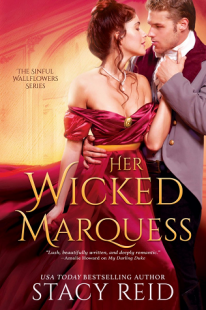 Her Wicked Marquess
(
Sinful Wallflowers #2
)
by
Stacy Reid
Purchase on:
Amazon
, 
iBooks
Add to:
Goodreads
Synopsis:

Miss Maryann Fitzwilliam is too witty and bookish for her own good. No gentleman of the ton will marry her, so her parents arrange for her to wed a man old enough to be her father. But Maryann is ready to use those wits to turn herself into a sinful wallflower.

When the scandal sheet reports a sighting of Nicolas St. Ives, the Marquess of Rothbury, climbing out the chamber windows of a house party, Maryann does the unthinkable. She anonymously claims that the bedchamber belonged to none other than Miss Fitzwilliam, tarnishing her own reputation―and chances of the dastardly union her family secured for her. Now she just needs to convince the marquess to keep his silence.

Turns out Nicolas allows for the scandal to perpetuate for his own reasons… But when Maryann's parents hold fast to their arranged marriage plan, it'll take a scandal of epic proportions for these two to get out of this together.

Each book in the Sinful Wallflowers series is STANDALONE:
* My Darling Duke
* Her Wicked Marquess
Review:
Her Wicked Marquess was an intricate tale filled with seduction and so much more than meets the eye. By that first chapter, I was already obsessed and knew that this book was going to be an instant favorite. The story brimmed with irresistible banter, charm, humor, romance and was so easy to devour. If you love historical romance, then you definitely need to add this one to your tbr!
She stepped back, and his finger slipped from her chin. Thank heavens. His touch felt… like strokes of flames over her skin, yet it also felt right. It might take her the rest of her life to figure out why she would ever think such a silly thing.
It was the most fabulous of meet cutes. And from there, the games they played with one another was beyond addicting. Maryann needed to use Nicolas' name to get out of an engagement. But what she didn't realize was that by doing so, she linked their fates together. And once Nicolas truly saw Maryann, there was no walking away from her. With a woman wanting the freedom to love who she desired and a man set on a path of revenge and redemption, I couldn't put this book down!
"I thought you were a blazing star that no gentleman has any notion what to do with."
"Yes, the buffoons," she murmured, startled at how provocative she sounded.
That finger gently trailed from her nose down to rest against her lips. "I know what to do with every inch of you, Lady Maryann."
I loved Lady Maryann Eleanor Fitzwilliam! She was smart, witty and had no problem using her voice. I loved how she was diplomatic but also willing to take risks, I was mesmerized with how her mind worked! She was to be married to a man who was her father's age, and I felt her suffocation for not having control over her own life. So when she came up with the most fabulous of plans, I was clapping my hands! I loved that she wanted to ruin her name, so her intended wouldn't want her anymore. And that's where Nicolas Charles St. Ives, Marquess of Rothbury, came into the picture.
His kiss destroyed her.
It was unexpected, it was so soft, it was unbelievably tender, and scandalously perfect, for it was just a mere meeting of their mouths, but it felt like everything.
I was obsessed with Nicolas, he was protective, defended others honor and laid his cards on the table for those he cared about. There was a complexity and darkness to him that enamored me. So as we were given clues to his past, and witnessed how it affected his present, he easily captivated me. But in the beginning, I loved seeing his reaction to Maryann spinning her lies about the two of them. It was all so hilarious! He couldn't help but be intrigued by her and I loved how he saw the truths of what was going on around him. The man was wickedly smart as he was seductive. And when he set his sights on something, he went for it.
Kiss me, she silently implored.
When he made no move, it was her turn to lean in and bite his lower lip. The raindrops on his mouth settled onto her tongue, and with it a taste of dark fire and whiskey.
When Nicolas and Maryann were together, their antics were entertaining, and the sexual tension between them was scorching hot. It was impossible not to be giddy when they were near each other. Especially since neither of them was what the other expected. And it added to the depth of them getting to know each other. As we got further into the story, the descriptive scenes were sinfully seductive *fans face*.
He wanted her, more than he'd ever wanted another soul.
Her Wicked Marquees was exquisitely seductive and laugh out loud hilarious. From the main characters that I loved with all my heart, to the story that was rich and vivid, to the well-crafted side characters, I loved this book! And even that ending, it was absolutely perfect! The epilogue had such a beautiful HEA, and even included two other characters which made my heart so happy! I probably highlighted over half of this book, that's how obsessed I was lol. Now I can't wait to read more from Stacy Reid!
*I voluntarily read and reviewed an advanced copy of this book, provided by the publisher. All thoughts and opinions are my own.*
Interview:
What's one thing you hope readers will take away from Her Wicked Marquess?
I really want my readers to get lost in my stories and the journey of each character, and in the end, I want them to have a smile on their face and pure satisfaction in their hearts.
What is something that we might not know about Maryann or Nicolas?
He does not like snakes either, but he willingly poured out her bucket of critters because he was so captivated by her. Maryann is a huge foodie! Yep, she just loves to eat, especially cake.
What was your favorite quality about Nicolas?
The protective streak he has toward Maryann, the one that pushes him to go to any length to keep her safe and cherished.
Without spoilers, what was your favorite scene to write?
Wow, I have so many. I loved writing this book. I really loved writing that scene when Nicolas sneaked into Maryann's room for the first time. It really allowed me to show her spunk, her zest for living, and also to delve deeper into the attraction she felt for him.
Can you tell us what book(s) we can look forward to from you in the future?
I am working on Sinful Wallflowers 3, A Rogue of Her Own, Ophelia's story. I really love it! It might surpass Her Wicked Marquess as being my fave. I also recently finished a single title novel featuring a duke who had been lost in the wilds for over a decade. Man, I cannot wait for it to be in reader's hands. It is called The Wolf and the Wildflower.
What was the last book you recommended to a friend?
Dark King (Sea Fae book 1) by C.N. Crawford.
Related Posts