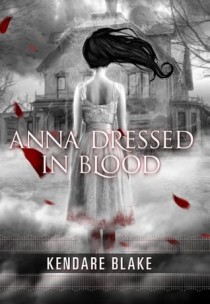 Anna Dressed in Blood
(
Anna #1
)
by
Kendare Blake
Purchase on:
Amazon
, 
iBooks
Add to:
Goodreads
5 Unexpected Stars!!!

Thunder Bay, Ontario, is our destination. I'm going there to kill her. Anna. Anna Korlov. Anna dressed in blood.

Scary books have never been something I find easy to read, so when I started reading the reviews for Anna, I became super nervous. A creepy ghost who kills anyone that enters the house she is bound to? Yeah…not good for someone prone to nightmares. But what I soon learned as I delved deeper into the story was that this book had nothing on Karina Halle's EIT series, and for that I was grateful. I love the EIT series, but Anna was so refreshing, light, and easy to read. So for those of you who don't like scary books, this would be a great beginner-while there's a spine-tingling undertone to the story, it never reaches over the top and terrifies you….just gives you glimpses of mangled ghosts and eerie settings.
Over the course of my life I've been to lots of places. Shadowed places where things have gone wrong. Sinister places where things still are. I always hate the sunlit towns, full of newly built developments with double-car garages in shades of pale-eggshell, surrounded by green lawns and dotted with laughing children. Those towns aren't any less haunted than the others. They're just better liars. I like it more to come to a place like this, where the scent of death is carried to you on every seventh breath.
By far my favorite thing (okay…one of my favorite things) about this story was the mood with which everything was set up. I wasn't merely a bystander left to coast through pages with which there was no connection whatsoever, I was in the story, playing out the scene alongside Cas- Making the story come alive and even scarier as it became increasingly darker in the deep recesses of Blake's gloomy fantasy. The author painted a vivid picture with each and every instance, choosing to invite us to be a part of the story instead of just letting us 'see' what happens. That is my biggest gripe with certain authors, so I was beside myself when I realized just how well Blake delivered each fighting scene-It brought me a sense of satisfaction I have missed long since finishing my other favorite scary parnormal series.
It's a funny thing about ghosts. They might have been normal, or relatively normal when they were still breathing, but once they die they're your typical obsessives. They become fixated on what happened to them and trap themselves in the worst moment. Nothing else exists in their world except the edge of the knife, the feel of those hands around their throat. They have a habit of showing you these things, usually by demonstration. If you know their story, it isn't hard to predict what they'll do.
With each new book, there is a different identity and reasons why I fall in love with it. Not always is the main character a reason I can relate to the story, but in Anna, I completely gravitated towards Cas, our lead male character. He was funny, quirky, cocky, but not overly so, and as loyal as a constant mover and shaker can be. The narrative voice was so fun and refreshing, I continually laughed out loud. A serious moment became light as air as soon as Cas would make a flippant remark or mentally knock on other characters. And once he met Anna, he became unbearably sweet and hooked his claws into me.
But somewhere out there is one that matters. Somewhere out there is the one that I came for, one who is strong enough to squeeze the breaths out of living throats.
….
I wonder how she'll try to kill me?
A tragic love story where hunter meets his prey, inevitably feeling drawn to this unseen force that tugs on him even away from the unidentified source of obsession. Knowing he has to do what is right, what he was born to do, he struggles internally with the idea of banishing this tortured soul to the depths of…well, wherever the souls go after he 'kills' them. As more people get involved, it becomes harder and harder to protect Anna, to stall what must be done, and it all leads to an epic showdown that lead me to plead for more.
This isn't right. Now that they're here and afraid, they're laughing at her, trying to turn her into a joke. Crushing their full beer cans against their heads feels like a great idea, and yes, I feel the hypocrisy in my wanting to defend something that I'm trying to kill.
Overall, a totally fun and unexpected ride that I couldn't separate from, making for a quick weekend read. The most unexpected aspect was the connection to each character. While in most reviews for Anna the downfall was the lack of connection to the characters, I felt the exact opposite. They weren't necessarily deep and meaningful per se, but more quirky and down to earth. For instance-the popular 'queen bee' wasn't snooty or trapped in a stereotype at all. She became a main character that meshed with the ghost hunting duo and ultimately made it a ghost hunting trio. Many times the protagonist is the character that shines above the rest, but in this story I never felt like the only person I cared about was Cas. There were so many more characters I didn't want to die, I was invested in them all.
…I can feel the newspaper clipping in my pocket like it weighs a thousand pounds. I can feel that photo of Anna, staring out from sixty years ago, and I can't help myself from wanting to protect her, wanting to save her from becoming what she already is.
Adrenaline pumping, pulse pounding and a race to the finish ending, I was in my element. I didn't know what would happen to Anna or Cas, just that I didn't want anything catastrophic to happen to them. Many people will love this story, others won't be able to identify with it. I tend to just take a book for what it is-fun and carefree. If you want a deep-rooted and mind-altering story, this probably isn't it. It's an accomplished escape from reality that will keep you entertained for hours and unable to switch back into 'real life' mode. An insta-favorite for me, and I am already half-way through book 2….and I'm still completely enthralled.
"Don't be afraid of the dark, Cas. But don't let them tell you that everything that's there in the dark is also there in the light. It isn't."

Related Posts