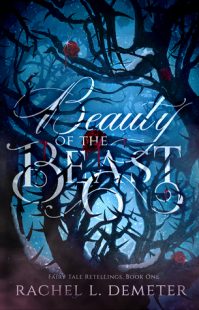 Beauty of the Beast
(
Fairy Tale Retellings #1
)
by
Rachel L. Dementer
Purchase on:
Amazon
, 
iBooks
, 
Book Depository
Add to:
Goodreads
Synopsis:

Experience the world's most enchanting and timeless love story—retold with a dark and realistic twist.

A BEAST LIVING IN THE SHADOW OF HIS PAST

Reclusive and severely scarred Prince Adam Delacroix has remained hidden inside a secluded, decrepit castle ever since he witnessed his family's brutal massacre. Cloaked in shadow, with only the lamentations of past ghosts for company, he has abandoned all hope, allowing the world to believe he died on that tragic eve twenty-five years ago.

A BEAUTY IN PURSUIT OF A BETTER FUTURE

Caught in a fierce snowstorm, beautiful and strong-willed Isabelle Rose seeks shelter at a castle—unaware that its beastly and disfigured master is much more than he appears to be. When he imprisons her gravely ill and blind father, she bravely offers herself in his place.

BEAUTY AND THE BEAST

Stripped of his emotional defenses, Adam's humanity reawakens as he encounters a kindred soul in Isabelle. Together they will wade through darkness and discover beauty and passion in the most unlikely of places. But when a monster from Isabelle's former life threatens their new love, Demrov's forgotten prince must emerge from his shadows and face the world once more…

Perfect for fans of Beauty and the Beast and The Phantom of the Opera, Beauty of the Beast brings a familiar and well-loved fairy tale to life with a rich setting in the kingdom of Demrov and a captivating, Gothic voice.

* * *

Beauty of the Beast is the first standalone installment in a series of classic fairy tales reimagined with a dark and realistic twist.

* * *

Disclaimer: This is an edgy, historical romance retelling of the classic fairy tale Beauty and the Beast. Due to strong sexual content, profanity, and dark subject matter, including an instance of sexual assault committed by the villain, Beauty of the Beast is not intended for readers under the age of 18.

Beauty of the Beast is a slow-burn romance that features a descriptive, richly detailed, and atmospheric writing style. (l
I need to scream the word *TRIGGER* because there is extremely graphic rape. It is not glorified but it is extremely disturbing.
The writing hooked me from page one. I mean seriously guys, this might be the best prologue I've ever read. I was floored and TOTALLY into it. I had no doubt it was going to be a five star book.
And then things started to change. First of all, I need to commend the writing. I can't even tell you how many lines I highlighted because of how beautifully written this book is. The rest? Perhaps its personal preference, but the story just didn't work for me.
While the story is reminiscent of the Disney version (probably the closest I've read yet), it still holds up on its own as unique. No magic here folks, and it is MUCH darker. Not to mention the issues the book deals with (everything from abuse, rape, PTSD, etc.) Does it handle them well? Most of the time, yes, but I definitely had some issues with it. Especially with the rape. No, it is not glorified in the least OR made romantic in any way, but my question is… why? Why describe it in great detail? (No, it isn't the beast who does it. It's the 'Gaston' character – FYI.) I don't know, I was just disturbed.
The other issues I had were the pacing. While I wanted to soak up the language, I was also trying to keep my eyes open for large chunks at a time.
The overall story (I.e. the romance) was okay at first, but then got cheesy, lustful, and just not my cup of tea. I think I'm just done reading Beauty and the Beast retellings. It's more than likely personal taste, but I'm just not into the disturbed man going after the damsel in destress trope. I'm probably in the rare on that one. This book also reminded me of 'Romancing the Duke' – so that's probably a good tell on whether or not you'll like this. I see some comparing it to Phantom of the Opera and that kinda fits too (but I LOVE Phantom of the Opera soooo I don't know.)
Additionally, I didn't connect to the romance. The author was certainly going for the 'healing' aspect of romance – where both characters involved are recovering from PTSD – but I just didn't buy it. Lust overtook the healing aspect and it just felt awkward at times.
I don't want to say too much more, aside from that I DID appreciate little bits, for instance – Isabelle DOES stand up to Adam when he crosses a line / personal boundaries.
Anyway, I think I'm a rare one here, as I've seen only positive reviews for the most part. But it just wasn't my cup of tea, unfortunately.
Related Posts