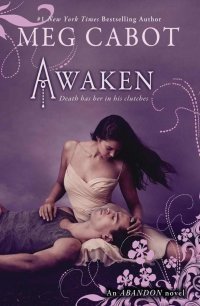 Awaken
(
Abandon Trilogy #3
)
by
Meg Cabot
Purchase on:
Amazon
, 
iBooks
Add to:
Goodreads
Anything can happen in the blink of an eye. Anything at all.
One. Two. Three.

Blink.

Once upon a time I read literally everything, and I do mean everything, Meg Cabot wrote. I would wait forever for her books to come in and I would read them to the point of exhaustion. My favorite was the Mediator series. Jump twelve years later to 2013 and I still think about her fun, witty writing and why I loved the books so much. I was so happy to find this series and see that she had added some more stories to her long list of awesomeness. I immediately bought Abandon, and while it was okay (it could be dry at times) I knew there was so much potential for the rest of the series.
The bones were there, she just needed to fill it out. I can't tell you how happy I am that I continued reading. I see the old Meg Cabot in her writing, and I love John and Pierce's relationship. Once again she has produced a favorite series of mine. I was so worried too..after she wrote the adult novels Insatiable and Overbite, which were mediocre at best, I thought she had lost her touch. But apparently YA is her bread and butter, because I couldn't put the last two in this series down.
There is an imbalance in the Underworld due to View Spoiler » John and Pierce reviving Alex after Seth Rector and his cronies suffocated him in a coffin on coffin night « Hide Spoiler , so the whole book they are trying to regain the balance and beat the Furies once and for all.
I have grown to love John and Pierce as a couple, and I can't help but to get the warm and fuzzies every time John…well….everytime John does anything. He loves Pierce so much, and you can see it in every action he takes. They each have a fire within them that can only be tamed when they are together, otherwise they start to unravel. I cannot, I repeat, cannot tell you how many passages I highlighted in Awaken. There were just so many sweet moments I absolutely had to capture.
While this series probably isn't for everyone, those who do read it and enjoy it enough to finish the trilogy will be very pleased. Everything is rounded off so nicely, a fact I won't overlook considering how badly Insatiable and Overbite ended, and it really was a very good end to a fun trilogy. If you haven't read the prior two, please do. There is just something magical about the way Meg Cabot writes and you can't help but to smile as you read-I know I couldn't. I wish I could say more to persuade those who haven't read the series to read it, but there isn't anything else to say except-are you crazy? Go read it now! Sometimes reviews are better left alone, because a person just has to read the books. This is one of those series. They speak for themselves, so I'll let them do so. Go read it. Seriously. I'll miss you John!!!
One. Two. Three.

Blink.

Related Posts