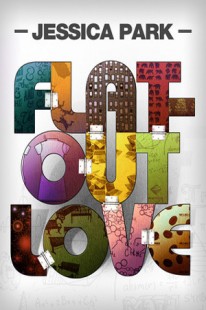 Flat Out Love
(
Flat Out Love #1
)
by
Jessica Park
Purchase on:
Amazon
Add to:
Goodreads
I have been asking people constantly for good recommendations for what to read next, and while they have all been good, this is the book I have been waiting for. The books don't have to be over the top sappy romance (although I love those stories too ;)..), just well-written with the right amount of sass and a compelling story line. I was completely consumed and enthralled in this story and could not put it down. There was a certain amount of relativity that was easy to identify with, thank God, which I have been having a terrible time of lately.
Stunning, breathtaking, beautiful, heartbreaking and the perfect amount of angst and/or heartache are just a few of the words that come to mind when assessing Flat Out Love. Celeste, Matt, Finn, Flat Finn…just the best characters ever-especially Flat Finn lol. Celeste was the most intriguing character to read about, and I truly enjoyed the journey of Julie trying to help her leap out of her comfort zone. My breaking point? When Celeste tells Matty she loves him-can you cue the huge smile and awwwwwwwwwww? I teared up like crazy-nothing like a brother realizing how much his sister loves and idolizes him. I cherish those tender moments, because those are what real life is all about, and I couldn't help but to relate that to my younger sister and I-the love we share (while when we were younger I swear we fought so much it almost led to hair being pulled out-a complete show of my inner strength as an older, more mature sis-yeah, right *rolls eyes*). You can't help but to root for all the characters and wish them the very best, and this is a hard thing for the author to accomplish since in many books you just want to smack some sense into at least one of the main people.
An absolutely amazing read and I loved every second of it, even if I did see the ending coming within like….30 seconds lol. But that just goes to show you have much I LOVED this book! I hate complete and utter predictability, yet I couldn't help but love every minute of the predictability. The perfect mixture of sweet, funny, witty, and entertaining I have ceaselessly been searching for; yet another staple to add to my favorites collection. I don't know if the online plot could ever work for me again, but this author nailed it, and I am going to enjoy it in the here and now and continue to search for more books that have the stamina to match this one and many other of my long time favorites. I will most definitely be revisiting this read very soon in the near future.
Related Posts