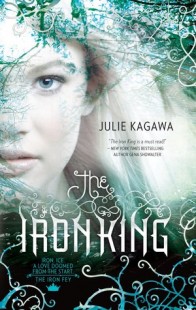 The Iron King
(
The Iron Fey #1
)
by
Julie Kagawa
Purchase on:
Amazon
, 
iBooks
Add to:
Goodreads
Synopsis:

Meghan Chase has a secret destiny; one she could never have imagined.

Something has always felt slightly off in Meghan's life, ever since her father disappeared before her eyes when she was six. She has never quite fit in at school or at home.

When a dark stranger begins watching her from afar, and her prankster best friend becomes strangely protective of her, Meghan senses that everything she's known is about to change.

But she could never have guessed the truth - that she is the daughter of a mythical faery king and is a pawn in a deadly war. Now Meghan will learn just how far she'll go to save someone she cares about, to stop a mysterious evil, no faery creature dare face; and to find love with a young prince who might rather see her dead than let her touch his icy heart.
Warning : I'll do what I can, but I'm feeling restless – and I'm pretty sure this sensation will end when, and only when, I'll be able to grasp The Iron daughter. Therefore, before taking the time to write a proper review of each book, I intend to… well, do my best?
This book managed to reach a part of me I had forgotten for years. The part of me who used to watch The Never Ending Story, wide-eyed, to read Alice in Wonderland, eager to meet that odd cat and to visit whatever weird world fantasy on which I could get my hands. All of that is to say that I was constantly mesmerized by the references and eyewinks Julie Kagawa inserted in The Iron King, smiling like a little child full of wonder.
"I don't even recognize myself."An image frashed through my head and I giggled with slight hysteria. "I won't turn into a pumpkin when midnight comes, will I?"
"If you annoy the wrong people, you might."
Welcome trolls and goblins and squirrels nails! I love you all already.
Color me impressed : the world-building was incredible. Quickly I found myself completely fascinated and captivated by all the details the descriptive and beautiful writing offers us : I am in awe of Julie Kagawa on this one. Cause, you know, contrary to many readers I liked Talon which I've read several weeks ago, but there's nothing in it which can beat the complexity of Nevernever's world. Nothing.
That's pretty rare I read a book thinking it'd be awesome as a movie but let me tell you : this thought came into my mind many, many times while I was reading, as I couldn't help but see what Meghan discovered, with bright and wonderful details, either she described some creature – by the way, I want a cat like this, Grimalkin's the best, I'm telling you – or the settings, that is to say the never ending forest she travels in.
"It's an elf," hissed another, giving me a toothy leer. "An elf what lost its ears, maybe."
"No, a goat-girl," cried yet a third. "Good eatin', them."
"She ain't no goat, cretin! Lookit, she ain't got no 'ooves!"
I giggled out of amazement. All. The. Time.
A few words about the plot now. As many readers noted it, that's not the most interesting storyline I had the chance to read about, yet I couldn't put it down and felt like it just clicked into place nicely. Actually I was on the verge of writing that the pacing was fast, when I remembered that the majority of readers grew bored in the middle of the book. That wasn't my case. At all. I don't know if that can be explained by the fact I'm such a sucker for fantasy and always have, I don't have a damn clue about it. Sorry.
Oh, well. That's my review after all, so perhaps it should be taken with a grain of salt, but in my opinion this book is compelling and fascinating, as it was such a page-turner for me. *shrug*
And in the end… The surprise. Indeed all the concept of Iron Fey is truly fascinating. I don't want to spoil potential late readers like I am, so I'm not saying more about that but trust me : that's quite original and well imagined from Julie Kagawa who took the best of fairies' world and created an inventive land from it.
That's what I adored. Of course the forbidden romance made my heart beat faster but you know what? I'd have loved the book without it.
As for the characters, I'm running out of time and it's the first book of a series therefore I know I'm going to talk about them later so I'll be short : Meghan isn't a strong-minded fighter character, that's for sure, but you know, I'm feeling indulgent with her because she never annoyed me nor maddened me. She isn't dumb or infuriating, actually she's pretty average and in my opinion her personality fits perfectly in the plot developments. Furthermore, she knows her moments of pure awesomeness –
"Stop it!" I hissed glaring at both in turn. "Stop it right now! Put your weapons up, both of you! Ash, you're in no condition to fight, and, Puck, shame on you, agreeing to duel him when he's obviously hurt. Sit down and shut up."
Moreover, I really enjoyed Puke and no, that's not because his character is one of my favorite from A Midnight Summer Dream. Noooo. Despite the fact I can't bring myself to trust him, I enjoyed his apparitions as he managed to make me laugh with his comments.
"Charming," Puck commented, gazing around in distaste. "I love the barren, dead feel they're going for. Who's the gardener, I wonder? I'd love to get some tips."
Even if I feel his contentious relationship with Ash might end with a choice to make. I'll choose Ash. Same for Oberion. Now that I think about it – that idea of bringing them in a young-adult book is wonderfully awesome.
Oh, and maybe you're waiting for Ash? Nope. I'm not gonna start talking about this cold and infuriating – but exciting and captivating – Winter Prince. Yet. Otherwise I'll begin to endlessly ramble about his awesomeness and I REALLY want to read The Iron daughter right now. But what an amazing male-lead. Wow. I'm in love. Did you know he was Mab's son? How interesting is that! Right? RIGHT? Okay, I'm out now. But throwing ice darts? Awesomeballs.
And now, wonderful friends, I'm waiting for your 'I told you so'. You were SO right.
Sans rancune?
"I am a cat," Grimalkin replied, as if that explained anything."
PS : The beautiful arts come from here and here.
Reading Order & Links:


Amazon

(click on covers),

iBooks (click on titles) & Book Depository

(click on book #)


The Iron King #1
Reviews:
Jen
Chelsea
Anna

Winter's Passage #1.5
Reviews:
Jen
Chelsea

The Iron Daughter #2
Reviews:
Jen
Chelsea
Anna

The Iron Queen #3
Reviews:
Jen
Chelsea

Summer's Crossing #3.5

The Iron Knight #4
Reviews:
Chelsea

Iron's Prophecy #4.5
Reviews:
Chelsea

The Lost Prince: Call of the Forgotten #1
Reviews:
Jen
Chelsea

The Iron Traitor:Call of the Forgotten #2

The Iron Warrior:Call of the Forgotten #3
Related Posts