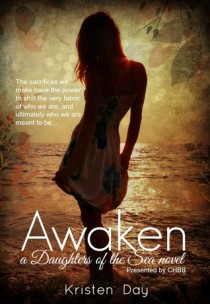 Awaken
(
Daughters of the Sea #2
)
by
Kristen Day
Purchase on:
Amazon
, 
iBooks
Add to:
Goodreads
Synopsis:

The sacrifices we make have the power to shift the very fabric of who we are, and ultimately who we are meant to be…

After learning of her true destiny as the intended Leader of the Tydes, Anastasia Whitman must now embark on a perilous quest to the Underworld before the age of eighteen in order to plant the seed of immortality and complete her essence to become a true Sea Goddess. But before she can make her legendary journey, an unexpected new student transfers to Lorelei; initiating a sequence of events that will unravel Stasia's new life, and test the boundaries of her relationship with the mysterious, dark, and sexy Finn Morrison. The line between the Underworld and the Living begins to blur as gruesome ghosts, morbid reveries, and pure evil haunt her waking hours as well as her sanity. Once the details of Finn's own startling destiny are revealed, the dangerous secrets he's been hiding will threaten the very love Stasia believed to be indestructible. As time begins to run out, she will be forced to choose between the one she loves and the destiny she cannot escape.
Review:
Sometimes you click with a book and other times you don't. Unfortunately, I wasn't able to click with this book. While it contains interesting characters, intriguing mythology and a pace that I enjoy, I just didn't fall in love with Awaken. If I would have read this book a year ago, I know I would have loved it. I would have continued the series and gushed about it to anyone and everyone. But unfortunately and fortunately in the last year I have read some amazing books. Not only did they take a piece of my heart but they completely changed my interactions and expectations of books. Now I'm always looking for something that immerses me in the world in which I am reading and also makes the world around me disappear. I'm always looking for the next book or series that will steal another piece of my heart while I am engrossed in feeling everything the main character is feeling. While Awaken is a nice book, it just didn't speak to me on that level.
One of the main reasons I didn't completely connect with Awaken was because of Stasia and Finn's relationship. I did desperately want more from them. More heart to hearts, more passion, more honesty and a little less cheesiness. I love mystery and peril but sometimes it's bothersome when such a tight unit that is supposed to love each other more than life itself isn't always honest with each other. A lot of times I can make myself overlook that issue. Everyone is human and has faults so why would characters be any different? But when I can't completely love a couple then it becomes something that sticks out. The delayed conversations and hidden truths become something that I am not able to get past and therefore it taints the relationship even more.
Awaken does have a strong heroine who has a sexy boyfriend and a great group of friends. The mythology is fun and the story flows at a nice pace. I just wanted more than what it was able to deliver. More passion, more honesty, and mainly more feelings invoked in me. But even though I didn't connect with it doesn't mean you won't! Here's hoping you do!
Save
Related Posts