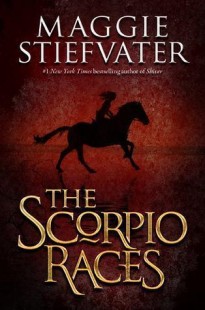 The Scorpio Races
by
Maggie Stiefvater
Purchase on:
Amazon
, 
iBooks
, 
Book Depository
Add to:
Goodreads
Again…I think I'm leaning towards 4.5 Stars

The water horses are hungry and wicked, vicious and beautiful, hating us and loving us. It is time for the Scorpio Races. I am so, so alive.

Man. I know I've been cashing out 4.5s like they are so easy to give…but this book just deserved more than a 4, but not a 5. And what's beyond ironic, to me, is that I absolutely loathe books where an animal (namely a dog or cat) get harmed, and in this story, more than just little dogs and cats get ripped apart. But, and this is a massive BUT, I think that Maggie's writing just makes me so happy that I just can't help but to love everything she produces. Thus far I'd have to say that her Raven Boys series holds my heart, but with this thrilling and absolutely beautifully written novel, I still found myself falling head over heels for our two main characters, Sean and Puck (Kate).
I don't know if I'd want to be comforted, if I'm being honest. If I'm being forced to eat soot, I want to know that somewhere else in the world, someone else has to eat soot as well.
My favorite thing about Maggie's stories is her ability to create characters that move me, that make me eager to scan to the next page just to see what they say or what's happening with them. I think it's safe to say that Maggie Stiefvater is officially one of my favorite authors. Not for a while have I been moved by such beautiful story telling in not just one, but three different books by the same author. She is magnificent, and every time I have finished one of her stories, I catch myself scanning her other books, attempting to lock in another novel of hers I will read soon. I cannot express in mere words what her writing does to me, but I can assure you that it's exponentially satisfying and I always come away happier than I was before reading one of her novels.
The truth is, I feel myself being fascinated and repelled by her: She's both a mirror of myself and a door to part of this island that I'm not. It is like when the mare goddess looked into my eye; I felt that there was a part of myself that I didn't know.
Puck is living her dream-she has a beautiful, loyal horse, she lives in her Mom and Dad's home after they passed (which is unfortunate), and she lives on the island she loves. The only catch? Now her older brother, Gabe, wants to leave the island and head for the mainland…and Puck and her younger brother, Finn, are stuck with the possibility of losing their home and all their most prized possessions-namely, Dove, her horse. So when the Scorpio Races come around, Puck finds herself entering as not only the first woman to enter the races, but as the only person who can save their home, and in the process, hopefully sway Gabe to stay with her and Finn.
The island is a cunning and secretive thing. I can't say what it has planned for me.
Sean is a four time Scorpio Race winner and the person that everyone on the island comes to for help with the water horses that emerge from the sea. They are deadly, cunning, and near impossible to contain, but Sean loves them and the sea with all of his heart, and that is why I grew to love him as a character so much. His loyalty for the horse he has grown to love is beautiful. And more than that, his loyalty to Puck, even during the race where he needed to win because this is the year it mattered most, brought me to tears. I just don't even know what all to say about him.
"I don't trust the ocean either; it would kill me as soon as not. It doesn't mean I'm afraid of it."
The romance between these two was so sweet and tender that I caught myself getting all goofy with my smiles when I thought no one was looking and highlighting more than I probably ever should lol. It gave my stomach butterflies like crazy and caused my girlie side to emerge, quickly erasing all the devastation and grime woven into these pages.
I say, "I will not be your weakness, Sean Kendrick."
Now he looks at me. He says, very softly, "It's late for that, Puck."
It was gruesome, terrifying, and frightening beyond words-but not how you'd expect. There were parts that disturbed me beyond belief and had me cringing in disgust, but I just can't fault the rest of the book for those not-so-far-and-few-between parts, because I adored these two characters and the family so much. I rarely discount these facts so easily when reviewing or rating, but I just loved the writing and Sean and Puck and Dove too, too much. Broken record, I know.
It vibrates in every raindrop, throbs in the clouds overhead. It's a howl like venom, a paralyzing promise. This storm has driven the island mad.
I loved this story. There comes a moment at the end of a book where I have been debating for the entiiiiirreeeee time on whether I loved, hated, liked, whatever, and have to decide what and how to rate. There were two moments that sealed how I felt about this story. 1) When Puck and Sean fell for each other. It was innocent, it was the joining of two lonely people who haven't had anyone who truly gets them ever, it was the moment when I couldn't put the book down, and it was one of the two deciding factors on whether this was a 3.5 or a 4.5 star story. 2) The final chapter and what came of Corr and Sean. I was crying happy and sad tears (again) and I closed the book after that final, fateful page and felt peace, happiness, loyalty, and contentment. I couldn't have been happier with that beautiful and sad final page. And that….is why I gave TSR a 4.5. It deserves every praise, despite the lack of pull towards certain readers-it never once pretends to be something it's not, and I love it for that fact.
Related Posts