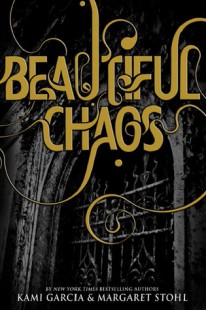 Beautiful Chaos
(
Caster Chronicles #3
)
by
Kami Garcia, Margaret Stohl
Purchase on:
Amazon
, 
iBooks
Add to:
Goodreads
"A million thoughts ran through my head. That when she looked at me, it was like there was no one else in the world. That when I looked at her, I noticed every detail about her while everything else faded away. That I was only myself when we were together."
By far my absolute favorite in the series-The depth and emotion in this novel is astonishing, and I couldn't have loved it more. There wasn't a slow/fast enough pace to read and gain everything I wanted from this story and I couldn't seem to tear myself away from this page turner…it might have even bordered on obsession, I'm not quite sure.
For once, everyone is in the same place at the same time, but something is wrong with Gatlin-there is a terrible heat wave with no relief even during the winter, and lubbers (locust type things) are covering everything in sight. It seems there is disorder among the balance that stems from Lena's seventeenth moon.
I just really enjoyed this novel. It had the same intensity that the second half of the first novel, Beautiful Creatures, did, and that's why I fell in love with the series in the first place. So naturally, I am going to be drawn to this third installment. Ethan and Lena are once again trying to put all the pieces together, because this time, a sacrifice must be made to restore the balance, and it could be any of their close family or friends-including themselves. On top of that, Amma is acting stranger and darker than ever, running out in the middle of the night again. Link and Ridley are adapting to their changes, and attempting to adapt to everyday life with the cards they have drawn.
The love between Lena and Ethan is so palpable and the strongest it has ever been. It draws you in and consumes you, especially toward the dramatic ending. Can they write one of these without a crazy cliffhanger ending? This one, might I add, being the worst so far. I couldn't help but to tear up for much of this novel, because it definitely tugs on the heartstrings quite a bit throughout and contains some sad subject matter.
For those who found the prior two novels in the BC series to be rather boring or containing too many boring parts, I think this one has the least drag factor. There is a lot more normalcy, even though it's not really a normal town or situation, and there is so much more to the story. I have loved each book equally, my two favorites being the first and this one, but I believe Beautiful Chaos is an absolute winner and those who doubted the first two will be satisfied when they finish this story.
I will always love you
Ethan
Related Posts