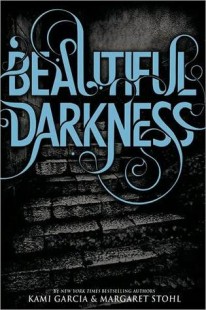 Beautiful Darkness
(
Caster Chronicles #2
)
by
Kami Garcia, Margaret Stohl
Purchase on:
Amazon
, 
iBooks
Add to:
Goodreads
Synopsis:

Ethan Wate used to think of Gatlin, the small Southern town he had always called home, as a place where nothing ever changed. Then he met mysterious newcomer Lena Duchannes, who revealed a secret world that had been hidden in plain sight all along. A Gatlin that harbored ancient secrets beneath its moss-covered oaks and cracked sidewalks. A Gatlin where a curse has marked Lena's family of powerful Supernaturals for generations. A Gatlin where impossible, magical, life-altering events happen.

Sometimes life-ending.

Together they can face anything Gatlin throws at them, but after suffering a tragic loss, Lena starts to pull away, keeping secrets that test their relationship. And now that Ethan's eyes have been opened to the darker side of Gatlin, there's no going back. Haunted by strange visions only he can see, Ethan is pulled deeper into his town's tangled history and finds himself caught up in the dangerous network of underground passageways endlessly crisscrossing the South, where nothing is as it seems.
Review:
I so wanted to fall in love with Beautiful Darkness. Sadly, that did not happen and I won't be finishing this series. What I liked and tolerated in the first book, ended up rubbing me the wrong way in BD. The slow pace that was once sweet, satisfying and left me so happy now has become something that made me not want to pick up the book each time I placed it down. The actions of the main characters made me fall out of love with them and I ended up preferring the secondary characters more. And lastly, the thing that made my final decision for not continuing this series was that the ending crumbled into a pile of too easy and too many coincidences.
We start out the book with Lena starting to withdraw from Ethan. She is in a world of pain for using The Book Of Moons. One life for another. The weight of that consequence is pushing her so far into the ground that her lightness and happiness is fading and fading fast. She seems to be distancing herself from Ethan and it's not only breaking her apart, but Ethan at the same time. I more than understand her reasoning and plight but I just felt that it was drawn out way longer than necessary, therefore making me start to lose my interests.
Ethan is in the dark. He doesn't remember what happened on the night of Lena's sixteenth moon. He doesn't remember dying and therefor doesn't understand the consequences. He is left reeling why the girl he loves is pulling away other than she is in a severe depression over Macon. Ethan is still sweet as ever but his actions bothered me. Not asking Amma questions, not telling her things that were happening and his interactions with Liv all disturbed me and slowly made me fall out of love with him.
The ending, unfortunately, is what made my final decision about this book. The fact that Ethan struggled for something to happen, but it was a cakewalkView Spoiler »for so many others just didn't ring true to me. The fact that Amma just appeared and that Macon wasn't really dead and was saved by a spirit that doesn't even have power seemed non plausible to me « Hide Spoiler. It made me not understand why half of the book happened in the first place. It negated everything that happened and made me so depressed. Even though I know some of my friends loved this series, I just can't continue. While I'm curious to know what happens, I just can't push myself to finish this series.
Save
Related Posts