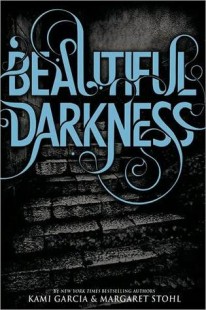 Beautiful Darkness
(
Caster Chronicles #2
)
by
Kami Garcia, Margaret Stohl
Purchase on:
Amazon
, 
iBooks
Add to:
Goodreads
While not as dramatic an ending as Beautiful Creatures, I still felt myself drawn to this intriguing and adventurous story.
Everything is different after the night of Lena's sixteenth moon. Lena is in a spiraling depression and starting to drift apart from Ethan. I hated that Beautiful Darkness was taking this turn, but the quest to make all things right in the supernatural world that followed was worth it, and I was able to accept the plot a lot easier than I had anticipated. While we had to deal with a separation between Ethan and Lena for a large part of the book since Lena was MIA, we still got new and exciting character development and even a few new characters.
I loved that Link got a larger part in the novel than the first one, and we even got a little more of Ridley; which I found to be a fun unexpected bonus.
Beautiful Darkness stays consistent with the former novel, BC, in that it continues Ethan's visions. This is either a plus or a minus in the eyes of the reader, and where I didn't necessarily care for it in BC, I thought the visions were more exciting and had a new twist to them that added to the already intricately weaved story line.
Overall, this series is definitely a hidden gem that I had never even heard about, and it's sad to think I almost missed out. I have grown to love Ethan as a character/hero even more after Beautiful Darkness, if that's even remotely possible. His inner thoughts and intellect are so raw and honest as a male character, which as I stressed in my last review, is so refreshing. There's a quirkiness to his POV that is smile inducing and makes me laugh no matter my mood. Maybe his POV is the reason this series is an instant favorite for me, I don't know, but I am not about to question the magnetic pull I feel towards this series-I'm just going to keep reading until there is nothing left. Onward to Beautiful Chaos!!
Related Posts