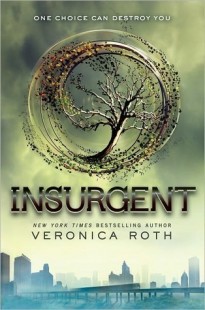 Insurgent
(
Divergent #2
)
by
Veronica Roth
Purchase on:
Amazon
, 
iBooks
, 
Book Depository
Add to:
Goodreads
Re-read with my buddies Kristin (KC), Sarah, Jennifer, and Maythavee. So much fun guys! 🙂
Love as defined by Dictionary.com: a profoundly tender, passionate affection for another person.
Love as demonstrated by Tris and Tobias in Insurgent and Divergent: Two stubborn people who consistently participate in selfless acts that get them into horribly dangerous situations for the other person.
If that isn't love, it's just foolishness…but I'd like to think it's a little of both. Tris and Tobias find themselves in the middle of a war for the factions-even those that would rather not be involved. They don't know who to trust or what their next move should be, which leads to one thing: What's the lesser of two evils? Trust one known wholly evil person, or a person who has just recently resurfaced and might have a hidden agenda. Who doesn't in this faction divided world?
I really liked the story behind Insurgent. Anybody who chooses to read my reviews knows that I like a good romance sandwiched by suspense and peril. Both Divergent and Insurgent dove head first into my favorites pile for these exact reasons, and I am now left feeling a little ache in the pit of my soul where these books ended and left us to wait for the final installment in the trilogy. It seems this has been happening a lot lately-adding books to my "not yet released" shelf. It's driving me crazy.
A lot has happened since initiation day when everything was still normal. There are even more characters involved and a lot more at stake. People from the past who were undoubtedly out to get them [T/T} aren't as much of a threat anymore and may even be an unknown ally. We can't be sure, what with all the deception and lies, but Tris is realizing things are black and white-you are either good or you are bad, you might help this time and not help the next, and no one is ever truly innocent in their intentions.
Overall, a truly fun read. While not as good as the first, I still became immersed in the story and couldn't put it down. My heart was pounding in my chest and I was nervous as shit for each and every perilous situation. With one more book to go there is a lot that can still happen, but I can only hope for twenty times the action and quadruple the romance. I can't wait to see what becomes of Tris and Tobias-hopefully a happy ever after.
Related Posts