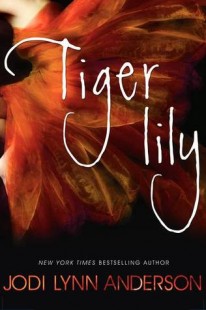 Tiger Lily
by
Jodi Lynn Anderson
Purchase on:
Amazon
, 
iBooks
Add to:
Goodreads
Synopsis:

Before Peter Pan belonged to Wendy, he belonged to the girl with the crow feather in her hair. . . .

Fifteen-year-old Tiger Lily doesn't believe in love stories or happy endings. Then she meets the alluring teenage Peter Pan in the forbidden woods of Neverland and immediately falls under his spell.

Peter is unlike anyone she's ever known. Impetuous and brave, he both scares and enthralls her. As the leader of the Lost Boys, the most fearsome of Neverland's inhabitants, Peter is an unthinkable match for Tiger Lily. Soon, she is risking everything—her family, her future—to be with him. When she is faced with marriage to a terrible man in her own tribe, she must choose between the life she's always known and running away to an uncertain future with Peter.

With enemies threatening to tear them apart, the lovers seem doomed. But it's the arrival of Wendy Darling, an English girl who's everything Tiger Lily is not, that leads Tiger Lily to discover that the most dangerous enemies can live inside even the most loyal and loving heart.
"You have to be careful who you meet. You can't unmeet them."
I've finished Tiger Lily 24 hours ago and spent the day reliving some parts and thinking about it, my heart fluttering and suddenly missing a beat when I let my mind drift into Neverland.
Here's is why.
The story is said in Tinker Bell's POV. Who's mute. Oh, and who can read your thoughts. I knew fairies were such dangerous creatures. Although some readers find it annoying, the rather descriptive kind of writing was a perfect fit for the story in my opinion : it helps to provide a more magical atmosphere, and before realizing it, we're utterly stuck in Neverland. That's true this book can be classed as slow-paced but you know what? I can't think of any part that could have been removed.
Everything's dazzling. Nothing's useless.
Moreover, the choice of Tinker Bell as a narrator brought more tension, as she happens to know things characters don't. After years spent utterly annoyed by her character, I find myself understanding her for the very first time – I must confess that I was afraid the little fairy would have prevented me from loving this book – Color me surprised : it was in fact the opposite.
Tiger Lily doesn't fit in her village's life yet she's always a part of it. Raised by the shaman, Tik Tok, she always knew she was different and – well, she doesn't care. She doesn't care if she's not as pretty as the other girls, as long as she's allowed to hunt and to live her life. She doesn't care to be engaged to a complete brute as long as her father can keep his head up. She doesn't know how to express her feelings, and more than that, she doesn't know that she had to. She's wondrous. She's brave. She makes mistakes. She's real.
She's anything like female leads I've ever met.
She's everything I can admire.
The Lost Boys hold my heart in their hands. I fell for them from the very first time Tiger Lily met them, all both awkward, frightened and reckless. Of course Peter's charm seduced me – enthralled me. I mean, I could see pretty quickly how he managed to take the central place in this bunch of teenagers. He's full of empathy, selflessness, passionate, blunt – yet sometimes he seems to lose his confidence and what does it stay? An adorable but terrified boy whose need to win endlessly fight with his carefulness.
Ahem. Watch out – I might not be able to prevent myself from swearing in that part.
Because the Englanders. #!@% colonizers.
You stupid jackasses who think your way of life is the only one that can be taken into account.
Who never even try to understand Neverlanders' customs and traditions.
And your God. Oh, let's talk about your God. Sorry but it pissed me off so much to hear all this crap and to see stereotypes and judgment enter the village, threatening the sake of every single inhabitant. Deciding that you are judges of what is right and what isn't.
I wanted to punch something, and I couldn't help but think about the champions of colonization we used to be before, we Europeans – To see how quickly they could insinuate the doubt in everybody's head, taking control – That was both frightening and maddening to be let in the role of the helpless witness, continually dreading the train wreck.
I took a huge breath when I closed the book then I felt the need to reopened it almost instantly. I'm pretty sure this striking story will be etched in my mind – Tiger Lily slowly enchanted me, worming its way into my heart – and will haunt me for a long time.
Until I reread it, I'm afraid.
Related Posts