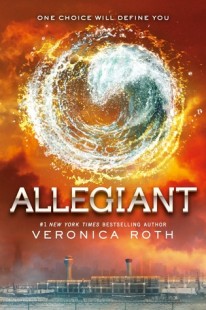 Allegiant
(
Divergent #3
)
by
Veronica Roth
Purchase on:
Amazon
, 
iBooks
Add to:
Goodreads
Synopsis:

What if your whole world was a lie? What if a single revelation—like a single choice—changed everything? What if love and loyalty made you do things you never expected?

The explosive conclusion to Veronica Roth's #1 New York Times bestselling Divergent trilogy reveals the secrets of the dystopian world that has captivated millions of readers in Divergent and Insurgent.
Review:
This book broke my heart into a million pieces. I have never sobbed so hard or for so long while reading a book. I guess that's because I've never read a book that can be so true to life. In real life happy endings don't always exist and life is not always fair. We see this every day in our lives yet we rarely see this in books. And truthfully, I did love this book. I loved this book all the way until the end. The end is NOT what I wanted and I was so upset that I wanted to rate this book a 1 star. BUT when I thought it through, I still loved Allegiant and I realized that the rating should be based on EVERY part of the book, not just the ending. And again I found myself lost in the action, I fell in love with the dialogue, there were so many characters that I loved and loved to hate and I was enraptured with how the story progressed. I was so lost in this book that I was ignorant to think the ending could be what really happens. Looking back, I can see that Allegiant flows perfectly with how the two previous books progressed and it sticks with the theme Veronica Roth has created and doesn't deviate from it. That in itself I highly value. Ultimately, I will read whatever Veronica Roth writes in the future BUT I will go into the books being realistic and knowing that I may need a huge box of tissues.
Tris: I fell in love with him. But I don't just stay with him by default as if there's no one else available to me. I stay with him because I choose to, every day that I wake up, every day that we fight or lie to each other or disappoint each other. I choose him over and over again, and he chooses me.
This book starts off exactly where Insurgent left off. Tris and Christina are locked in a cell since Evelyn sees them as traitors and she and the factionless are now in charge of Chicago. Everyone, including Tris, is still reeling from Edith Prior's revelation about what lies outside of the fence and that being Divergent is more important than they ever could have thought. When Tris and Christina are released as traitors they learn that there is a group, called the Allegiant, and they are allied with the original purpose of the city – sending people outside the city to help and living in factions. Upon hearing of this, Tris becomes resonate in her plans that she has to escape the city. She HAS to know what is out there. And again, from here I became completely absorbed in their world. Between the action, the knowledge we gain, how the relationships blossom and wither apart and the way the story progresses, Allegiant is addicting!
Tris: He is stronger than anyone I know, and warmer than anyone else realizes; he is a secret that I have kept, and will keep, for the rest of my life.
This time we get to alternate between being in Tris' and Tobias' head. I loved being able to listen in to both of their thoughts and see the situations from both of their points of view. I loved being able to see the logical process of why Tris wanted to do certain things and then how Tobias viewed what Tris did and how he reacted to it. It made me feel as though I knew them both inside and out and I felt that much closer to them. I finally understand what makes them tick and why they both do the things they do. Sometimes they can be neurotic but in the end their love for each other is beautiful.
Tobias: I feel like what I have become is halfway between my mother and father, violent and impulsive and desperate and afraid. I feel like I have lost control of what I have become.
I was so happy to see that Tris seems to have more of a grasp on who she is. Her compassion, her strength and her ability to analyze situations amazed me and even though she still struggled I felt as though she was confident with who she was and the choices she makes throughout the book. Tris is back to someone that I would want to stand behind in times of great unrest and danger. Tobias is a little bit different……since we get to see inside Tobias' brain we finally get to see how much he struggles in this book. It reminds me of how Tris struggled in Insurgent. He is desperately trying not to become who is parents are and he is also struggling with trying to figure out what is really right and wrong. Even though I wanted to yell at him a few times he is still sexy as ever. His love and loyalty for Tris is a force to reckon with and I think that's what makes me love him the most.
There are so many ways to be brave in this world.
Sometimes bravery involves laying down your life for something bigger than yourself, or for someone else.
Sometimes it involves giving up everything you have ever known, or everyone you have ever loved, for the sake of something greater.
But sometimes it doesn't.
Sometimes it is nothing more than gritting your teeth through pain, and the work of every day, the slow walk toward a better life.
That is the sort of bravery I must have now.
I LOVED the huge revelation of what was outside the city. I was so excited to find out that it went along with what I thought from the beginning when Tris sees that the gates on the city's fence lock from the outside and not the inside. Overall, I love this series. Did I wish it ended differently….uhh yeah! But in the real world and Divergent you don't always get what you want. And sometimes that can be ok and other times you just have to the make the best of things and think of all of the wonderful moments you got to experience while going through this journey.
Related Posts