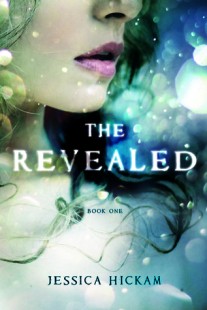 The Revealed
by
Jessica Hickam
Purchase on:
Amazon
, 
iBooks
, 
Book Depository
Add to:
Goodreads
**ARC provided by Netgalley in exchange for an honest review**

Not too long ago I requested numerous books at once from netgalley and this was the first that got approved. Which, if that's any indication, this is the book that's been sitting and waiting to be read the longest. Which, in my mind, means I was the most unsure of this novel out of all the books that got approved. I mean, it has hardly any ratings, I'd never heard of it, yet it's one of the most requested. Which leads me to my last point-I don't know why this book has so little recognition and ratings.
And then the kiss is over. The feel of it still lingers on my lips. I know it will fade. I don't want him to fade from me.
Kai and Lily are the presidential candidates' children, therefore they were brought up close until they are separated after the families stop getting together after a tragic accident on Kai's side. No longer close, but more aware of what it's like to have to play it up to the media that all is well and the loneliness they hide behind, they are kindred spirits on different sides of the campaign, making them all but enemies. But once teens turn 18, they become targets for the Revealed. They come out of nowhere and capture these 18 year olds, never for them to be seen again. Once they turn 19, they are free and clear-Kai made it to 19 and went off to serve for the country, but Lily still has months to go before she's 19. She's starting to receive notes from The Revealed claiming they are coming for her, so her parents put her on lock down from leaving their house…but as the threats become more frequent and more threatening, will it be enough to prevent her from being stolen from right under their noses?
I was SHOCKED the minute I started reading this book. I am always so skeptical about ARCs and what it means that I'd never heard of the books before Netgalley. But the minute I started turning pages I was hooked. The characters, the story line, the suspense-it was all so GOOD. I didn't expect to feel bad for the main character when people talked about her behind her back or to swoon when the enemy candidate's son, Kai, saved her and inevitably fell for her. But I did. This story line is wholly original and well thought out. The writing was appealing and the direction the story went was intriguing. I can't say I loved EVERYTHING to do with The Revealed themselves, but I loved the idea behind their organization.
I can't tear my eyes away from the car.
The Revealed aren't trying to take me.
They're trying to kill me.
By far my favorite part of the story would have to be the beginning and middle. They were so suspenseful and alluring and we got to see Kai and Lily's fondness grow for one another. I liked the end, but it didn't quite grab me like that first 60% did. So, to those of you who have dismissed this (like I would have) because of the lack of ratings and little talk of the book, I'd say give it a chance. It's a fun, light read that promises more adventure and even more enemies in the future, and I'm proud to say I WILL be continuing onto the next installment.
Related Posts