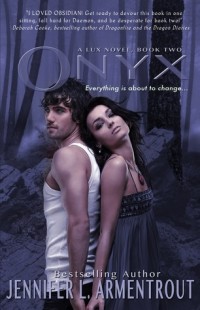 Onyx
(
Lux #2
)
by
Jennifer L. Armentrout
Purchase on:
Amazon
, 
iBooks
Add to:
Goodreads
Synopsis:

Being connected to Daemon Black sucks…

Thanks to his alien mojo, Daemon's determined to prove what he feels for me is more than a product of our bizarro connection. So I've sworn him off, even though he's running more hot than cold these days. But we've got bigger problems.

Something worse than the Arum has come to town…

The Department of Defense is here. If they ever find out what Daemon can do and that we're linked, I'm a goner. So is he. And there's this new boy in school who's got a secret of his own. He knows what's happened to me and he can help, but to do so, I have to lie to Daemon and stay away from him. Like that's possible. Against all common sense, I'm falling for Daemon. Hard.

But then everything changes…

I've seen someone who shouldn't be alive. And I have to tell Daemon, even though I know he's never going to stop searching until he gets the truth. What happened to his brother? Who betrayed him? And what does the DOD want from them—from me?

No one is who they seem. And not everyone will survive the lies…
Review:
**Spoilers if you haven't read Obsidian**
This was a brilliant second installment to the Lux series. The tension and chemistry between Daemon and Katy was so steamy that I thought I would melt, the mystery that surrounded people and events left me reeling trying to figure out what was really going on and again that ending left my heart crying out in happiness and sadness for what had happened. Onyx was thoroughly addicting, and when I was done absorbing every single word and meaningful moment, I was desperately reaching for the next book in this series.
He took a fortifying breath. "I always liked you. From the moment you first flipped me off."
We start out in one of my favorite situations. Daemon and his damn pen pestering Katy in class. How can something as simple as poking and bothering someone put the biggest grin on my face? Daemon is harassing Katy that they have to work off her trace, again. But things are different. Her and Daemon's heart beat are in sync, she can tell when he is near because her neck tingles and after Katy gets sick she ventures into the unknown. With a thought, Katy can move and cause things to happen. Locker doors are opened, the shower is turned on, but why? Shouldn't aliens be the only ones to do that?
Sometimes I seriously wanted to just punch him in the face, but it made me warm in all the right places to see this side of him again, too. "You're insufferable." "You like my kind of suffering."
A new kid transfers to the school, a hottie who is a surfer named Blake. Let it be known that I loathe Blake. My heart is 1110% Daemon and it exasperated me that Katy would even fathom hanging around another boy. I understood why, but still, it drove me crazy! Katy feels a kinship to this normal, human boy and when she's around him all things alien can momentarily be forgotten. Because after that epic battle, she needs some reprieve and normalness in her life. But Daemon has other plans. His jealousy and hatred for Blake was nothing short of entertaining. Daemon refused to call Blake by his real name. Ben, Brad, Bob, Biff, Bart, Bo and so on. I laughed each and every time! His confidence and cockiness knows no limits and he definitely lets Blake know that. Daemon and his infuriating sexiness (YAY!!!!!) is back in copious amounts in this book, so be prepared to be swooned while he tries to win Katy over!
I was used to the sarcastic and rude Daemon. In an odd way, that version was easier to deal with. We could trade insults all day. But this Daemon…this one who wouldn't give up was kind and gentle, funny and – dear God – thoughtful.
I don't want to say anymore, other than you are in for an exciting ride! My assumptions for events and people and my patience for stubborn Katy were definitely put to the test. And at the end of the book, I was elated with how the story progressed and ended. This is such a fun and sexy read and I highly recommend it!
"Not when you're mine." Daemon backed us up and slid down the wall, pulling me into his lap so I was straddling him. "And you're mine."
PS I usually have a huge problem with nicknames. They rub me the wrong way and bug me throughout the whole book. BUT when Daemon calls Katy Kitten, oh my gosh, it makes my heart race! I love it!
Related Posts