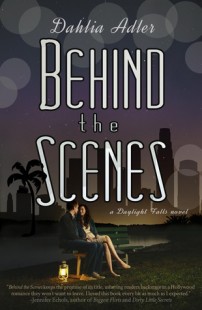 Behind the Scenes
(
Daylight Falls #1
)
by
Dahlia Adler
Purchase on:
Amazon
Add to:
Goodreads
Synopsis:

High school senior Ally Duncan's best friend may be the Vanessa Park - star of TV's hottest new teen drama - but Ally's not interested in following in her BFF's Hollywood footsteps. In fact, the only thing Ally's ever really wanted is to go to Columbia and study abroad in Paris. But when her father's mounting medical bills threaten to stop her dream in its tracks, Ally nabs a position as Van's on-set assistant to get the cash she needs.

Spending the extra time with Van turns out to be fun, and getting to know her sexy co-star Liam is an added bonus. But when the actors' publicist arranges for Van and Liam to "date" for the tabloids just after he and Ally share their first kiss, Ally will have to decide exactly what role she's capable of playing in their world of make believe. If she can't play by Hollywood's rules, she may lose her best friend, her dream future, and her first shot at love.
EXT. COUNTRY HOUSE – 04/22
In some one-horse town of French country, far later than the dusk, a woman's shrill cry split the dark silence.
INT. COUNTRY HOUSE – 04/22
Four pairs of eyes 3 of whom are pets, and yes, that's unnerving just the same are staring at a strange creature who's frantically clapping her hands.
ANNA, French Reviewer and Teacher, 30s and who isn't a creature, thank you very much, stops squealing.
ANNA
(excited)
That was sooo good!
INDY, 6, cat, resumes toileting after throwing another WTF?! glance around him.
JOY, 7 months, boxer, ambles over to the couch and sits down in front of Anna.
ANNA
(louder)
I mean, this book was just so freaking cute! No, no, I'm not saying it was perfect but come on, look at me! LOOK AT ME!
(stands up and does an awkward little dance)
It made me so happy!
JOY
(staring)
…
The phone RINGS. Anna drops the e-reader she was still clutching to her heart no comment, I know how lame it sounds and searches under the blanket to answer the call —
*3259 rings later*
ANNA
Hey sorry I couldn't find my fucking phone in time –
VOICE
(over phone)
Whatever but hey! What were you doing today? I tried to call you like, thousands times!
ANNA
Oh God you will not believe what I just read : a contemporary romance setting in (whisper) Hollywood.
VOICE
(incredulous)
You did not. I mean, you hate everything Hollywood related! You don't even know most of the actors' names in the movies you watch, and I don't even talk about your stupid gossip magazines phobia!
ANNA
I know, and that's exactly why I'm beyond enthusiastic right now. Hear me out : you know I crave for realistic and multi-layered characters and how much it's difficult to find believable and adorable romances lately, yet how stunning as it is, this book offered me everything I was desperate to read. Don't get fooled, I'm not saying that it's perfect, it really isn't, but even if the story isn't free of cliché, I fucking adored it – (starts writing down). Look, let me tell you what I loved, okay?
VOICE
Okay, okay, it does seem amazing, but didn't you just say that it wasn't perfect?
ANNA
But that's the beauty of it! Please don't expect a perfect book, because you would be disappointed. Indeed there are cliché (for example : Ally doesn't realize that she's gorgeous, Liam is well, insanely hot, we come across a few overused sayings…). However, how could I complain when the writing was compelling, the dialogues funny and that I ended loving the characters as they'd be friends of mine? When it seems that I haven't root for a couple that much for months? I couldn't. I won't.
▒ THE END ▒
PS : For once, after many books where French language was terrible, I was pleasantly surprised by the lack of grammar errors (except bonne nuit) and I wanted to throw a little thank you here, because that's amazing.
Oh, and before I forget, of course,

Related Posts