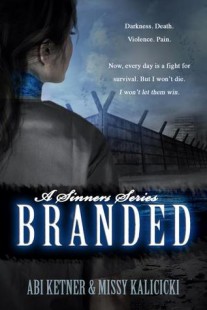 Branded
(
Sinners #1
)
by
Abi Ketner, Missy Kalicicki
Purchase on:
Amazon
, 
Book Depository
Add to:
Goodreads
**ARC kindly provided by Netgalley in exchange for an honest review**

Out of all the ARCs I was given, I believed Branded was going to be the best. All my friends loved it, it had great reviews and quotes, and it seemed like it had a strong synopsis. And while it started out well with a strong heroine and a sexy, protective hero, it soon started to show signs of all the things I hate in novels: cheesiness.
The beginning started out with the heroine, Lexi, being captured and 'branded' as an adulterer, or rather, as one of the seven deadly sins: lust. People judge and chase 'the branded', taunting and hoping to gain from that person's weakness. But what if her Branding is wrong? What does that mean for the Branding system? Once captured, she is supposed to be looked after by a soldier so she isn't killed or harassed. Cole, while very aware of what she is labeled and tried as, is her mentor-but he grows a soft spot for her. We all know how THAT goes ;).
So….I really wanted to love this book. I tried really hard. I loved Cole, I even liked Lexi at first-I thought she was going to be a very relatable, likable character at first. She was strong-willed, a fighter, and altogether very funny and not easily broken. But then I started to notice her dialogue and inner monologue shifting. It went from 'normal', to odd, to annoying. Not horribly so, but enough that it made me cringe and roll my eyes. And then there was Cole. He was so sexy and broody at first, and then all of a sudden his dialogue started to make me angry as well. It's not so much that it wasn't believable, it was more that it wasn't natural.-it felt forced and contrived and it made me sad because I loved his character. It's like Lexi could speak normally, but Cole's dialogue just never once worked-it was always so unnatural and unlike what a boy his age would say. I'd even go so far as to say his dialogue was juvenile.
So all in all this just didn't work for me. The story never fully drew me in and I never could make myself pick this up after I had put it down. I'd long for something else to read and practically had to skim to even get through the chapters. I figured I had picked up a dark read, but not once did I feel the darkness begin to pull me in. So, while this story may have worked for most of the people I know, it didn't for me. This makes me sad, because there were two awesome characters that deserved way better: Cole and his adorable, loyal dog, Zeus. I just wish I could have enjoyed this one way more.
Purchase on Amazon
Related Posts