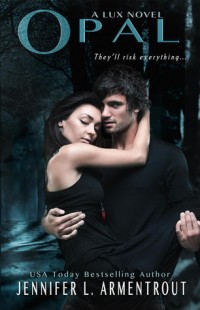 Opal
(
Lux #3
)
by
Jennifer L. Armentrout
Purchase on:
Amazon
, 
iBooks
, 
Book Depository
Add to:
Goodreads
Synopsis:

No one is like Daemon Black.

When he set out to prove his feelings for me, he wasn't fooling around. Doubting him isn't something I'll do again, and now that we've made it through the rough patches, well... There's a lot of spontaneous combustion going on.

But even he can't protect his family from the danger of trying to free those they love.

After everything, I'm no longer the same Katy. I'm different... And I'm not sure what that will mean in the end. When each step we take in discovering the truth puts us in the path of the secret organization responsible for torturing and testing hybrids, the more I realize there is no end to what I'm capable of. The death of someone close still lingers, help comes from the most unlikely source, and friends will become the deadliest of enemies, but we won't turn back. Even if the outcome will shatter our worlds forever.

Together we're stronger...and they know it.
Review:
**Spoilers if you haven't read Obsidian or Onyx**
I can't think. My heart is still racing. My sense of dread won't disappear. And my cheeks, well they are still damp with tears. But you know what? I loved Opal. I loved every single heart wrenching, giggle inducing, sighing moment. It has every element that I always seek for in a book. That's why I love Jennifer Armentrout's writing so much, she always delivers! So now I find myself desperately trying to sort out my thoughts as quickly as possible so I can start the next book in this series. I have to know what is going to happen, until then, my heart will still hurt.
Screw going home. This wasn't the 1950s. I wasn't a fragile human being. And I sure as hell wasn't the Katy Daemon had initially met. He was going to have to deal with it.
The ending of Onyx was phenomenal, in almost every way imaginable. Katy is back safe and sound and so is Dawson. They are both forever marked from the torture that they endured, but poor Dawson is almost crippled by it. He is barely a shadow of who he used to be, and that has everyone on pins and needles. Because he has to go back and get Beth. How could he ever live without her? But Dawson isn't the only wild card in this book. Whatever happened to Will? Did the mutation take, are they bound to him forever, or did it fade away? And where did Blake go? Is their secret safe? With so many unknowns hanging in the air, this book was exciting, fast paced and shocked me quite a few times!
I clamped my hand over my mouth, stifling a giggle. He was such an asshole, and I loved him.
But my favorite element in this book, besides getting to see Dee a lot more (I LOVE her!), was that we get to see Katy and Daemon function as a team. Finally, yes finally, one wasn't pushing the other away. And don't worry, because even though they are together at last, we don't lose out on any of our favorite types of moments that had us falling for them in the previous books. There's still the snarky banter, which they do perfectly. There's still the steamy tension. And they still have those moments that make you sigh and melt into a puddle. But with so much chaos constantly surrounding them, these moments felt exceptionally special and more meaningful. This along with my favorite characteristics (kick-ass heroine who won't take anyone's crap and a bad boy who use to be a jerk but always had a heart of gold and will do anything for the ones he loves) makes it impossible for me not to still love them, even as they continue to still make mistakes.
My heart stuttered and then skipped a beat. It sunk in and threatened to pull me through the seat. Shock washed over me, quickly followed by a bolt of anger so fierce I jerked forward. I couldn't sit here. I couldn't breathe.
Of course I'm not going to tell you any more than that. I never do but there were tons of things that happened that I never once saw coming. Neither did Katy or Daemon. The most shocking was that ending. That ending nearly destroyed me. I'm still in a state of panic and I can't shake out of it. Wow, this series just keeps getting better and better!
Related Posts