Click book covers for ordering.
Giveaways
Enter to win 2 $5 Amazon Giftcards, a $15 Amazon Giftcard or a signed paperback of THE UNION. Click on book cover to enter.
✩✮✩✮✩✮✩✮✩✮
Just Finished and Loved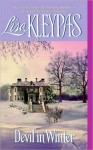 Devil in Winter (Wallflowers #3) by Lisa Kleypas – My dear friend, Anna, who also loathes historicals, insisted that this book had a hero I just had to meet and that all other follies with the story would fall away when I met and fell in love with him. She was right.
✩✮✩✮✩✮✩✮✩✮
Reading Next
The Archived by Victoria Schwab
– The Archive, an otherworldly library, contains the bodies of everyone who has ever died. But when the Archive is compromised from within, sixteen-year-old Mackenzie Bishop must use her skills as a Keeper to identify the traitor and prevent violent Histories from escaping into our world. The first in a dark, dazzlingly inventive YA fantasy series from the author of The Near Witch.


Shatter Me (Shatter Me #1) by Tahereh Mafi
– Things happen when people touch me. Strange things. Bad things. No one knows why Juliette's touch is fatal, but The Reestablishment has plans for her. Plans to use her as a weapon. But Juliette has plans of her own.
✩✮✩✮✩✮✩✮✩✮
Upcoming Releases: Next Week
Wicked (A Wicked Trilogy Book 1) by Jennifer L. Armentrout – We are SO excited for this book! Ivy Morgan and others like her, know humans aren't the only thing trolling the French Quarter for fun… and for food. Her duty to the Order is her life. But as Ivy grows closer to Ren (green eyes? yes please!) , there's something he's not telling her, and one thing is for certain. She's no longer sure what is more dangerous to her—the ancient beings threatening to take over the town or the man demanding to lay claim to her heart and her sould
✩✮✩✮✩✮✩✮✩✮
Sales
$0.99

The Collector (A Dante Walker Novel #1) by Victoria Scott
– Dante Walker-his good looks, killer charm, and stellar confidence has made him one of Hell's best — a soul collector. Boss Man has given him a new assignment: Collect Charlie Cooper's soul within 10 days. This assignment means only one thing to him, and that's a permanent ticket out of Hell. But after Dante meets the quirky, Nerd Alert chick he's come to collect–he realizes this assignment will test his abilities as a collector, and uncover emotions deeply buried.
$1.99
No Turning Back (The Kathleen Turner Series #1) by Tiffany Snow
-Being 23 & single wasn't exactly a thrilling adventure, but then again, that's not what Kathleen wanted. At least, not until she met Blane Kirk. Navy SEAL turned high-profile attorney, Blane is everything a woman could want. The only problem? He's her boss. Blane is known for playing the field & the last thing Kathleen needs or wants is to get involved with him. But when her friend is murdered & it seems Kathleen will be next, she may not have a choice. (Harriet's review)
Shatter Me (Shatter Me #1) by Tahereh Mafi
– No one knows why Juliette's touch is fatal, but The Reestablishment has plans for her. Plans to use her as a weapon. But Juliette has plans of her own. After a lifetime without freedom, she's finally discovering a strength to fight back for the very first time—and to find a future with the one boy she thought she'd lost forever.
(Chelsea's Review)
(Harriet review)
Breathe (Sea Breeze #1) by Abbi Glines
– Since Sadie White's mom is pregnant and refuses to work, she will be taking over as a domestic servant for a wealthy family on a nearby island. When the family arrives at their summer getaway, Sadie is surprised to learn that the owner of the house is Jax Stone, one of the hottest teen rockers in the world. If Sadie were normal—if she hadn't spent her life raising her mother and taking care of the house—maybe she'd be excited about working for a rock star. But she's not.
Hold On Tight (Sea Breeze #8) by Abbi Glines
– Dewayne Falco has been a fixture in Sea Breeze since his appearance in the very first book, Breathe. He always had the one-liners and smart remarks that made you laugh. But there was never any insight into his life. Other than being best friends with Marcus, Preston, and Rock all his life, you knew little else. Until now. In Hold on Tight, Dewayne's past pain is brought front and center while he realizes not all was lost—and that there may be hope for him yet.
Take a Chance (The Rosemary Beach Series #7) by Abbi Glines
– When Harlow Manning's rocker father goes on tour, he sends her to Rosemary Beach, Florida, to live with her half-sister, Nan. The problem: Nan despises her. Harlow has to keep her head down if she wants to get through the next nine months, which seems easy enough. Until gorgeous Grant Carter walks out of Nan's room in nothing but his boxer briefs.
Cruel Beauty (Cruel Beauty Universe #1) by Rosamund Hodge
– A spin on the classic tale of Beauty and the Beast. Betrothed to the evil ruler of her kingdom, Nyx has always known that her fate was to marry him, kill him, and free her people from his tyranny. But on her seventeenth birthday when she moves into his castle nothing is what she expected—particularly her charming and beguiling new husband. Nyx knows she must save her homeland at all costs, yet she can't resist the pull of her sworn enemy—who's gotten in her way by stealing her heart. (Chelsea's Review) (Harriet's review)
Maybe Someday by Colleen Hoover
– At twenty-two years old, Sydney has a great life: She's in college, working a steady job, in love with her wonderful boyfriend, Hunter, and rooming with her best friend, Tori. But everything changes when she discovers Hunter's cheating on her–and she is left trying to decide what to do next. Sydney becomes captivated by Ridge, her mysterious neighbor. She can't take her eyes off him or stop listening to the passionate way he plays his guitar every evening out on his balcony. And there's something about Sydney that Ridge can't ignore, either… (Harriet's review) (Chelsea's review)
Rome: A Marked Men Novel by Jay Crownover
– Cora Lewis knows how to keep her tattooed "bad boy" friends at the Marked in line. But beneath all that flash and sass is a broken heart. Cora won't let herself get burned again. Then she meets Rome Archer. Rome Archer is as far from perfect as a man can be. He's stubborn, rigid, and bossy. And he's returned from his final tour of duty more than a little broken.
$2.99
The Winner's Curse (The Winner's #1) by Marie Rutkoski
– They were never meant to be together. As a general's daughter, seventeen-year-old Kestrel enjoys an extravagant and privileged life. Arin has nothing but the clothes on his back. Then Kestrel makes an impulsive decision that binds Arin to her. Though they try to fight it, they can't help but fall in love. In order to be together, they must betray their people . . . but to be loyal to their country, they must betray each other.
(Chelsea's review)
Divergent (Divergent #1) by Veronica Roth
– Beatrice Prior's society is divided into five factions—Candor (honest), Abnegation (selfless), Dauntless (brave), Amity (peaceful), and Erudite (intelligent). Sje must choose between staying with her Abnegation family & transferring factions. Her choice will shock her community, but the newly christened Tris also has a secret she's determined to keep hidden, because in this world,
what makes you different makes you dangerous.
(Jen's review)
(Chelsea's Review)
If I Stay (If I Stay #1) by Gayle Forman
– In the blink of an eye everything changes. Seventeen ­year-old Mia has no memory of the accident; she can only recall what happened afterwards, watching her own damaged body being taken from the wreck. Little by little she struggles to put together the pieces- to figure out what she has lost, what she has left, and the very difficult choice she must make. Now a major motion picture starring Chloe Grace Moretz. (Chelsea's Review)
The Maze Runner (The Maze Runner #1) by James Dashner
– When Thomas wakes up in the lift, the only thing he can remember is his name. He's surrounded by strangers—boys whose memories are also gone. Outside the towering stone walls that surround the Glade is a limitless, ever-changing maze. It's the only way out—and no one's ever made it through alive. Then a girl arrives. And the message she delivers is terrifying.
(Chelsea's Review)
Whatever Life Throws at You by Julie Cross
– Seventeen-year-old Annie Lucas's life is completely upended the moment her dad returns to the major leagues as the new pitching coach for the Kansas City Royals. Now she's living in Missouri (too cold), attending an all-girls school (no boys), and navigating the strange world of professional sports. But Annie has dreams of her own—most of which involve placing first at every track meet…and one starring the Royals' super-hot rookie pitcher.
Anna Dressed in Blood (Anna #1) by Kendare Blake
– Cas Lowood has inherited an unusual vocation: He kills the dead. So did his father before him, until he was gruesomely murdered by a ghost he sought to kill. Now, armed with his father's mysterious and deadly athame, Cas travels the country with his kitchen-witch mother and their spirit-sniffing cat. Together they follow legends and local lore, trying to keep up with the murderous dead. (Chelsea's Review)
Marked (House of Night #1) by P.C. Cast
– In 16-year-old Zoey Redbird's world, vampyres have always existed. Zoey enters the House of Night, a school where, after having undergone the Change, she will train to become an adult vampire–that is, if she makes it through the Change. Not all of those who are chosen do. It's tough to begin a new life, away from her parents and friends, and on top of that, Zoey finds she is no average fledgling.

$3.99
Never Too Far (The Rosemary Beach Series #2) by Abbi Glines
– Just when Blaire allowed herself to fall for her stepbrother, Rush, he revealed a life-altering secret so devastating that she couldn't forgive him. Unable to face him again, Blaire leaves the promise of true love behind in Rosemary Beach and returns to the comforts of her small town in Alabama, wanting nothing more than to put the summer behind her. But unexpected news complicates Blaire's plans, and she's forced to trust the one man she shouldn't. Trapped between Rush's fierce desire to win her back and her own sense of self-preservation, Blaire doesn't know if she's doing the right thing…or if she's making the biggest mistake of her life.
(Chelsea's Review)
Simple Perfection (The Rosemary Beach Series #6) by Abbi Glines
– Woods had his perfect life mapped out for him. Rise up the ranks of the family business. Marry the rich girl of his parents' dreams. Pretend that wealth and privilege was all he'd ever wanted. Then a girl named Della breezed into town, a beautifully imperfect stranger who captured his heart and opened his eyes to a new kind of future. Woods is ready and willing to sacrifice everything for her when the sudden death of his father leaves him with his mother to care for and a business to manage.
$4.99
Safe Haven by Nicholas Sparks
– Katie seems determined to avoid forming personal ties until a series of events draws her into two reluctant relationships: one with Alex, a widowed store owner with two young children; and another with her neighbor, Jo. Katie slowly begins to let down her guard, putting down roots and becoming increasingly attached to Alex and his family. But she struggles with the dark secret that still haunts and terrifies her.
(Chelsea's Review)
✩✮✩✮✩✮✩✮✩✮
Freebies
Girl with Guitar (Kylie Ryans #1) by Caisey Quinn
– Kylie hops a bus to Nashville determined to make her late father's dreams come true. Waitressing and saving her pennies to record a demo, her big break comes when she's asked to join a tour going down the tubes with once platinum album-selling country music superstar Trace Corbin. But touring with Trace is hardly a dream come true since he's pretty much drinking his career down the drain. If Kylie can't pull Trace out of his rut, he'll pull her and her dreams down with him.
Play With Me (Grover Beach Team #1) by Anna Katmore
– Lisa Matthews has been in love with her best friend since kindergarten. They're close as can be, they've even slept in each other's bed. But they've never kissed. Weeks away from her seventeenth birthday, Lisa hopes that soon things will change between them. But when Tony comes home after summer soccer camp, his mind is focused on someone else. And worse, that new girl is a soccer player.
iBooks ONLY click here →Existence – Abbi Glines –
Pagan Moore sees souls. They don't speak to her but they know she sees them. It's a part of her life she keeps hidden from everyone else. She's different… And he knows it. Pagan begins seeing him everywhere. In her classroom and her bedroom. The soul is stalking her and she can't make him go away.
The Boys of Summer (The Summer Series #1) by C.J. Duggan
– Tess's summer of working expands her world with a series of first times with new friends, forbidden love and heartbreaking chaos.
Finding Cinderella: A Novella by Colleen Hoover
– A chance encounter in the dark leads eighteen-year-old Daniel and the girl who stumbles across him to profess their love for each other. But this love has conditions: they agree it will only last one hour and it will only be make-believe.
Related Posts