Life:
This last week, the weather has been all over the place.  Typical Northern Nevada lol.  On Monday, I sent my oldest to school in snow clothes.  And by Wednesday, he didn't even need a jacket.  It is so gorgeous right now!  While the upper 60's doesn't sound warm to this California native, it's amazing how hot it feels!  Since we're about a mile high, the moment you step outside you can feel the sun penetrating your face and body.  It's the best feeling ever.  So the 60's here, feels like the 70's did back in California.  I'm so thankful we get to have a little reprieve from jackets and boots for now!  Here's hoping you all got a reprieve from winter too!
And just a heads up, I may be skipping next Fridays post.  I'm going in for surgery next Tuesday, and my healing is kind of an unknown variable.  I've had previous problems with anesthesia and bleeding issues (technically I shouldn't even be here after the birth of my 1st son), so there will be two doctors working on me in the operating room and I've been told to take it easy when I get released from the hospital.  I'm super excited because this surgery is supposed to eliminate chronic pain and complications I currently live with daily.  So while I am very nervous, mainly I'm beyond ecstatic!  I may disappear for a few days, or even a week or so, but I'll be back before you know it!!
In case you aren't familiar with our Friday Star Posts, we like to take a look at what's happened around here in the last week, what's coming up that we are excited about and anything else that we may have to share!
♥ Enjoy!
✩✮✩✮✩✮✩✮✩✮
There weren't any books, that I read in the last week, where I loved every single tiny detail. But here's one that I truly enjoyed:
4 Stars:
Death and the Girl Next Door (Darklight #1) by Darynda Jones → Jen's Review
✩✮✩✮✩✮✩✮✩✮
Reading Next: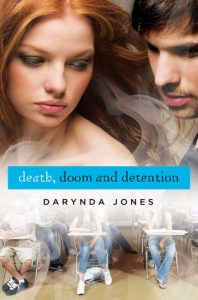 Death, Doom and Detention (Darklight #2) by Darynda Jones
The 2nd book in the trilogy.  In the first book, Death and the Girl Next Door, Ten years ago, Lorelei's parents disappeared without a trace. Raised by her grandparents and leaning on the support of her best friends, Lorelei is finally beginning to accept the fact that her parents are never coming home. For Lorelei, life goes on.
High school is not quite as painful as she thinks it will be, and things are as normal as they can be. Until the day the school's designated loner, Cameron Lusk, begins to stalk her, turning up where she least expects it, standing outside her house in the dark, night after night. Things get even more complicated when a new guy—terrifying, tough, sexy Jared Kovach—comes to school. Cameron and Jared instantly despise each other and Lorelei seems to be the reason for their animosity. What does Jared know about her parents? Why does Cameron tell Jared he can't have Lorelei? And what will any of them do when Death comes knocking for real?
✩✮✩✮✩✮✩✮✩✮

Upcoming Releases:
The End of Oz (Dorothy Must Die #4) by Danielle Paige
The final book!  In the first book, Dorothy Must Die, I didn't ask for any of this. I didn't ask to be some kind of hero. But when your whole life gets swept up by a tornado—taking you with it—you have no choice but to go along, you know?
Sure, I've read the books. I've seen the movies. I know the song about the rainbow and the happy little blue birds. But I never expected Oz to look like this. To be a place where Good Witches can't be trusted, Wicked Witches may just be the good guys, and winged monkeys can be executed for acts of rebellion. There's still a road of yellow brick—but even that's crumbling.
What happened? Dorothy. They say she found a way to come back to Oz. They say she seized power and the power went to her head. And now no one is safe.
My name is Amy Gumm—and I'm the other girl from Kansas. I've been recruited by the Revolutionary Order of the Wicked. I've been trained to fight. And I have a mission: Remove the Tin Woodman's heart. Steal the Scarecrow's brain. Take the Lion's courage. And—Dorothy must die.
✩✮✩✮✩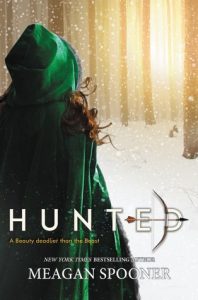 Hunted (Hunted #1) by Maegan Spooner
Though Yeva grew up with the city's highest aristocrats, far from her father's old lodge, she knows that the forest holds secrets and that her father is the only hunter who's ever come close to discovering them. 
So when her father loses his fortune and moves Yeva and her sisters back to the outskirts of town, Yeva is secretly relieved. Out in the wilderness, there's no pressure to make idle chatter with vapid baronessas…or to submit to marrying a wealthy gentleman. But Yeva's father's misfortune may have cost him his mind, and when he goes missing in the woods, Yeva sets her sights on one prey: the creature he'd been obsessively tracking just before his disappearance. 
Deaf to her sisters' protests, Yeva hunts this strange Beast back into his own territory–a cursed valley, a ruined castle, and a world of creatures that Yeva's only heard about in fairy tales. A world that can bring her ruin or salvation. Who will survive: the Beauty, or the Beast?
✩✮✩✮✩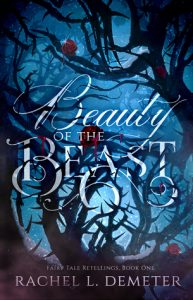 Beauty of the Beast (Fairy Tale Retellings #1) by Rachel L. Demeter
A BEAST LIVING IN THE SHADOW OF HIS PAST
Reclusive and severely scarred Prince Adam Delacroix has remained hidden inside a secluded, decrepit castle ever since he witnessed his family's brutal massacre. Cloaked in shadow, with only the lamentations of past ghosts for company, he has abandoned all hope, allowing the world to believe he died on that tragic eve twenty-five years ago.
A BEAUTY IN PURSUIT OF A BETTER FUTURE
Caught in a fierce snowstorm, beautiful and strong-willed Isabelle Rose seeks shelter at a castle—unaware that its beastly and disfigured master is much more than he appears to be. When he imprisons her gravely ill and blind father, she bravely offers herself in his place.
BEAUTY AND THE BEAST
Stripped of his emotional defenses, Adam's humanity reawakens as he encounters a kindred soul in Isabelle. Together they will wade through darkness and discover beauty and passion in the most unlikely of places. But when a monster from Isabelle's former life threatens their new love, Demrov's forgotten prince must emerge from his shadows and face the world once more…
Beauty of the Beast is the first standalone installment in a series of classic fairy tales reimagined with a dark and realistic twist.
✩✮✩✮✩
You can check out the rest of the books that we can't wait to be released → HERE
✩✮✩✮✩✮✩✮✩✮
Sales:
$0.99
$1.99
$2.99
$3.83+
Freebies:
Save
Save
Save
Save
Save
Save
Save
Save
Save
Save
Save
Save
Save
Save
Save
Save
Save
Save