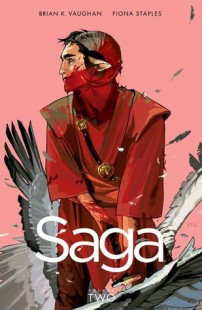 Saga, Volume 2
by
Brian K. Vaughan, Fiona Staples
Purchase on:
Amazon
, 
iBooks
, 
Book Depository
Add to:
Goodreads
Synopsis:

Thanks to her star-crossed parents Marko and Alana, newborn baby Hazel has already survived lethal assassins, rampaging armies, and horrific monsters, but in the cold vastness of outer space, the little girl encounters her strangest adventure yet... grandparents.
Mesdames et Messieurs, I'm pleased to announce that… this awesomeness of a book is my first 5-stars rating for a graphic novel! Prepare yourself for the love!
✭ Remember how I was amazed by the storyline of the first Volume? Scratch that : this one is even better. That's simple, we never seem to be able to breathe the whole time and the alternative POV bring more tension to the story, until we just can't put it down. Moreover, Hazel's narration, slightly ironic, allows us to see things differently – to produce a more complete picture of the consequences of those actions. I'm not going to lie, her comments cracked me up. Oh! And we get to learn how Marco and Alana met! How awesome is that?
✭ What can I say? I'm in love with these characters. First, Alana. Oh, this wingy could be my BBF : she's funny, brave, fierce, yet she loses her confidence sometimes (what? Create a belly button can be scary!) but never let someone belittle herself and the choices she made. As for Marko, well, is it bad if I'm a step away from adding him in my book boyfriend list? I know, I know, horns and all that stuff, but I can't help, he's all kind of adorable, naturally charming, and I found myself swooning more often than not. Yep. Swooning. If I had a couple of hours to write this review (which I don't), I'd add words and words to describe how much I enjoyed following Isabelle (best babysitter ever), The Will, his tentacles partner… But the only thing you need to know is the fact that there isn't any useless character, as they all bring something fascinating to the story.
✭ Let's talk about my favorite moments, shall we? → Don't get fooled, the numbers here do not correspond to a rank or something like that : I'm fully unable to do something as accurate as a ranking, duh.
1) Let's spread the love with the meet-cute

2) Feel the urge to kill this Lying cat.

3) The reading scenes : yes, I'm a romantic like that.

4) Of course, the belly-button.

5) Sexy Alana rocks. You know what I'm talking about.

6) The crazy mouse doctor. I can't even explain clearly why I couldn't stop laughing, but well, I couldn't.

Well. I have to stop here otherwise I'll tell you the entire story. I guess you just have to read it to find out.
Related Posts