Click book covers for ordering.
Giveaways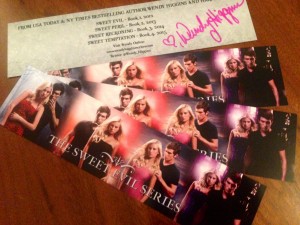 Last day to enter to win 12 Sweet Series Bookmarks (The Sweet Series by Wendy Higgins) – International! → Click Here
Enter to win $20 Amazon Gift Card (INT) or Paperback Out of the Green: Tales from Fairyland, Paperback Sucker Literary Volume III by Kacey Vanderkarr (US only) 
→ Click Here
Just Finished and Loved
We had an amazing time reading last week.  Look at all of the books we fell in love with!
Isn't She Lovely (Redemption #0.5) by Lauren Layne
– 5 Stars!   I laughed, I cried, I fell head over heels in love with Isn't She Lovely.  It was the perfect blend of everything that makes a book fabulous.  It was sweet but sexy and hilarious yet serious.  And the banter between Stephanie and Ethan was spectacular!  I'm still in shock over how much I loved this book! Jen's Review
The Trouble with Love (Sex, Love & Stiletto #4) by Lauren Layne
–
5 Stars! 
 AGH! Wow. I
loved
this. It was, in a few words, addicting, sexy, breathtaking, heart-stopping, giggle-inducing, unputdownable, and, most of all, heartwarming. It
literally
warmed my soul. Yes, light radiated from my chest the whole time I was reading this. True Story.
Chelsea's Review
Quintana of Charyn (Lumatere Chronicles #3) by Melina Marchetta
–
5 Stars! 
 The story continues….
Truth to be told, I was wary at first, out of fear to be disappointed by this last journey through Lumatere and Charyn. I couldn't have been more wrong – indeed
Quintana of Charyn was wonderful, as it contains all that I wanted and even more
: painful at times, heartbreaking, hilarious, I felt all kind of emotions and wasn't always able to control them. This book was beautiful. 
Anna's Review
This is not a test (This is not a test #1) by Courtney Summers
–
5 Stars! 
 It's the end of the world. Six students have taken cover in Cortege High but shelter is little comfort when the dead outside won't stop pounding on the doors. One bite is all it takes to kill a person and bring them back as a monstrous version of their former self. To Sloane Price, that doesn't sound so bad. Six months ago,
her
world collapsed and since then, she's failed to find a reason to keep going. Now seems like the perfect time to give up. As Sloane eagerly waits for the barricades to fall, she's forced to witness the apocalypse through the eyes of five people who actually
want
to live. But as the days crawl by, the motivations for survival change in startling ways and soon the group's fate is determined less and less by what's happening outside and more and more by the unpredictable and violent bids for life—
and
death—inside. When everything is gone, what do
you
hold on to? 
Anna's Review
Saga, Volume 2 (Saga #7-12) by Brian K. Vaughan, Fiona Staples
–
5 Stars! 
 Thanks to her star-crossed parents Marko and Alana, newborn baby Hazel has already survived lethal assassins, rampaging armies, and horrific monsters, but in the cold vastness of outer space, the little girl encounters her strangest adventure yet… grandparents. 
Anna's Review
Reading Next
Love the One You're With (Sex, Love, & Stiletto Series #2) by Lauren Layne
– As a leading columnist for Stiletto, Grace Brighton has built a career warning women about rotten, cheating liars. She just never suspected her fiancé would be one of them. After Grace takes a heart-mending hiatus, her first assignment is to go on a couple of dates with a counterpart from the men's magazine Oxford and report her impressions. Grace 1.0 may have been instantly smitten with the gorgeous correspondent, but Grace 2.0 has sworn off relationships for six months, and she's not falling for his outstanding bod and trophy-winning kisses . . . or is she?
Prince of Thorns (The Broken Empire #1) by Mark Lawrence
– When he was nine, he watched as his mother and brother were killed before him. At thirteen, he led a band of bloodthirsty thugs. By fifteen, he intends to be king… It's time for Prince Honorous Jorg Ancrath to return to the castle he turned his back on, to take what's rightfully his. Since the day he hung pinned on the thorns of a briar patch and watched Count Renar's men slaughter his mother and young brother, Jorg has been driven to vent his rage. Life and death are no more than a game to him—and he has nothing left to lose. But treachery awaits him in his father's castle. Treachery and dark magic. No matter how fierce his will, can one young man conquer enemies with power beyond his imagining?
✩✮✩✮✩✮✩✮✩✮
Upcoming Releases
The Return: A Titan Novel by Jennifer L. Armentrout
– The Fates are cackling their bony asses off…   It's been a year since Seth made the deal with the gods that pledged his life to them. And so far, the jobs they've given him have been violent and bloody–which is kind of all right with him. But now Apollo has something else in mind for Seth. He's got to play protector while keeping his hands and fingers off, and for someone who really has a problem with restraint, this new assignment might be the most challenging yet.  Josie has no idea what this crazy hot guy's deal might be, but it's a good bet that his arrival means the new life she started after leaving home is about to be thrown into an Olympian-sized blender turned up to puree. Either Josie is going insane or a nightmare straight out of ancient myth is gunning for her.  But it might be the unlikely attraction simmering between her and the golden-eyed, secret-keeping Seth that may prove to be the most dangerous thing of all.  Because history has once again been flipped to repeat.
Half the World (Shattered Sea #2) by Joe Abercrombie
 –  In 
Half a King #1
"I swore an oath to avenge the death of my father. I may be half a man, but I swore a whole oath."  
Prince Yarvi has vowed to regain a throne he never wanted. But first he must survive cruelty, chains, and the bitter waters of the Shattered Sea. And he must do it all with only one good hand.  The deceived will become the deceiver.  Born a weakling in the eyes of his father, Yarvi is alone in a world where a strong arm and a cold heart rule. He cannot grip a shield or swing an axe, so he must sharpen his mind to a deadly edge.  The betrayed will become the betrayer.  Gathering a strange fellowship of the outcast and the lost, he finds they can do more to help him become the man he needs to be than any court of nobles could.  Will the usurped become the usurper?  But even with loyal friends at his side, Yarvi finds that his path may end as it began—in twists, and traps, and tragedy.
✩✮✩✮✩✮✩✮✩✮
Sales
$0.99
$1.99
$2.99
✩✮✩✮✩✮✩✮✩✮
Freebies
| | | |
| --- | --- | --- |
| New Sale |   |   |
Save
Related Posts