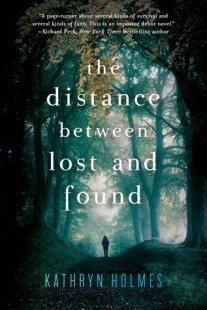 The Distance Between Lost and Found
by
Kathryn Holmes
Purchase on:
Amazon
, 
iBooks
, 
Book Depository
Add to:
Goodreads
Synopsis:

Ever since the night of the incident with Luke Willis, the preacher's son, sophomore Hallelujah Calhoun has been silent. When the rumors swirled around school, she was silent. When her parents grounded her, she was silent. When her friends abandoned her … silent.

Now, six months later, on a youth group retreat in the Smoky Mountains, Hallie still can't find a voice to answer the taunting. Shame and embarrassment haunt her, while Luke keeps coming up with new ways to humiliate her. Not even meeting Rachel, an outgoing newcomer who isn't aware of her past, can pull Hallie out of her shell. Being on the defensive for so long has left her raw, and she doesn't know who to trust.

On a group hike, the incessant bullying pushes Hallie to her limit. When Hallie, Rachel, and Hallie's former friend Jonah get separated from the rest of the group, the situation quickly turns dire. Stranded in the wilderness, the three have no choice but to band together.

With past betrayals and harrowing obstacles in their way, Hallie fears they'll never reach safety. Could speaking up about the night that changed everything close the distance between being lost and found? Or has she traveled too far to come back
"She feels hope well up. She isn't sure what to do with it. Hope is scary. Expecting the worst is easier."
▩ Open the book. Hooked. Mad. Hooked. Uncomfortable. Hooked. Worried. Hooked. Scared. Hooked. Overwhelmed. Hooked. Annoyed. Yeah, but hooked.
▩ Close the book. I feel like I've been brainwashed and that I just reached the end of the spell.

Warning : My review has high potential to drive you nuts, because I seem to be completely unable to make an opinion about this book. I literally spammed my adorable and patient friend Chelsea (again, sorry thanks) with my contradictory feelings.
First of all, This book was awfully hard to rate. Because while I can't deny I was hooked from page one and completely drowned into the story, I have issues I just can't overtake. More that I think about it, more I'm pissed, that's why I'm writing this review today, otherwise my rating may get lower and lower and lower…
░ Part one : Survival – Theirs, and mine ░
What's the hardest? To survive days without food nor clothes or to survive bullying, lies, and loneliness? We're there with them, seeking out what to eat, what to drink, where to sleep, where to go.
In the mountain, everything is different, nothing makes sense anymore and everything is more important. Talking, not talking. Standing for ourselves, waiting. Trusting, leaving. Forgiving?
Hope. Despair. Crazy. Terror. Chills. Positively FURIOUS. At some point, I wanted to slap and hurt someone, for real.
░ Part two : The characters – Their force, and their failures ░
▦ Jonah – So believable and real. So flawed. Bitter. Heart-warming at some point? Yeah, I guess. Now – can I forgive him his prior behavior? The shame is, I don't think so. I know, I know, Hallie and him will reach an understanding and yeah, I can understand it to some extend but there's this sentence. This FUCKING sentence. You know what? I'm mad because I can't quote it without spoiling the whole mystery to you, so I won't.
Except into these wonderful spoiler tags. I know I'm tempting you, but resist guys, because THIS IS A MAJOR SPOILER. You've been warned.
View Spoiler »
Jonah was her best friend. He didn't talk to her in 6 months. He let everyone bullying her. WHY? That's why :

"Right. But like I said, I didn't know that. You were practically on top of him, and you looked like—and Luke said it was all your idea, and you didn't say anything, not then and not after—" He breaks off. Picks up again. "I didn't like thinking about you doing something like that. I was mad. I wanted it to be me. That's why I didn't stand up for you. I liked you," Jonah repeats, "and I didn't want to still like you, because—"

"Because I was a slut?" Hallelujah asks quietly. Even quiet, the word is harsh. It cuts the night. "Or because I was a slut with someone else?"

"Both, honestly." Jonah keeps his eyes on hers. "Don't look at me like that. Do you want me to lie?"

YOU DON'T SAY?! She was KISSING a boy. Oh, yeah, Jonah. Thank you for your honesty. You're way to good to me. « Hide Spoiler
Well, in a nutshell, let's say that I don't buy the reasons he brings to explain his complete lack of support for his FRIEND during SIX MONTHS, while she was BULLIED. So, yeah, unfortunately he is believable. Yeah, his flaws make him interesting. But damn, how in the world I'm supposed to root for him? How in the world I'm supposed to accept it? I must admit that he's sometimes cute, but he also is a fucking hypocrite.
▦ Hallie – I wanted to shake her, to comfort her, to understand her, to support her. Yet she wasn't relatable to me, because I had a hard time accepting that she didn't defend herself, and well, I'm going to talk about the God thing after so I won't start here otherwise I'm afraid I'll never stop.
▦ Rachel is awesome, understanding, funny and open-minded. Really, I have nothing to reproach her. The relationship which is gradually growing between them is really genuine and enjoyable to follow.
░ Part three : The message? ░
Oh my goodness can we stop talking about God. That's understanding because they belong to a church youth group so yeah, I can't really whine about it but damn, that was difficult for me. Actually I just reread the blurb and wanted to slap myself. But what can I say? I was spoiled by blurbs so many times that now I only skim them more often than not. Damn me. I didn't get the church youth thing. Trust me, I don't want to be offensive, but the fact is, I really struggle to connect with characters who talk about God all the time. That's all.
Now, I can't stop thinking about it and wondering what message this book is supposed to carry : they were talking about god way too often and sorry, but they drove me fucking nuts. This was just too much for me.
Is being lost in the woods a part of God's plan? Oh, COME ON.
Don't forget that Hallie was bullied because of something Luke, the perfect little Christian, told everyone. And of course, OF COURSE, everybody believed him, including her parents, because the guy is considered that reliable, mainly because he's the preacher's son.
What a fucking and maddening bullshit.
… by the cynical ME. If you have a problem with that, well, sorry but not sorry. I do think that people are often hypocrite when it comes to the difference between what they preach and how they act. If every single person who is religious was utterly good and understanding, well, the world would be different RIGHT?
So, for me, what's the main message? The main message is that church stuff can be a complete hypocrisy.
The only thing I can say is that the ending didn't fully satisfy me – I needed more closure, to be frank. Anyway, in the end, this experience changed Hallie's personality and believings, making her stronger. That's something I was glad to see.
░ Here's where I am. On the fence. ░
On the one hand we have a really compelling survival story which was unputdownable, but in the other, I can't bring myself to accept the male lead's behavior and I was strongly annoyed by the constant references to religion. Perhaps I'm overthinking it. Perhaps I'm not being fair. Oh, well. This review is only my opinion after all.
Related Posts