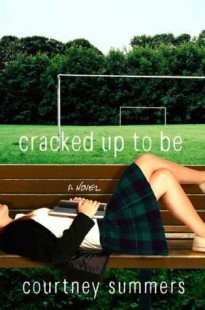 Cracked Up to Be
by
Courtney Summers
Purchase on:
Amazon
Add to:
Goodreads
Synopsis:

When "Perfect" Parker Fadley starts drinking at school and failing her classes, all of St. Peter's High goes on alert. How has the cheerleading captain, girlfriend of the most popular guy in school, consummate teacher's pet, and future valedictorian fallen so far from grace?

Parker doesn't want to talk about it. She'd just like to be left alone, to disappear, to be ignored. But her parents have placed her on suicide watch and her conselors are demanding the truth. Worse, there's a nice guy falling in love with her and he's making her feel things again when she'd really rather not be feeling anything at all.

Nobody would have guessed she'd turn out like this. But nobody knows the truth.

Something horrible has happened, and it just might be her fault.
☠ Warning: I thought about it over and over, and the only way I feel writing this review includes a great amount of personal information. If you don't care about it, if you think that's not a review, if you – well, just thought I'd warn you.
"You know how when you meet someone and they just give you the impression they're living on this entirely different planet from everyone else? That's sort of how I felt when I met you."
I don't really know what to say. I mean, how am I supposed to say that I can relate to Parker without sounding like a bitch? Because I do, but I'm not, and I wasn't. Lost a little? I'll explain. The fact is, above her actions, what stroke me the most in Parker is her need to be herself, even if the way she takes to do so appears to be incredibly harsh and selfish at times. What I love in Courtney Summers is the way she manages to take the high-school stereotypes and to go further, to crack the shells in order to show what's hidden beneath all the craps we're served in so many young adult books.
"You've made a choice and it's so obvious. I see it; I accept it," she says. "Even if no one else can. You want to rot and I want to let you."
If I struggled more with Some girls are, that's because I found it more difficult to imagine the situation there and I know that I'm in the minority about this. But the truth is, if I never saw groups of people behaving like these assholes in Some girls are, Parker sounds real to me, and yes, I can relate. If I was never mean to people like she can be, I went through a tough phase when I was a teenager and yes, even if I kept an outgoing facade, people made me cringe at times and if I didn't do what she did to them, I thought about it sometimes. Everything annoyed me, and I didn't even realize it – I was so full of shit, frankly, if I could slap my younger self I'd do it. Well, I never wanted to die, never, and some of her actions were really awful, so I'm not telling that I can understand all Parker's decisions but anyway, I get her.
"I still remember being hurt when the teacher made as big a fuss over my classmates' lesser efforts as she did over mine, which was perfect. Or maybe not as perfect as I thought."
Can you understand what she's feeling? Because I can. No matter how ugly it sounds, oh, man, how I get this feeling. I used to, anyway. Trying to explain why I need everything to be perfect, being mad when people don't get it? Oh, yes, Parker's struggles hit a nerve with me.
But let's go some years ago. I always was this weird kid who gets straight -As and reads a lot, who never breaks the rules because never sees the point in it, whose success is expected, no matter what happens. Don't get fooled, I wasn't lonely, as I always could count on a solid group of friends, but I was super serious until senior year. My parents weren't really strict because they trusted me and they were right to do so. But on my senior year, I lost it. I started to ditch school so often that school rang my parents twice a week and I developed a hell lot of tips to sneak out school without being caught. Yet my rates didn't suffer too much, because I showed up for the tests and I spent my time ditching to read (in France we can specialize in Junior and Senior years, and I was in Literature-Philosophy-Languages). Why did I change all of a sudden? The only thing I can say it's that I didn't want to be me anymore. To be frank, I wasn't full of self-loathing at all, in fact I think it was quite the opposite. Or isn't it the same thing, after all? I don't know anymore. God, I was so conceited, as it seems that only teenagers can be – I thought I got it all, and I couldn't have been more wrong, but the expectations I felt on my shoulders were suddenly too hard to stand – I'm not saying I was right, that's only what it was.
Why am I telling you that? Because I think that's why I can relate to Parker – I can understand why she's acting out of character, or more accurately, out of what others assume to be her personality. Because sometimes, we need to destroy a part of ourselves to evolve, because the way we are seen is suffocating us. And yes, we are hurting people who love us when we are acting that way, because we disturb the way they see us and what's more unsettling than seeing our best friend, our girlfriend, our daughter suddenly changing? Although I truly think that we mustn't lie to ourselves and never deny what we are, I can't deny that it's fucking difficult to deal with these changes when we are the people who are around. Anyway, it took me years to learn to be less perfectionist, in my studies, in my work, in my life (I never was like Parker about my appearance, though). Because in the end, we realize that in addition to make our lives an hell, we make other lives an hell, and by others I mean people we care about.
"No one will notice how wrong you are if everything you do ends up right."
Perhaps you think that it's not a review. Let me disagree : if I can relate on such a strong level, that's only because Courtney Summers's characters are so fleshed-out I feel I can grab them and see a part of myself in them. Parker sure doesn't make it easy to love her, she is unapologetic, smart-ass, and straight-on bitchy at some point. But I I cared about her, deeply, as I did about Jack, Chris, and even Becky. They feel so real to me that I can't help. As usual, her writing is raw, beautiful and compelling, and I was hooked from the beginning. Indeed her books are such page-turners that I always know that I'll end reading them in a sitting. Not to mention that we can't help but wait to know what happened to Parker to explain why she lost it.
❉ Congrats, Courtney Summers. Once again, you got me. ❉
Thanks so much to my incredible friend Chelsea for this birthday gift ♥

Related Posts