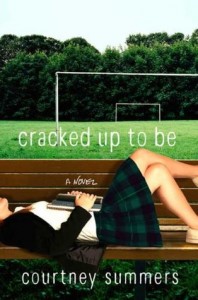 Cracked Up to Be
by
Courtney Summers
Purchase on:
Amazon
, 
iBooks
, 
Book Depository
Add to:
Goodreads
Synopsis:

When "Perfect" Parker Fadley starts drinking at school and failing her classes, all of St. Peter's High goes on alert. How has the cheerleading captain, girlfriend of the most popular guy in school, consummate teacher's pet, and future valedictorian fallen so far from grace?

Parker doesn't want to talk about it. She'd just like to be left alone, to disappear, to be ignored. But her parents have placed her on suicide watch and her conselors are demanding the truth. Worse, there's a nice guy falling in love with her and he's making her feel things again when she'd really rather not be feeling anything at all.

Nobody would have guessed she'd turn out like this. But nobody knows the truth.

Something horrible has happened, and it just might be her fault.
*I Don't Know How Many Stars*
Guys. I am so lost for words. This book made me feel things I just can't even…can't even. I liked it and I hated it. I loved it but wanted to punch it. I was obsessed with it and I wasn't obsessed with it. I couldn't put it down but when I did I felt a little bit lighter. I don't even know what to say, so how should I understand how to rate it?
Jake should know-well, everyone should know-there's no such thing as a decent human being. It's just an illusion.
And when it's gone, it's really gone.
I rate based on how I feel….and I just don't know what I feel. I keep (in my head) going from a 4 to a 3 to a 2 to a 3.5 to a 4. Because, like with all Courtney Summers novels, I felt ALL emotions…but they were different this time. I felt them more intensely. And not necessarily in a good way. One minute I was happy, the next I was sad and aching for more and I just wasn't able to put a pin on what exactly worked for me. And, in the end, I wanted more for this horribly fucked up character and I don't know I don't know I don't knooooow. I just still can't express how I feel.
I get caught up in outcomes. I convince myself they're truths. No one will notice how wrong you are if everything you do ends up right. The rest becomes incidental. So incidental that, after a while, you forget. Maybe you are perfect. Good. It must be true. Who can argue with results? You're not so wrong after all. So you buy into it and you go crazy maintaining it. Except it creeps up on you sometimes, that you're not right. Imperfect. Bad. So you snap your fingers and it goes away.
Until something you can't ignore happens and you see it all over yourself.
I felt like I was underneath a microscope. I felt as if my brain was pried open like a gaping wound for everyone to see, because I just couldn't put a mask on my displeasure or my happiness or my crying and it was like this raw, ripping open of my soul because poor Parker. Poor, poor Parker. I couldn't stand how she treated Jake but I understood it. I hated when she pushed him away or made him think she felt less about him than she really did….because that's what she wanted. She wanted people to hate her, she wanted to fade into the background. And it just hurt me so deeply when she would push people away….because 'that's how it had to be.'
I lean against the door. I should be sitting so we can have our weekly session where I pick the lint off my skirt and determinedly maintain my silence while she stares at me, except today I have to break that silence. And all for a boy, too. How degrading.
This book was a lot like Unteachable for me. I gave that book a 4 even though it depressed me 90% of the time because despite all that…I couldn't put it down, ya know? What does that say?
The writing. Wow, the writing. It always transports me to another world and I adore this author and I guess I should know a star rating but I can't put a finger on what feels right…and that's how I always choose. It just feels right when I think of a rating. When I click a star, I release all this built up energy because everything falls into place and fits so perfectly with my review. But when I think of clicking a star here, nothing fits. Not for this story.
"See you tomorrow," I call after her.
She stops, turns and gives me a hilariously quizzical look.
It could be worth it for this alone.
"What?"
"I'll see you tomorrow. For the semi-formal? You, me, Chris and Jake." I force a big smile at her. "I'm really looking forward to it."
I'm such a bitch, but Becky makes it so easy.
So…this wasn't a review. And I don't really care if anyone reads it or doesn't read it because I can't give people an honest answer. I loved a lot of parts. But I also hated a lot of parts, as well. I suppose I could break it down a little for you guys, just as an end note?
Loved:
-Jake
-Writing
-Story/plot in general
-The Humor
-Parker's snark towards everyone, it made me laugh a lot (She's such a bitch)
Liked:
-Parker
-How she put her walls up
-Her family
-The mystery behind why she is the way she is
Didn't love at all:
-Animal (That's all I'll say on that matter)
-Becky. Annoying bitch
-The conclusion. I really really really wanted more, but I understood it, as well
-How Jake was treated (It was sometimes funny, but other times it broke my heart)
So. You know. There you go.
Related Posts