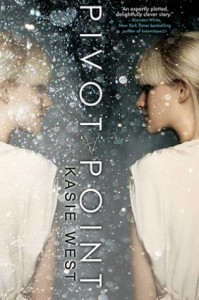 Pivot Point
(
Pivot Point #1
)
by
Kasie West
Purchase on:
Amazon
, 
iBooks
, 
Book Depository
Add to:
Goodreads
Synopsis:

Knowing the outcome doesn't always make a choice easier...

Addison Coleman's life is one big "What if?" As a Searcher, whenever Addie is faced with a choice, she can look into the future and see both outcomes. It's the ultimate insurance plan against disaster. Or so she thought. When Addie's parents ambush her with the news of their divorce, she has to pick who she wants to live with—her father, who is leaving the paranormal compound to live among the "Norms," or her mother, who is staying in the life Addie has always known. Addie loves her life just as it is, so her answer should be easy. One Search six weeks into the future proves it's not.

In one potential future, Addie is adjusting to life outside the Compound as the new girl in a Norm high school where she meets Trevor, a cute, sensitive artist who understands her. In the other path, Addie is being pursued by the hottest guy in school—but she never wanted to be a quarterback's girlfriend. When Addie's father is asked to consult on a murder in the Compound, she's unwittingly drawn into a dangerous game that threatens everything she holds dear. With love and loss in both lives, it all comes down to which reality she's willing to live through... and who she can't live without.
He grabs hold of my hips and pulls me forward. "You didn't fail me tonight. You saved me. I must've looked like the biggest idiot."
I shake my head no, his hands on my hips making my breath come in shallow sips.
"What's wrong?" He asks.
"You're confusing me."
"Really? And here I thought I was making things more clear."

Phew! Now that all of THAT is out of the way….lol….I feel like I can say what I want to say. Or maybe I'm simply stalling. Hmm. That seems more like me, doesn't it? It's not often that I am so confused and conflicted about a story that I go to sleep not knowing what to rate and then wake up and feel the same way. It's more….was this a 3 star or 4 star quality book? And that is SUCH a hard question for me-Normally it's easy as breathing.
"When I read, I feel emotion all on my own. Emotion no living person is making me feel…"
On one hand-it's Kasie West. I mean, come on, there's not one boy she has created that hasn't made my heart erupt in the warm fuzzies. And it's truly a wonderful feeling to finally meet the absolutely adorable Trevor I've been hearing about. So, it goes without saying that I loved the writing-as always.
My dad shakes Rowan's hand. "You guys having a good night?"
Really? My dad is going to analyze Rowan's answer to a question about enjoyment? I give him the are-you-serious? look and he gives the I-know-I'm-overprotective-but-you-are-my-only-daughter look back. How can I argue with that look?
But then there are all these negatives. These negatives that screamed at me from the moment she split her future in half to decide what was best for her. Fuck knows why I Am. Such. A. Freak. About time travel/fake futures yada yada. I have absolutely zero clue as to why I get so overwhelmingly depressed when it comes to false scenarios and interchangeable events-but I do. And not since All Our Yesterdays have I felt so worried and flighty as I read. You see, I like certainties. I like knowing the sky is blue (most days) and that the grass is green. I love knowing that I love steak, so guess what, I'll always choose steak, or that chicken fingers, no matter my age, will always be my jam. I like knowing that I have Keaton every day, no matter what, by my side. And I sure as hell like knowing that if I invest time into a certain book scenario…that it well and truly exists. Is that weird? Well…whatever.
So when I realized that this book was split by her two possible futures, it immediately punched me in the gut. Not because it wasn't well-written-it was. No, it got to me because I couldn't wrap my head around the fact that she was falling in love with a guy (or two guys, if you wana get all technical about it), but really wasn't. She just knew she would-If she chose that path. In fact, she was actually laying on her bed hanging out with her friend Laila.
And how can I fault a book for being exactly what it said it was? What right do I have to say I didn't like it. It was executed beautifully (in my opinion-Kat may have other ideas- 's okay, Kat, you know more than me, anyway lol) and it made me smile when the two worlds would parallel the same event but in different ways. It was just sort of….cool. I liked it. So, see, it wasn't the book's fault that it was what it said it was. It's my fault that I picked it up in the first place, because I just really think I need to add this to my (LONG) list of rules: No time travel or fake reality.
So, now that I got why I felt so negative from the beginning, it's easier to break it down and say what really worked for me. I clearly wouldn't let myself connect with anyone because I kept waiting for the inevitable 'end of the vision' moment, but when I finally let go, I started to finally devour it. But maybe a lot of that has to do with one certain boy…
"She loves to read, Mom. Like these really old, boring books. The ones Dad likes." He points to the graphic novel on his desk. "Plus lame ones, like I do. And she's not a huge football fan. I think she only tolerates it for our sake. She's supersmart, my main competition in Government. And since coming into my room, she has probably had to stop herself several times from cleaning up the shoes spilling out of my closet."
Ahhhh Trevor. So flippin' cute. P.S. That's another reason I wasn't happy-I really really really reeeeeeaaaallllyyy wanted more Trevor time, but instead I had to share it with her other path. Bah. Screw her other path (barely refrained from an unnecessary expletive there…)!! I just wanted Trevor time. Sweet, funny, kind, and a total nerd, he was a perfect Kasie West book boy. And while we got very little of him (I think, but that's a subjective opinion) I still felt the rightness of him down to my core. Oh wait, but maybe those were the barely sustained butterflies that wouldn't explode until after 60%…
"In the six years I've had this ability, nobody has ever asked me that question. Nobody has ever thought they were negotiable."
He takes a deep breath. "I want you to choose me, Addie," he whispers. "I want this to be real."
Now how is that last quote not supposed to rip me to shreds?! Come on. Ugh. So, no, this isn't my favorite West novel. There was a lot of good and probably more bad, on my radar, but it doesn't change the amount of feels I received in the end. I'm a sucker for badass endings, and this one was pretty flippin' awesome. My heart was warm from the beginning, concerning Trevor. But after 60%, I finally got those explosive feelings (both good and bad) I am accustomed to getting when I pick up one of her stories, instead of the lukewarm base I started at. Anyway, I still don't know if this is the right rating, but for now it will suffice. Please note use of the 'Blur rating' shelf. It comes in handy on all these super confusing matters of the heart.

**************************************
Buddy read with my Fab-tastic and wonderfully sarcastic Katerina and crazy Mela (whatever that means) 😛
Related Posts