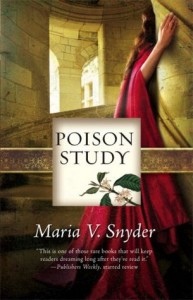 Poison Study
(
Study #1
)
by
Maria V. Snyder
Purchase on:
Amazon
, 
iBooks
Add to:
Goodreads
Synopsis:

Choose: A quick death…Or slow poison...

About to be executed for murder, Yelena is offered an extraordinary reprieve. She'll eat the best meals, have rooms in the palace—and risk assassination by anyone trying to kill the Commander of Ixia.

And so Yelena chooses to become a food taster. But the chief of security, leaving nothing to chance, deliberately feeds her Butterfly's Dust—and only by appearing for her daily antidote will she delay an agonizing death from the poison.

As Yelena tries to escape her new dilemma, disasters keep mounting. Rebels plot to seize Ixia and Yelena develops magical powers she can't control. Her life is threatened again and choices must be made. But this time the outcomes aren't so clear..

Who better to have on my side? Rand, the cook, whose food I'd be eating on a daily basis, or Valek, the assassin, who had a nasty tendency of poisoning my meals?

Ahhh where do I even begin??? Is there even an adequate place to start? Wellll, first I'd like to give a shout out to my two vacant besties who did a wonderful horrible job of reading this with me-Hello, Bitches (you know who you are, my lovelies). They really missed out. While subtle in it's charm, this book sneaks up on you like poison in your veins (Muaha I went there).
With a soft, languid pace, this book tricks you with it's addicting nature-It isn't rushed, hurried, nor overly stuffed with information, yet each chapter something significant happens that has you on the edge of your seat. Whether it's an attack on Yelena to abduct her, a poison lecture on what to watch out for, or an actual tasting for the commander, I was never once bored and found myself idly wondering how this book could so be wonderful with it's understated simplicity.
Shouldn't, should, shouldn't, should. So easy to say but so hard to believe.
I think that's my favorite part, if I'm being honest-aside from the romance, duh-the beautiful writing. I don't know why, but each page that passed had me begging for more even as plenty was happening. For such a simple job, Yelena has a lot of enemies, and with those enemies comes attacks, training, and so much more. I yearned for those moments when Valek had to come save the day because there was yet another threat on her life (and no, it wasn't a tacky nine-lives deal like the Kathleen Turner series…this chick had real enemies). But he's another story altogether…
I moved. In a heartbeat I twisted her arm behind her back. She yelped as I raised her hand up high, forcing her to bend forward.
"I am not a rat," I said through clenched teeth. "I've proved my loyalty. You will get off my back. No more nasty messages in the dust. No more prying into my things. Or the next time, I'll break your arm." I shoved her hard as I released my grip.
Yelena. Omg I loved her. She was strong, determined, cunning, and brave. She was weak, scared, and the target of an evil man. She was so many things all wrapped up into one small package, and she was on the last leg of her life. A convicted and admitted murderer, she is next in line for noose. But then an opportunity arises where the next in line to die is to be offered the position of poison testing the Commander's food. He is a powerful man who has many powerful enemies-all who want to be his successor and take his position as their own. So Yelena has a choice-die by noose the following morning, or agree to be the guinea pig and possibly die by poison on any given day if she doesn't detect all traces of poison at any given time. But, in the end, there's really no choice at all-Live with danger, or die.
Damn it, I thought, angry at myself. As if I didn't have enough to worry about. I shouldn't miss Valek; I should try harder to escape. I shouldn't figure out the bean puzzle; I should sabotage it. I shouldn't admire and respect him; I should vilify him.
Valek. Oh gosh he was perfection. A trained assassin loyal only to the Commander, he is appointed with teaching Yelena the art of poisons so she can be the food taster for the commander. Up until Yelena, Valek has been filling in the position after the last food taster met his untimely end. He is fierce, loyal, and a total hardass when it comes to training Yelena…but the same could be said of his defending her. A convicted felon is nothing in comparison to keeping his commander safe, but what happens when she starts to show her strength and determination? Her willingness to do whatever needs to be done to stay alive? What happens when attack after attack, he grows more and more desperate to keep her alive….even as he implies it's nothing more than him doing his job and not wanting to have to train another poison tester.
My interactions with Valek resembled a performance on the tightrope. One minute I was confident and balanced, and the next insecure and unstable.
Come on, Valek, you adorably sly dog. We all know after training you should be moving on…Anywho, I adored them. They were absolutely adorable. He is a busy bee and she is doing everything she can to stay alive…but each time she thinks she's alone and there's no way she'll get out of her predicament, who's right behind her to save the day? A slow burn romance at it's finest, we see them gradually falling for one another as each day passes, more confusion and desperation in preventing each action that might cause them pain or suffering…I couldn't help but to become addicted, now could I?
Even more than the romance, though, was the friendships formed. I mean, it was absolutely adorable when she befriends two soldiers and they do everything in their power to keep her safe when Valek can't. Loyal friends who train her in combat and watch out for her at every turn, I was almost as obsessed with them as I was the romance. It's not often I find a friendship addicting, but this one got under my skin.
"It's a dirty way to fight, but I'm late for lunch."
So, you know, I loved this one. And why wouldn't I? Romance, betrayal, a mercurial assassin, and a ton of action that never seems to cease no matter how breezy the pace, I was hooked from Valek's first smirk (Chapter one, duh). I know there was much more I wanted to say, but sometimes it's best to leave things be. I will try to chill out and let you all decide on your own if this is for you or not-but just know: It's not only a romance, though there is an ample amount of longing you'll do for she and Valek to just kiss already!!! It's a story of strength and strong-will, a determination to break free and save what you hold dear, and a wonderful world of castles and watching your back even though you have a group that supports your every move…I just loved it so much. Literally my only problem? I wanted more. Sigh…such a horrible predicament, isn't it? Ciao, Bellas.
Related Posts