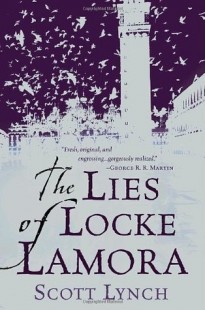 The Lies of Locke Lamora
(
Gentleman Bastard #1
)
by
Scott Lynch
Purchase on:
Amazon
, 
iBooks
, 
Book Depository
Add to:
Goodreads
Synopsis:

In this stunning debut, author Scott Lynch delivers the wonderfully thrilling tale of an audacious criminal and his band of confidence tricksters. Set in a fantastic city pulsing with the lives of decadent nobles and daring thieves, here is a story of adventure, loyalty, and survival that is one part "Robin Hood", one part Ocean's Eleven, and entirely enthralling...
"Someday, Locke Lamora," he said, "someday, you're going to fuck up so magnificently, so ambitiously, so overwhelmingly that the sky will light up and the moons will spin and the gods themselves will shit comets with glee. And I just hope I'm still around to see it."
"Oh please," said Locke. "It'll never happen."
I'm only reading this because I fucking love when I don't understand shit at first.
Liar!
I'm only reading this because I always dreamed to go through awfully long descriptions of buildings and stuff.
Liar!
I'm only reading this because except what's mentioned above, everything else was fantastic.
Bastard!
O I would like to meet hilarious characters who share a questionable morality.
What can be surprising and quite unsettling at first is the fact that Scott Lynch introduces his characters invertedly. Indeed if they seem to be just there at the beginning, thanks to the flashbacks and their interactions we slowly become acquainted and yes, attached to them of course I adore them all, duh. Moreover, I can only salute the splendid organization used here between what we learn in flashbacks in regards to the action set in present day. Fucking well-wrapped indeed.
●•۰► Locke Lamora is a fucking genius in deception, a master in the game of make believe, an untrustworthy professional liar and highly deceptive bastard gentleman. Yet he is loyal to death, and trust me, he won't let you indifferent.
"… It's perfect! Locke would appreciate it."
"Bug," Calo said, "Locke is our brother and our love for him knows no bounds. But the four most fatal words in the Therin language are 'Locke would appreciate it.'"
"Rivalled only by 'Locke taught me a new trick,'" added Galo.
"The only person who gets away with Locke Lamora games …"
"… is Locke Lamora …"
"… because we think the gods are saving him up for a really big death. Something with knives and hot irons …"
"… and fifty thousand cheering spectators."
●•۰► Lamora's partners in crime all have something interesting to bring in the story, but frankly, what I ADORED were the awesome dialogues between them all.
●•۰►Chains can be referred as their mentor, and I must say that I particularly enjoyed his really insightful life lessons.
"When you don't know everything you could know, it's a fine time to shut your fucking noisemaker and be polite."
Why, thank you, I shall try.
O I'm interested in everything politically incorrect.
DAMN how it spoke to my sarcastic self! We have :
✔ A parody on religion, with quite cute prayers, I must say.
"Thanks for deep pockets poorly guarded," said the Sanza brothers (…)
"Thanks for watchmen asleep at their posts," said Chains.
"Thanks for the city to nurture us and the night too hide us," was the response."
✔ Selfishness but friendship. Practical and prudent minds but extravagant craziness. Corruption everywhere. Schemes. Con inside con. Dear gentlemen bastards, I applaud you.
"There's no freedom quite like the freedom of being constantly underestimated"
O I would like some pieces of these priceless inside jokes, thank you.
From page one I was laughing, feeling (almost) guilty, the hand on my mouth, at the ironical gritty writing. YES. I adore this kind of humor – the one that is hidden in every sentence, the whole thing said in the most casual way possible, as if sarcasm was just dropped in a "business as usual" fashion without any intention to make the reader laugh. AS IF. This shit is HILARIOUS.
O While I'm at it, I'd rather be entertained, thank you very much.
Several storylines happening in different times are followed, but it was never confusing to me (well, apart from the very beginning, I must admit), but on the contrary increased my interest. I mean, chronological order is so overrated! Apart from being disjointed, the story is a hell of an entertainment. Moreover, beware of your conceit, reader, because it reserves us several unexpected twists that shocked me something fierce.
Mostly it can be read as Locke Lamora : a Life or Locke Lamora : story of a thief or Locke Lamora : how I became the guy who stole your shit or I worked with Locke Lamora and he taught me his tricks or … Well, now, you get the idea right?
O I want to learn more about this corrupt and crazy world we were talking about earlier.
Concerning the world-building, I must say that Scott Lynch really knows his job : in what appears to be some alternative medieval settings, we get food/clothes/religions/cities/traditions/PEOPLE.
The settings are highly detailed – sometimes it was a bit too much for me actually (see disclaimer).
O Why, thank you, I shall take more of these gentlemen bastards pretty soon, because for real? This was an amazing book.
Related Posts