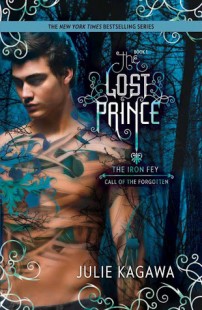 The Lost Prince
(
The Iron Fey: Call of the Forgotten #1
)
by
Julie Kagawa
Purchase on:
Amazon
, 
iBooks
, 
Book Depository
Add to:
Goodreads
Synopsis:

Don't look at Them. Never let Them know you can see Them.

That is Ethan Chase's unbreakable rule. Until the fey he avoids at all costs—including his reputation—begin to disappear, and Ethan is attacked. Now he must change the rules to protect his family. To save a girl he never thought he'd dare to fall for.

Ethan thought he had protected himself from his older sister's world—the land of Faery. His previous time in the Iron Realm left him with nothing but fear and disgust for the world Meghan Chase has made her home, a land of myth and talking cats, of magic and seductive enemies. But when destiny comes for Ethan, there is no escape from a danger long, long forgotten.
Review:
***Spoilers if you haven't read The Iron Fey Series***
I'm not going to lie, one of the main reasons I wanted to read this book was so I could catch glimpses of Ash. Pathetic? Umm yes! Unfortunately, I didn't get my fill of Ash because he is only in a snippet here and a snippet there BUT I did enjoy Ethan and his journey. I enjoyed being in Ethan's head, watching Kenzie try to wiggle her way into Ethan's life, meeting Keirran who is Meghan and Ash's son and seeing what our old favorite characters are up to. It was thoroughly entertaining, made me smile and laugh and I'm interested to see where this series goes.
"And…you blame them for taking her away. That's why you hate them." My throat felt suspiciously tight. I swallowed hard to open it. "No," I growled, clenching my fist against the windowsill. "I blame her."
Ethan is definitely not the sweet little boy we all adored and remembered from The Iron King. He has morphed into a bad boy who is VERY angry and bitter at the world. He is angry at the fey for making his life a living hell, angry at Meghan for abandoning them and angry at Ash for being the one to take his sister away. He loathes the fey and while he tries everything in his power to keep them at bay, fate unfortunately has other plans for him and he slowly becomes inundated in their world. He's definitely not Ash but I adore Ethan and who knew that knife wielding skills could be so unbelievably sexy?!
I'd never met someone who could he so relentlessly cheerful in the face of such blatant jack-assery.
And then we have Kenzie, ohhh Kenzie. Girls that are overly cheerful usually drive me crazy but shockingly Kenzie didn't make me want to strangle her. She is happy go lucky, doesn't back down, is utterly relentless and sometimes says and acts in strange ways but she is so endearing. She is the breath of fresh air that Ethan desperately needs and as I became attached to her I was rooting for Ethan to fall for her also. Kenzie and Ethan's interactions didn't make me all giggly or fall all over myself like Meghan and Ash did but again it was still entertaining and I enjoyed it. My only qualm about their interactions is the nickname Kenzie uses for Ethan. 'Touch Guy' just sounds so ummm lame lol. It annoyed me every time Kenzie used it and it reminded me of being annoyed every time Puck would call Meghan "Princess'. Ugh.
For a second, I couldn't look away. My heartbeat picked up, and my mouth was suddenly dry, watching the girl in the center of the winking cloud, smiling as the tiny lights landed in her hair or perched on her arm. She was beautiful.
We also get to meet Keirran who is the son of Meghan and Ash. Strangely, I'm left with an unknown feeling when it comes to him. He made me smile, he is just as loyal as his dad but at the end of the day I feel as though my knowledge of the supposed future tainted my view of him. The last interaction with him was off somehow and although I have some speculations I still don't know what to think of him. Only time will tell.
I knew that if I remembered anything about this night, it would be this moment, right now. With Kenzie less than a breath away, the moonlight spilling down on her as she danced, graceful as any faery.
Overall, this book has great characters, lots of action, and conversation and situations that will make you smile and laugh. I loved getting to see so many of the old characters we cherished in The Iron Fey. I wanted to see MORE of them but I understand this is Ethan's journey, not theirs. While I didn't love this book, like I did The Iron Fey, I still enjoyed it and can't wait to see where Ethan and his friends go.
Related Posts