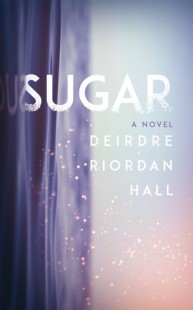 Sugar
by
Deirdre Riordan Hall
Purchase on:
Amazon
Add to:
Goodreads
Synopsis:

I'm the fat Puerto Rican–Polish girl who doesn't feel like she belongs in her skin, or anywhere else for that matter. I've always been too much and yet not enough.

Sugar Legowski-Gracia wasn't always fat, but fat is what she is now at age seventeen. Not as fat as her mama, who is so big she hasn't gotten out of bed in months. Not as heavy as her brother, Skunk, who has more meanness in him than fat, which is saying something. But she's large enough to be the object of ridicule wherever she is: at the grocery store, walking down the street, at school. Sugar's life is dictated by taking care of Mama in their run-down home—cooking, shopping, and, well, eating. A lot of eating, which Sugar hates as much as she loves.

When Sugar meets Even (not Evan—his nearly illiterate father misspelled his name on the birth certificate), she has the new experience of someone seeing her and not her body. As their unlikely friendship builds, Sugar allows herself to think about the future for the first time, a future not weighed down by her body or her mother.

Soon Sugar will have to decide whether to become the girl that Even helps her see within herself or to sink into the darkness of the skin-deep role her family and her life have created for her.
► This book. This book. Read it.
I'm not gonna lie, but to read this book was depressing at times. Haunting. We can feel Sugar's hopelessness and trust me, it's not always an easy journey to follow. Many passages leave you with an impression of claustrophobia, feeling Sugar's despair in your bones, knocking you down, tearing out. But in the end, what remains is this feeling of hope, and I don't want to let it go.
"I lean against the doorframe, heavy with the truth. I am always in the way. I've known this for as long I can remember."
◘ At first I thought that Sugar wasn't relatable to me at all. I've never been bullied. But I was wrong. Oh boy, I was so wrong. Because this book deals with bullying and acceptation, with the way we constantly value ourselves, especially when we're teenagers – Everybody can relate at a certain degree. Everybody sees the ants, remember? Who can say that he has always accepted his body for how it is? I can't. I sure can't, and I'm pretty sure most of us can't as well. However, I never had to deal with families problems like her, I've never been bullied like this, belittled and rejected for how she looks, for who she is – but Deirdre Riordan Hall made me feel it. Her words ring so true that I couldn't help but care, deeply, even though I never suffered through Sugar's torments. Actually I spent my time feeling both horrified and impressed. The way Sugar took care of her (awfully mean) mother and did everything in the house, really, shows a strength in her I never had : she's so courageous and kind, I'm in awe. Food is her escape, a quest to fill the holes in her life, and to see her struggle to take control was heartbreaking and beautiful.
◘ And then Even, Even, Even. Even was so freaking adorable, I could hug him. The friendship they develop seems genuine, beautiful and real. Gradual. Don't worry, you won't find healing kiss (or dick, for that matter), but help : help to see the bigger picture. Talk. Seriously, I can't express how much I'm ecstatic to read about characters who feel better because they talk, they trust, and not because they're making out or something. One might argue that Sugar is starting to change for Even and that it would be better if she decided on her own and blablabla but frankly, don't you think it is realistic? Yes, in a perfect rainbow world the girl (or boy) would realize that she has to stand for herself alone but in my honest opinion things rarely happen like that in real life. YES, the persons we meet help us to change and to gain perspective on our lives. I consider myself as an independent woman, yet I'm not ashamed to say that people around me influenced me – I don't carry all the answers, nobody does, and to me the book is NEVER spreading the message that we need to change for a boy, but quite the opposite. Asking for help is okay. Allowing someone to help us is OKAY. We don't need to be alone to be independent. Moreover, Even is perhaps too perfect, it's true. I don't care. Period.
◘ In Sugar, most of the time the adults are either dismissive or plainly mean, and no, I don't think it's unrealistic, sadly. Either they don't acknowledge Sugar's problem or they're acting like jerks about it. Damn, it broke my heart.
✐ As for the pacing, it's not really fast, but then, it suits the story perfectly in my opinion because first life isn't always exciting and secondly I found that it highlighted perfectly the way Sugar often feel – trapped.
Of course I want to yell at these stupid, stupid bullies but the worst is, I can't say that it's not believable. I would love to, but I can't, because it is how life is. The truth is, in my opinion our society raises us in the idea that it's okay to mock people about their weight. Because it's their fault – or so they say. I've never been fat but we don't need to be an investigator to see how everything around us – first of all magazines, television, shows – create a background to justify bullying.
All these magazines covers with LOSE WEIGHT BEFORE SUMMER make me want to rip them out. Like it must be any woman #1 preoccupation. Talk about a double standard – double standard that Sugar painfully experiences with her brother Skunk, fat like her but more a bully than a bullied. To me these magazines help promote the idea that we women must be thin and smart and work achievers and great mums and sexually skilled and – OH COME ON.
They're full of unhealthy bullshit anyway.
We're not born bullies or teasers or specialist of Just kidding! Trust me, my pupils aren't perfect and yet they would never accept this kind of mean comments. It happened. I saw their reaction. I was proud. Why am I telling you this? Because we're all responsible to how people react. People think they are careful around their children but many act like fucking hypocrites. Oh, sure, they're avoiding swearing and F-Bombs in front of them but then here they are, throwing dismissive and belittling comments about people around them – about their weights, their clothes, their jobs, their origin. It makes me sick.
Therefore while we mustn't be blind as well (there ARE medical problems linked to overweight, and our body needs to be cared of, first with what we eat) we can control the model we're showing to the world.
Finally, this book crushed me. I can't talk about it but there's an event in the story with which I. CAN'T. DEAL, because I lived it and I have to say that perhaps I wouldn't have read it if I knew. It would have been a pity, and I don't regret my choice but I can't hide the fact that I stopped reading for a while after it. The truth is, we ask for books to relate to our lives but sometimes it's just too-much to handle – it was the case for me, and the only thing I can say is that everything is handled in a truly REALISTIC way, even though I'm not sure I see the point in it, and that it can be seen as manipulative.
[My boyfriend died in a car accident when I was 22. I'm not saying that dying from disease isn't crushing, but this hopeless despair and incomprehension Sugar felt? The way an unexpected sentence can crush you? The way you don't know if you want to eat or throw up or cry or bang your head on the wall? The time your brain needs to stop waiting for him? It rings so, so true. I bawled my eyes out with Sugar. I kicked my table. I scared my dog, I think. (hide spoileSo, I was crushed. I was crushed, and then the most amazing thing happened : Sugar made me smile so big I was cheering like a complete fool.
"In fact, you're my favorite person in the world. You have confidence in there, but sometimes I think you just misplaced it."
► This book. This book. It's not flawless for sure, and yet, the only thing I can say is : Read it.
Related Posts