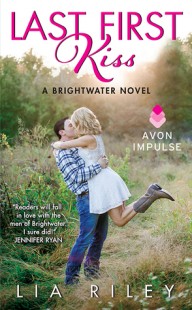 Last First Kiss
(
Brightwater #1
)
by
Lia Riley
Purchase on:
Amazon
, 
iBooks
Add to:
Goodreads
Synopsis:

A kiss is only the beginning...

Pinterest Perfect. Or so Annie Carson's life appears on her popular blog. Reality is... messier. Especially when it lands her back in one-cow town, Brightwater, California, and back in the path of the gorgeous six-foot-four reason she left. Sawyer Kane may fill out those wranglers, but she won't be distracted from her task. Annie just needs the summer to spruce up and sell her family's farm so she and her young son can start a new life in the big city. Simple, easy, perfect.

Sawyer has always regretted letting the first girl he loved slip away. He won't make the same mistake twice, but can he convince beautiful, wary Annie to trust her heart again when she's been given every reason not to? And as a single kiss turns to so much more, can Annie give up her idea of perfect for a forever that's blissfully real.
DNF @74% – I swear, I've done my best, but I must surrender.
So very meh. Look, my 2-stars rating makes me feel as if I was kicking a puppy, because there's nothing really awful in this book, and yet it was a complete miss for me. Let's see what we have, okay?
✔ a non-raging male-lead, Sawyer, perfect if nice cowboys sheriffs who want to take charge of everything are your thing (definitely not mine : I might suffer from the opposite of uniform fantasies – I can't help, cops, firemen and the likes rub me the wrong way). Don't get me wrong, I'm not saying that he's controlling, no, he is nice, but if I like nice guys (I really do), the fact is… he never made my heart beat faster … or something. I'm sorry Sawyer, it's not you, it's me.
✔ an heroine who reminds me of my mum. Kind of : she gives names to birds, loves cooking… See, I love my mum, but let's say that it didn't help my involvement in the love-story. Ugh. Yes, it's as unsettling as it seems.
✔ a … slow romance (not to be confused with a slow-burn, because there's no such thing as a burn in this book, but everything is tedious at bests)
✔ Annie's blog entries bored me to death.
✔ I… don't care. Like, at all. Actually, I only kept going because I wanted to know how the sex scenes were. Yep. That level of disinterest. View Spoiler »They weren't worth it « Hide Spoiler[they weren't worth it (hide spoiler)]
✔ Cliché sayings everywhere. I know, I know, we find a great deal of them in the romance genre and if the story pulls me in I don't mind that much but… Sigh. Ladies, I need to ask : was there A moment in your life when you thought that "your ovaries were going to explode"? I don't mean another sentence expressing your excitement, no, THAT SENTENCE. Because, frankly? I see it everywhere and I never, ever, thought this – but perhaps it's only an English saying? It doesn't even make any sense, scientific wise (yes, it bugs me so much that I'm asking every fucking person I know. My boyfriend just laughed. Sigh)
More generally, I fought the urge to roll my eyes so many times (I didn't always win). But come on. How in the world am I supposed to react to this :
● "So good, Annie, God, you're sweet," he rasped in her ear. "How fucking sweet?"
The shiver that ran through his body entered hers. "Must be all that agave."
● "The tip of his shaft pierced the water, long, thick and every each a man" REALLY? I laughed so hard at that
● "Miss Carson." Sawyer's mouth crooked as he ran a thumb under a chin. "You're under arrest for being too damn cute." Never heard this before.
I can enjoy cheese sometimes. I really can. For this I need to feel something, though.
✔ The stereotypes playing in this sentence made me cringe : "He stepped forward, clearly meaning business. No way could she refuse without making a scene. She took a hesitant bite, careful for it not to be too-much, she didn't want to look like a pig". 1)Saying no isn't making a scene, thank you very much and 2)God forbid a woman eat a lot. Ugh.
I don't hate this book. I just – oh, boy.
I'm such a kill-joy.
Related Posts