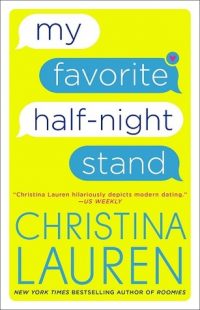 My Favorite Half-Night Stand
by
Christina Lauren
Purchase on:
Amazon
Add to:
Goodreads
Synopsis:

From the New York Times bestselling author that "hilariously depicts modern dating" (Us Weekly) comes a sexy romantic comedy about online dating, and its many, many fails.

With a world-famous speaker at their university, Millie Morris and her four woefully single male colleagues make a pact that they'll all find dates. Unfortunately, Millie has more success helping them make matches online than she does navigating the onslaught of lewd pics in her own feed. But when she creates a fictional name for a new account, Millie finds herself vying for the online attention of a man she sees every day in the flesh.
The fact that I have been able to read THREE new books by Christina Lauren (and fall in love with each) just this year makes my heart incredibly happy.   And, the fact that I was able to get Chelsea to read both of their newest books (and also love them) makes me even happier!  Once again, the main couple was very easy to fall in love with along with their group of friends. Oh. My. Gosh. I adore when a book or series has a group of secondary characters that you end up loving just as much as the main characters. Ed, Chris, and Alex were so funny and likeable that I wouldn't have minded if each of them had gotten their own book, tbh! Along those lines, can we just talk about how amazing the banter was in this book (and let's face it—is in all of their books)?! I was cackling out loud to myself on multiple occasions. My husband kept having to ask me why and then I would annoy him by saying "oh nothing, just this book I'm reading." Sorryyyyyy, Kyle! lol
The only thing that had me initially worried was the trope of one of the MCs lying about ~something~ and then the fallout that is sure to follow when the truth comes out (I've read a few where the MC gets pregnant and doesn't tell the guy about it right away, or a few others that were similar and deal with weird online secrets). Depending on how big the blowup is, and how it's resolved really impacts my view of the book drastically. It if isn't handled well, it could take what was a five star book down to a three. It's happened enough before that when I run into a book that has a similar situation, I get extremely nervous.
Judging by my rating I'm sure it's pretty obvious that I was okay with how things panned out. Millie got herself into a bit of a tricky situation but it was one that was understandable. Her mom died when she was fairly young so she basically had to help raise her sister. Because her father kind of withdrew and she had to mature a lot faster than any child should, she got used to suppressing her feelings. She kept them deep inside because who was she going to tell her problems to? Not her barely-keeping-afloat dad or baby sister that's for sure. All of those years of keeping quiet led to an adult who still couldn't talking about feelings. After she made her profile in IRL she found that she could suddenly express things that she had never been able to before, ironically enough, in real life. Of course by the end of the book she learns from her mistake and has her HEA. OF COURSE. And Reid. BBF material x100.
~Also, you better believe I have a TON of quotes to add later on.
Huge thanks to Gallery Books and NetGalley for an advanced copy of this book in exchange for an honest review!
Related Posts